Isco's disco boots should be on Real's to-do list
It seems Zinedine Zidane has not been the only representative of Real Madrid indulging in a spot of tapping up this past week. While the Frenchman has been busy acting as Gareth Bale's career advisor, it seems that Alvaro Morata, Dani Carvajal and Nacho Fernandez have been having a little word in Isco's ear.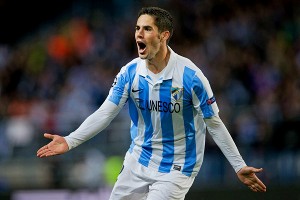 Jasper Juinen/Getty ImagesReal Madrid should make a play for Isco before he follows his manager to Manchester City.
And it seems that Isco has been blushing and cocking his knee at the sweet nothings being whispered by his Spain under-21 teammates. "They're being pretty insistent," the midfielder said after scoring a wonder goal for Spain Saturday in a 3-0 win over Norway in the semifinals of the European Championship in Israel.

Admittedly he was chuckling when he said it, but this really should be among the upper sheaves of notes in the new coach's inbox when Florentino Perez starts fashioning Real Madrid 3.0.

Nacho has been bedded in as a genuine first-team option this season and Carvajal comes with the finest references from the Bundesliga, where he was voted the best right back in the German top flight playing for Bayer Leverkusen. That at least should provide something of a wake-up call for Alvaro Arbeloa, who will find his place far from guaranteed when he gets back from the Confederations Cup, where Cesar Azpilicueta is pushing for a start as well.

Spain manager Vicente Del Bosque took a fairly unimaginative squad to Brazil, rightly stating that the under-21s should be as strong as possible and that their time will come. Many of Julen Lopetegui's squad in Israel won't be eligible for La Rojita for too much longer and there is clearly an age-related need to start thinking beyond Xabi Alonso, Xavi and David Villa at international level.

That task will not fall directly to del Bosque but to whoever has the unenviable task of trying to fill his double major tournament-winning brogues when he retires after the 2014 World Cup.

Real Madrid need to start thinking along similar lines as well and the longer its coachless state rumbles on into the summer, the fewer options it will have. It's no secret that Malaga's finances are in the same state as Spain's at large and only Manuel Pellegrini's intervention stopped a fire sale last season. Joaquin has already departed and the jewel in Malaga's crown is the subject of considerable interest across Europe.

Perez should bear in mind Arsenal's reputed bags of cash -- whether Arsene Wenger will be able to bring himself to spend any of it remains to be seen -- and the presence of Isco's former teammates Nacho Monreal and Santi Cazorla at the Emirates.

Arsenal has registered interest in Gonzalo Higuain as it looks for a genuine world-class striker to muscle back into the reckoning at the top end of the Premier League, but Real really shouldn't be forced into a purchase in that area, as it was arguably was when Luka Modric practically engineered his own move from Tottenham to the Spanish capital. Alvaro Morata has scored in every game of the under-21 European Championship thus far and is not even the starting striker, Rodrigo getting the nod apart from the Netherlands game, by which time Morata had already provided the goals to take Spain through to the semis.

It was of course toward north London that Zidane offered his invitation to Bale to hand in a transfer request but question marks remain over the winger's desire to leave the UK -- Alan Hutton is the sole British representative icurrently in La Liga I can think off the top of my head, and the Spanish top flight is hardly a bustling diaspora of trilingual Welsh players.

Perez has declared himself open to trying something different in his new term and some long-termism would make a pleasant change for Real fans. Cristiano Ronaldo will probably stay -- although that is rather dependent on Bale -- while others will almost certainly leave. While Perez waits for his new coach to arrive, he could do worse than watching the under-21 final on Tuesday against Italy. As well as Isco, Pablo Sarabia of unfashionable Real Madrid incubator Getafe, his teammate Alvaro Vazquez and Sevilla defender Alberto Moreno have all impressed. Even Castilla's Denis Cheryshev has been among the scorers, and all have impressed.

Obviously Perez will go for the fashionistas as and when they become available, but it never does any harm to shop a little closer to home when a bargain comes up. Isco should be top of that list.