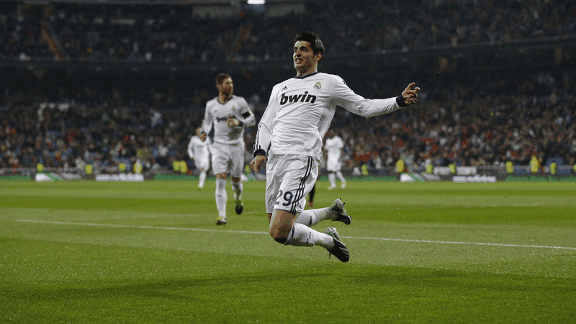 APAlvaro Morata: One cantera player who seized his chance
Alvaro Morata, Jese Rodriguez and Daniel Carvajal. Three players who've all been in the headlines in recent weeks, and three players who push the question: How will Real Madrid's cantera come into the new manager's thinking?

Los Blancos' youth set-up hit the headlines largely for the wrong reasons last season, with Jose Mourinho, in response to criticism by the media for not giving players from Castilla a chance in the first team, questioning its success in providing top young talent to progress through to the senior side. He also put some of the blame at the feet of Castilla coach Alberto Toril for not helping players' progression.

- Alonso to miss pre-season after surgery

It all came to a head when Mourinho opted for loan player Michael Essien plugging a gap left by injuries at left-back, instead of trusting Castilla player Nacho Fernandez. The mud-slinging went back and forth all season long, both inside the club and in the media, too, with Mourinho backing up his argument and reeling off a list of young players he handed chances to.

Almost to prove a point in the final game of the season, a dead-rubber at home against Osasuna, Mourinho fielded five players that had progressed through Madrid's youth set-up in the second half - perhaps a parting shot at the media, and some of the fans, that questioned his use of Madrid's hot prospects.

It will be interesting, therefore, to see if much of that changes next season, whoever comes in as new manager, given the media storm that surrounded Mourinho's use of youth last term.

Morata was one player who did get some chances last season. The 20-year-old was handed opportunities at the start of the season, and took them. With Madrid drawing 1-1 at Levante he came on and scored the winner with six minutes to go. Those opportunities continued to come in the second half of the season, with a start in El Clasico at the Bernabeu. Whether those chances would have continued to come if Madrid were still in with a shout of the title is another thing.

The young striker's stock could rise considerably over the summer thanks to his inclusion in Spain's U21 squad for the European Championships in Israel. He's already made an impression, scoring the winner in Spain's 1-0 victory over Russia in his debut in the competition. Madridistas will undoubtedly be spurred on by his success and will once again be keen to see him get more regular match action in the all-white next season.

Jese Rodriguez could also be pushing for some game time thanks to his success with Castilla last term and his links with moves elsewhere, including Premier League side Arsenal. Madrid president Florentino Perez is understood to be a fan, while Zinedine Zidane has come out in response to rumours of a move away by insisting Madrid should hold on to the hot prospect.

"Jese cannot move from here," the Frenchman, who helped to bring Raphael Varane, arguably the star of last season, to the Bernabeu, was quoted as saying on El Confidential. "We cannot lose him. He has to be in the first team with a renewed contract."

The new manager has yet to be appointed yet Zidane is already calling on Jese to be involved in Madrid's first team affairs next season. A bit of pressure before the managerial contract has even been signed.

On the other side of the coin, Perez and Madrid can look to the success of selling talented young players and including a buy-back clause in their contract. If the player moves on and doesn't pull up any trees, the club has made money. If he goes and does well, he can return as a much-improved player. A low-risk kind of deal for Los Blancos.

Daniel Carvajal is the latest success story on this front after being confirmed as Madrid's first new recruit for the 2013-14 campaign. The Madrid-born wing-back was educated in Madrid's cantera for nine seasons before being allowed to leave for Bayer Leverkusen. From there, he progressed at a rapid rate and was named by German newspaper Bild as the best right-back in the Bundesliga - quite a claim.

It was a bit of a no-brainer to bring the 21-year-old back, then, given the problems Madrid had at full-back and the clause in Carvajal's contract. He already knows the club inside out and knows the pressures that come with pulling on the all-white kit. You can add Jose Callejon to that list too, although how successful his return was is up for debate.

Youth has never been high up on the agenda with Perez and his millions, and may never be. The galactico era may be a thing of the past, but Madrid's president is still keen to throw his money about to bring the best to the Bernabeu. The club may have missed out on Neymar, but they will be keen to alleviate that disappointment by splashing the cash on Gareth Bale and others on the transfer hit-list.

It'd be nice to be a fly on the wall of Perez's interview with any candidates for the vacant managerial role, but one would not expect the cantera to get too much air time. It'll be intriguing to see just how that link works out next season.