Mata to Madrid would be killer move
Could Jose Mourinho be on the verge of doing Real Madrid an unlikely favor? The manner of his departure and some acerbic observations since -- "Inter and Chelsea have been the two big passions of my career" -- have made the prospect of an entente cordiale with the former Bernabeu coach fairly remote. Mourinho said all the right things when he departed for Chelsea, even ending a brief statement with a "Hala Madrid", but there was little genuine affection from either party when the inevitable divorce papers were issued.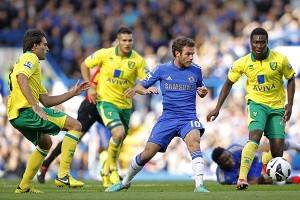 Ian Kington/AFP/Getty ImagesJuan Mata, center, would be a welcome addition at Real Madrid.
However, reports in the Spanish press on Sunday indicate that the Chelsea manager might not be too keen on the presence of Juan Mata at Stamford Bridge and that, along with Fernando Torres and David Luiz, he will consider selling the Spain midfielder in order to revamp his inherited squad. That piece of news should have caused ears to prick up and quick online check of the Bernabeu bank account in the office of Florentino Perez.

The Real president has been also been making conciliatory noises after his unopposed re-election a week ago, a presence that also drew the ire of the crowd at times last season. Perez has promised the cantera will be cherry-picked for potential first=team promotions and that further signings will not be made purely because of the size of a player's reputation.

-Di Maria linked to Manchester City
-Perez confident Ronaldo will stay
-Xavi criticises Mou tactics

The presence of 17 Real youngsters in this summer's Spain squads, from the under-21s down to the under-17s, is a sign that La Fabrica, which has been producing about as much as Spain's factories at large of late, is on the right track after years of squabbles between Castilla coaches, the Bernabeu hierarchy and the reserve and first-team coaching staff over formation and personnel.

But the reality is that there are only three or four genuine candidates to fill some first-team gaps: Nacho, who is almost assured of being elevated from Castilla on a full-time basis; Alvaro Morata, likewise; Jese Rodriguez, who is the brightest midfield prospect at Castilla and the apple of Zinedine Zidane's eye; and potentially Denis Cheryshev, currently leading the line for Russia's under-21s in Israel.

But those four are not going to change Real's on-field fortunes significantly any time soon. Dani Carvajal has been re-signed from Leverkusen, an astute piece of business carried out via Real
s patented buy-back clause when it moves promising players on.

In the case of Mata, the clause in his Real contract was the wrong way around -- the player invoked a release agreement in 2007 to sign for Valencia. It was at Mestalla that Mata rose to prominence as an attacking midfielder who can also play on the wing, with an assist rate that befits the English translation of his name. If you want a defense-splitting pass or pinpoint cross, you can do a lot worse than Johnny Kills.

That he moved to Chelsea rather than Real Madrid in 2011 was met with raised eyebrows in the capital -- an incredulity now explained by Mourinho's apparent low rating of the diminutive World Cup winner. Last season, Mata racked up 19 goals and 38 assists in 69 matches for Chelsea, a tally made more impressive by the bench magnet inserted into his backside by Roberto di Matteo and latterly Rafa Benitez, which saw him subbed off 33 times and used from the bench on 11 occasions across all competitions in 2012-13.

The numbers that Real Madrid will have to consider are the rather large ones that Chelsea will require to gift-wrap Mata. But these can be reduced considerably if Mourinho's interest in Xabi Alonso is concrete -- Real need to start thinking about a successor for the midfield mastermind sooner rather than later in any case.

Meanwhile, Gonzalo Higuain has a foot out of the door and new Manchester City manager Manuel Pellegrini seems intent on prizing Angel di Maria from the Bernabeu. That should bring in 50 to 60 million euros and if -- as can be expected as unlike Higuain he is a Perez purchase -- Karim Benzema is given the undisputed starting role up front next season there is little need to splash the cash on a big-name striker.

Morata is being talked up as genuine competition for the laissez-faire Frenchman and 10 million or so could bring Carlos Tevez to Madrid, while a few more might tempt Manchester United to part with erstwhile target Javier Hernandez. Alvaro Negredo, another Castilla escapee, has done his own chances of a recall little harm during his time at Sevilla.

The addition of Mata to a front line of Ronaldo, Mesut Ozil and Benzema would give any defense in the world a headache. The Spaniard's consistent assist rate will have Benzema rubbing his hands together in anticipation of a hatful of chances every weekend being conjured. Furthermore, the money saved on not pursuing current boy wonder Gareth Bale -- who would be a luxurious but hardly necessary addition with Ronaldo proving fairly effective on the left thus far -- could be reinvested in defense and the engine room of the midfield.

Mata's current market value is 40 million euros, but if Chelsea is willing to sell for 10 million less, then that might do the trick. That, frankly, could be the bargain of the summer. While Real wait on a coach, Perez should pull out the stops to bring the Spain international back into the fold: in playing terms and marketing potential Mata fits the Real bill. In respect to the cantera, it might not exactly match the fans' demands to bring youth through, but it would be an extremely popular move by Perez nonetheless, and the Real president could do with one of those.