No tearful farewell for Mourinho soap opera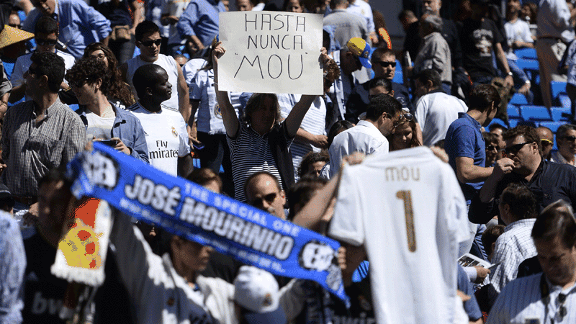 GettyImagesWhile Mourinho was celebrated by some, others were not so keen on the outgoing boss. This banner reads 'good riddance'.
Many of Spain's top football writers will be glad to see Jose Mourinho at Real Madrid, and in La Liga, after the Portuguese took control of his last match in charge of Los Blancos in the 4-2 victory over Osasuna on Saturday.

The soon-to-be-named Chelsea boss has had a tough time of things in the Spanish media, especially this season, and the feeling of dislike is mutual. The Special One, no doubt, will be glad to be in his more "loved" surroundings, relatively, of the English Premier League and Stamford Bridge come next season.

- Brewin: Back to the Bridge: Jose returns
- Lythell: Jose motivated by Prem Lge title
- Palmer: Understanding Roman Abramovich
- Gallery: Mourinho in Madrid
- Vilarrubi: Jose will be 'disaster'

But while there will be little love lost between Mou and the reporters, sports editors across the country will, mostly, be disappointed to see depart a man who, often on a a weekly basis, filled plenty of column inches and sold papers -- lots of them.

It was no surprise, then, that even in his final match, a match that had little importance riding on it with both teams playing only for pride, Mou continued to grab the headlines and continued to the centre of attention, something some say was part of his problem in the Spanish capital.

It was not all his own doing. Mourinho usually sat in his seat in the dugout before his players appear from the tunnel prematch. This time, he waited until the match was just about to kick off, perhaps in an attempt to thwart the dozens of photographers in attendance from getting the snap they all wanted. Planned or not, it didn't work and the referee had to call a halt in play as the photographers got a little bit over-excited.

He also fielded five players from the club's youth set-up on the pitch in the second half. After all the drama over Diego Lopez taking the No. 1 jersey from Iker Casillas, Castilla goalkeeper Jesus Fernandez started in goal. Nacho, Omar Mascarell and Diego Llorente were also handed starts as Mourinho perhaps took a sly dig at those who questioned his policy over giving Madrid's potential stars of the future a chance to shine on the main stage.

All eyes were on his actions after the final whistle, too -- his final steps inside the famous stadium as Blancos boss. As a farewell, Mourinho directed his goodbyes at the club's Ultras, who have largely backed him throughout his tenure, even when others have not. Other Madridistas around the ground did not get a sniff of a goodbye. Mourinho knew his friends and enemies, and he let them know.

The Ultras, in the south end of the stadium, remained behind after the match to chant Mourinho's name and call him back on to the pitch. He did just that, receiving a plaque from Madrid's hardcore supporters group and shaking hands with plenty of them. At least some love for Mou before his departure.

It was perhaps most telling that only 45,000 turned up to see his final game in charge. True, Madrid and indeed Osasuna had nothing to play for. Positions were settled and only pride was at stake, but it was still the last chance for Madrid's fans to see their team in action for a few months, and it was also the final time, although only confirmed postmatch, to see long-serving player Gonzalo Higuain in action. Few were interested, as the empty seats dotted all over the ground showcased. There was no grand goodbye for Mourinho en masse. There were no tears.

Some will be pleased to see him depart and some not so, but the final whistle on Madrid's victory over Osasuna brought the curtain down on a rollercoaster three years for Mourinho and Madrid. A new chapter is set to begin and it should bring excitement with it over the close season at the Bernabeu.

Mourinho, largely thanks to an error on the official Premier League website on Sunday prematurely confirming his return to Chelsea, is expected to be announced as the Blues' boss on Monday and Madrid will continue its search for his successor in the hope that he can be found and unveiled sooner rather than later to allow building to commence for next season.

Carlo Ancelotti looked to be that man but -- partly due to problems with Paris St Germain wanting to keep the Italian to his contract, which runs out at the end of next season -- Bayern Munich boss and former Madrid man Jupp Heynckes has swiftly become joint favourite for the position, something no doubt aided by his Champions League triumph over Dortmund last week and his completion of the treble with Bayern.

Madrid and president Florentino Perez, who was this weekend confirmed as having another term due to no other candidates standing for the role, will need to make their decision quickly and stick to it. Keep plucking away in the hope that Paris let Ancelotti, seemingly their first choice, move or go for Heynckes, who is now without a club.

The Mourinho soap opera is over at the Bernabeu and a new era is set to unfold.