How exactly will Real profit from new Perez term?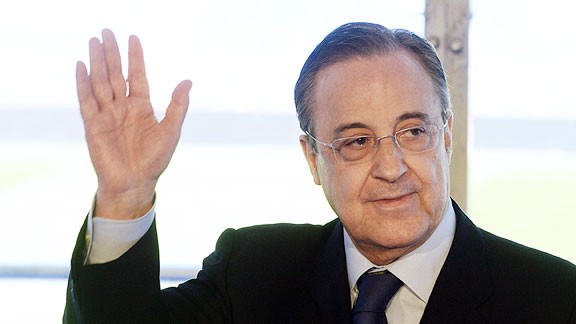 Dominique Faget/AFP/Getty ImagesMore big-money signings appear to be bound for the Bernabeu, even though Madrid President Florentino Perez has yet to name a new manager.
In the second least-surprising development at Real Madrid in the last couple of weeks, Florentino Perez was invested as president of the club on Tuesday at a brief ceremony in the Bernabeu's VIP suite.

"We have returned to the habitat in which we belong but I want more, like Santiago Bernabeu, who was insatiable," Perez told board members in his acceptance speech.

- 'Pope' Perez geared for third term

But more of what? The Real chief was quick to point out that "Madrid has the highest income in the world," adding that sponsorship alone had increased ten-fold during his 2009-13 tenure. What he didn't mention was who he had lined up to replace Jose Mourinho in his quest for a 10th European Cup, the burning obsession in the Real hierarchy and the cornerstone of its institutional policy under Perez's mandate.

Jupp Heynckes, Real's second choice for the job, announced on Tuesday that he was taking a year off and Carlo Ancelotti's availability took a serious hit after UEFA banned Leonardo, PSG sporting director and the Italian's potential replacement at the French champion, for nine months. Real Madrid is undoubtedly a huge club but it is no longer the biggest boy in the school yard and there is no reason at all that PSG owner Sheikh Nasser al-Khelaifi should get nervous at the mere sight of Real rolling up its sleeves.

"We are going to have a coaching staff that is up to the challenge," Perez said, despite the dwindling list of viable candidates.

There is little doubt that Perez is an astute businessman. What is less clear is how much he understands the needs of a club that is the property of its shareholders, but in real terms the personal fiefdom of the construction magnate. When he was elected in 2009, nobody challenged his candidacy, largely because Perez was the only runner able to find the more than 50 million euros required as a bank guarantee. Last year, he tabled a proposal that future aspirants should have been a club member for at least 20 years and be sufficiently solvent to pop 15 percent of the club's budget -- a cool 75 million or so -- into the nearest bank to challenge for the top job.

Around 43 percent of Real's club members have been carrying their cards for two decades or more. The number that can feasibly contest Perez's presidency on equal financial terms is zero.

"We believe it is reasonable that anyone who aspires to the presidency is impregnated with madridismo," Perez said. "You can't just turn up here with the gift of the gab and take over the club. This isn't a boules club, but the most important sporting institution in the world," he said at the annual members' meeting last year.

Unless there is a significant change of direction on Perez's part, and there is little indication of that, then Real fans can look forward to another four years at the very least of the Galacticos model -- a system that has brought questionable results and cost Real hundreds of millions under Perez's watch.

During his most recent tenure it delivered nothing to the Bernabeu under Manuel Pellegrini, a coach who should have been given more time to instill his methodology. With Mourinho at the helm, a coach who perhaps should have been moved on sooner, it reaped a league and a cup.

Between 2000 and 2006, Real won the league twice and a European Cup but how much that had to with Perez or Vicente del Bosque is a matter of debate. The most successful Real coach in the modern era was sacked the day after delivering the league title in 2003. "Del Bosque was showing signs of exhaustion. I want to be sincere about this -- our belief that he was not the right coach for the future," Perez said to justify his decision.

Spain would probably disagree, as would Real fans as the club won absolutely nothing of note again until back-to-back league titles under Ramon Calderon in 2007 and 2008.

To Perez's credit, he stood down as president in 2006 as Real was staring down the barrel of its third consecutive trophy-less season, a genuinely unacceptable return for its outlay in the preceding years. But he has hardly learned from the mistakes made during that period.

His first act as newly installed president in 2009 was to purge the team of Calderon purchases, including Wesley Sneijder and Arjen Robben, against the express wishes of Pellegrini. Bringing Cristiano Ronaldo, Xabi Alonso, Karim Benzema and Kaka to the club was quite a coup, but in real terms fairly ineffectual. The influence of the Dutch players was instrumental at Inter and Bayern in Champions League-winning campaigns as Real was left to look in through the window like a hungry dog.

This summer another splurge is the tonic Perez will offer to wash away recent history, with the current flavors of the footballing world set to be forced down the fans' throats. But again, there is little in the way of long-term planning in evidence as Perez's intent seems to be load the attack and ignore the defense, Real's Achilles heel this season, in pursuit of jogo bonito. The re-signing of Dani Carvajal is a step in the right direction -- mostly because Alvaro Arbeloa can be put out to pasture -- but it remains to be seen if Perez's ultimate ambition is building a successful and balanced side or banging out a few more million shirts.

Several sides in La Liga have played some decent stuff this season with budgets that would not pay for Ronaldo for a month.

The only glimmer of hope for Real is Perez's decision to install Zinedine Zidane as sporting director and, in his new mandate, afford more influence to a man who really does understand the game -- although, even that decision is the evolution of Mourinho's 2010 request for the France maestro to be more involved with first-team affairs.

However, the relative power wrested from the club's long-standing structure by the Portuguese has now been placed firmly back in the hands of Perez. A summer of big-name moves in and out of the Bernabeu is assured. Whether it will make any difference to the team's fortunes on the field is something Real's members can only wish for. Perez has made damn sure that the club will dance to the tune in his own head for a long time to come.