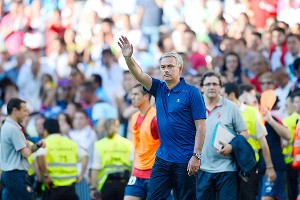 PIERRE-PHILIPPE MARCOU/AFP/Getty ImagesJose Mourinho waves to the Real Madrid fans during his last game in charge of the club.
It was always going to be a match played out more in the hearts and minds of Madridistas than on the field, where neither Real Madrid nor Osasuna had any reason to turn up other than the obligations of the fixture list.

Surely enough, a half-empty Bernabeu was split fairly evenly between those who will rue the day Jose Mourinho left the club, and those who have been praying for it for much of the season. A swarm of photographers prevented the Portuguese from entering his technical area at the start of the match.

But when the whistle went, Mourinho bade a low-key farewell to the crowd, waving briefly to the Ultras Sur and studiously ignoring the rest of the stadium.

He then disappeared down the tunnel of a sun-bathed Bernabeu, bringing to an end his tumultuous three-year tenure.

-Mou wishes Madrid 'much happiness'
-Higuain confirms Madrid exit

Real's 4-2 win was a mere footnote to a season that started on the right foot -- a Super Cup defeat of Barcelona -- but rapidly spiraled beyond the control of the Special One. He'll be back in the psyche of Real Madrid soon enough; that Mourinho will take over the reins at Chelsea from the Interim One seems inevitable. A reunion might even happen this summer at the eight-team exhibition tournament that bizarrely begins at Mestalla and concludes in Miami.

Saturday's early kickoff was little more than a friendly in essence. Osasuna turned on the style on occasion, freed from the shackles of a season spent largely in the pursuit of its own Primera status. Real lined up with Karim Benzema and Gonzalo Higuain on the field and both got in on the scoring action, the Frenchman displaying sublime touch to edge Real ahead in the second half.

Higuain, wearing the captain's armband, opened the scoring but barely recognized it himself, for reasons that would become apparent after the match. Following seven seasons as a striker at the Bernabeu, the Argentine, who may rightly feel himself undervalued throughout his time in Madrid, announced that he had just played his last game at the club.

His own reunion with Mourinho might come in the black and white of the Old Lady during the summer, or in the shirt of Tottenham Hotspur, which is plotting its own overhaul of its attacking options. Higuain would be some bargaining chip in Real's pursuit of current man-of-the-moment Gareth Bale.

Wherever Higuain winds up, he has proven that he deserves first choice status at any club that snaps him up: 108 league goals in 190 appearances speaks for itself.

What Mourinho did leave as a parting gift Saturday was the rare sight of five canteranos on the field in the second half. Nacho, caught out of position for Osasuna's second, a sumptuous Alvaro Cejudo header, has been an intermittent first-team player this season and might well be more involved next year with Fabio Coentrao eyeing the exit door.

Castilla keeper Jesus Fernandez will find it harder to tie down a regular spot but certainly did his chances no harm in an assured display. There was little he could about Alvaro Cejudo's strike, wrong-footed by a rather fortunate assist, and neither Iker Casillas nor Diego Lopez would have reached Roberto Torres' excellent strike.

Omar Mascarell was handed a first-team debut, as was Diego Llorente, who is still on the books of Real Madrid C and made his first appearance for Castilla this year. It was hardly an insight into the future, but a timely reminder from Mourinho that despite claims to the contrary, including Saturday's match he has handed first-team duties to 30 canteranos, including friendlies, during his tenure.

As Mourinho has said before, it is hardly his fault if Castilla plays a different system than his, making it difficult to bring in youngsters for games that matter.

But that is not his problem anymore. Whoever comes in to replace him -- and Jupp Heynckes seems to have moved to the front of that queue -- will face the same problem. The only canterano likely to play a significant part next season other than Nacho is Dani Carvajal, if Real stumps up the 6.5 million euros necessary to buy him back from Bayer Leverkusen.

Real Madrid will probably look very different next season. When Florentino Perez returned from the wilderness to replace Ramon Calderon in 2009, he made a point of doing away with several signings from his predecessor's era, Wesley Sneijder and Arjen Robben among them. Higuain has also suffered at Real by association with the Calderon regime.

With Mourinho gone, Perez will retake a more active role in transfer activity. It promises to be a busy summer in the capital.

Mourinho may have sealed his own fate last offseason when he declined the opportunity to enter the market, declaring himself happy with what he had. The season Kaka endured and the age (Xabi Alonso, Ricardo Carvalho), inaction (Raul Albiol) and loss of form (Marcelo, Coentrao, Benzema, etc.) of his squad cost him, and Real Madrid, in the end.

Luka Modric more or less engineered his own transfer from Tottenham and whether or not Real even needed another midfielder is questionable. But the Croatian has earned his first-team status and will be a key player next season.

Mourinho leaves Madrid after a first season without a major trophy since 2003. Real now faces a serious overhaul of its squad and the unsettling prospect of a Barcelona side boasting both Leo Messi and Neymar next campaign.

It is perhaps fitting that a low-key, barely attended knockabout brought the curtain down on Mourinho's role at Real after the fanfare that heralded his arrival. It didn't quite work out in the end -- at least not to the extent that the most successful club in Europe and a coach with a winning aura promised.