Sociedad's fire highlights Real's summer squad issues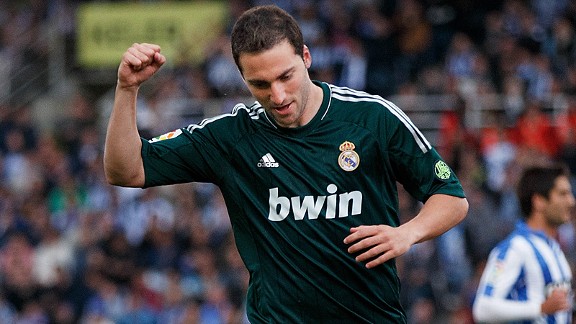 GettyImagesGonzalo Higuain celebrates after putting Real Madrid in front just six minutes into their game at Real Sociedad
Good lord. Only the Almighty knows what sort of farewell Jose Mourinho has in mind for his final game in charge of Real Madrid at the Bernabeu next week -- or what sort of send-off he will receive -- but the Portuguese's penultimate date at the helm wasn't short of drama in a 3-3 tie at Anoeta on Sunday.

Champions League-chasing Real Sociedad put the royale into this battle with a spirited display, clawing its way back after goals from Gonzalo Higuain and Jose Callejon had put the visitors firmly in the driver's seat. As was to be expected, most of Real's big guns were given the night off for a match that mattered little to Mourinho's side. Xabi Alonso cut a nervous figure as he watched his old club from the VIP heights, while Cristiano Ronaldo was discarded due to a minor twinge.

But as the adage goes, you can only play what's put in front of you and La Real would have given anybody a decent go with the sort of motivation and industry the visitor lacks when there is no tangible reward on offer.

-Zidane: Ronaldo isn't going anywhere

Were not for Real keeper Diego Lopez, this could have been a rout. Much has been made of the Mourinho-Iker Casillas communication breakdown, but even the Spain captain, watching from home, would be hard pressed to dispute the usurper's place in the starting 11 at the moment. Lopez made a string of excellent, acrobatic saves to keep a rampant Sociedad at bay throughout.

Lies, damn lies and statistics Benjamin Disraeli once said, and the numbers game is never a fully satisfactory answer to any question posed by football. Still, Lopez's figures add plenty of weight to the argument. Since taking over between the sticks, the former Villarreal stopper has made almost double the number of saves per game his predecessor managed in the first half of the season -- not that he has much choice with Real's back four in a constant state of flux.

But his save success rate exceeds that of Casillas, he has claimed more crosses than the Spain captain and has been far more accurate in his distribution. Does size matter? In the case of a keeper's height it certainly can't hurt, and Lopez (6 foot 5) has 11 centimeters on Casillas.

So it seems unfair to an extent that Lopez may well be the first victim of whichever regime arrives at the Bernabeu in the summer. On the evidence of Sunday's match, the incoming coach will have lot more than the phony wars Mourinho has fought to occupy his time.

Without Ronaldo, Alonso, Sergio Ramos, Raphael Varane, the pace of Angel di Maria and the incisiveness of Mesut Ozil, Real looked vulnerable across the Anoeta turf.

The home side clearly wanted the result more and although a professional but uninspired Real did what it is paid to do, the result eventually boiled down to that old Spanish chestnut: cartera contra cantera: the Mourinho era has cost Real 130 million euros in transfer revenue. In the same time, La Real has parted with just 8.8 million.

You can wave a checkbook about and pay players as much as you like, but you can't instill the sort of attitude that comes from fielding a side almost entirely comprised of youth team graduates, as La Real does. From 2-0 down -- the first a gift for Higuain born of the Argentine's instinct and La Real's philosophy of playing the ball out from the back -- Philippe Montanier's men pulled back to 2-2 and not one head dropped when Ozil and Sami Khedira combined to restore Real's lead a minute later.

For the sheer number of chances created by the home side, poetic justice was served when Xabi Prieto bundled the ball over the line at the death to secure a vital point and keep La Real's Champions League hopes alive.

But the question presents itself: how many of the Real Madrid team on the night will be around next season? And what will a new coach be able to squeeze out of those who remain that Mourinho could not? If this season was considered a failure by most at the club, a nasty wake-up call awaits. Some serious rebuilding is needed in the summer, especially in central defense; Ricardo Carvalho is past it and Raul Albiol basically left it at Valencia. La Real mercilessly exploited the two backups and gave Marcelo a torrid time on Real's left while Alvaro Arbeloa was anonymous.

Luka Modric may follow Mourinho to Chelsea and 'unloved' Fabio Coentrao may do likewise. Callejon, who kissed the badge in that time-honored show of love for the club on being substituted -- but at least in his case, probably meant it -- is being touted as a makeweight for Malaga's Isco. Higuain and Benzema have been linked with a move to the Premier League and Pepe is an unlikely target for Manchester City, among others.

The spine of the team will remain next season, but as proven in Anoeta and consistently throughout this season, what lies beneath is far from able to prop the star body up. Real can have no complaints about escaping with a point on Sunday.

Whether Carlo Ancelotti, Jupp Heynckes or the ghost of Bill Shankly takes over, Mourinho's final waltz next weekend will not be the last Real sees this summer. Florentino Perez is likely to be re-elected without opposition next month and he'll lay down a marker for a new term with several statements of intent.

The first of those should be a clearout similar to that of 2009-10, when half the first-team squad was jettisoned and well over 200 hundred million euros spent on Ronaldo, Alonso, Kaka and Benzema.