Madrid start work on building squad for new era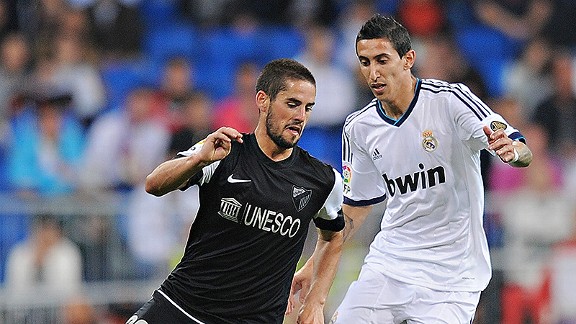 Denis Doyle/Getty ImagesMalaga starlet Isco, seen here battling against Real Madrid's Angel Di Maria, could be on his way to the Bernabeu this summer.
The end of an era is forthcoming at Real Madrid, but Los Blancos have already set the wheels firmly in motion for what the club hopes will be a bright future at the Santigao Bernabeu.

President Florentino Perez this week made the long-awaited announcement that Jose Mourinho would leave as manager at the end of the campaign. Two more games for the self-proclaimed Special One. Two more games that Mourinho, and indeed Madrid, could do without.

The Portuguese may have the sense of working out his notice, taking his foot off the gas and counting down the minutes, or seconds, until he leaves for pastures new -- pastures that will probably be at Stamford Bridge and Chelsea.

The work will not stop in the offices, however, as the Madrid staff, led by Perez and director of football Zinedine Zidane, work on bringing in the right pieces to complete the jigsaw for the club's next, and what they hope will be fruitful, era.

A change of manager usually brings a big change in the playing staff, too. Madrid may currently have a squad that would make the vast majority of teams around the world green with envy, but expect the arrival of Carlo Ancelotti, or whoever else Madrid bring to the Bernabeu, to signal a slightly large change in personnel than continuity in keeping Mourinho.

- Sanz: Mourinho couldn't handle heat at Madrid
- If not Carletto, Benitez or Laudrup?

Madrid's new manager will have to accept that some of the players arriving in the Spanish capital this summer will not be players of his choice. Top class, high calibre, no doubt, but choices picked from a shortlist that was probably drawn up months ago.

The wheels are already in motion. Madrid are keen admirers of Tottenham Hotspur's Gareth Bale, something Zidane himself has confirmed, but the talk this week is of Malaga's Isco being Bernabeu-bound. Representatives from the club have been spotted in the Spanish capital and the smoke from that fire is getting extremely thick.

Manchester City have also been linked with the attacking midfielder, and the expected appointment of Malaga boss Manuel Pellegrini will only act to heighten those links. The former Valencia player is someone Madrid has long admired however, and it appears they are willing to meet the high release clause set by the club.

With doubts over Angel di Maria's future with Madrid, and indeed Luka Modric and Cristiano Ronaldo (though the latter, granted, should stay), Isco should be a good fit at the Bernabeu. He comes with proven qualities, but proven qualities at a very young age. Experience in the Champions League and at the top end of La Liga, with Valencia as well as Malaga.

With the emergence of Raphael Varane as well, Madrid could be looking to start building a young team that can grow and win together. If Perez manages to bring Isco to the Bernabeu, Madrid will have two of the brightest prospects, if not best players, in La Liga, and in key positions.

Going the other way looks to be Gonzalo Higuain, with Juventus seemingly leading the chase for his services. The Argentinian has been a good servant to the club but has not enjoyed the best season (then again, who has?) and was eager to leave for more regular first-team action last season.

His departure should pave the way for someone coming in the other direction, not just to plug the gap, but to improve it. Sergio Aguero, currently at Manchester City, continues to be linked. Radamel Falcao seems destined to leave Atletico this summer but an 'interim' move to another club, before potentially arriving at the Bernabeu, looks likely.

While Madrid weighs up the comings and goings before even bringing in a successor to Mourinho, the new man will want to do some reshaping of his own, too. Players such as Kaka, di Maria and Fabio Coentrao may well be heading for the exit door to make way for fresh ideas.

Madrid may be involved in two big remaining games for their opposition -- Real Sociedad, Sunday's opponents, are desperate to secure a top-four finish, while Osasuna could be battling against relegation on the final weekend of the season -- but they are games that will play second fiddle to Los Blancos sealing a deal for Mourinho's successor, as well as a number of players they hope will reignite the squad in 2013-14.