All eyes on Ronaldo in Seville
Like it or not, all eyes will be on Cristiano Ronaldo at the Sanchez Pizjuan on Saturday night.

La Liga returns for Jornada 4 after the break for international matches and Real Madrid, with their Portuguese talisman in tow, will face a tricky return to action against Sevilla.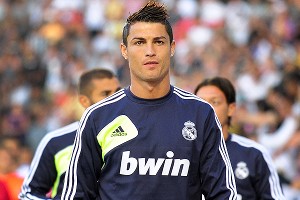 GettyImages / Frederick J. Brown/AFP/Getty ImagesRonaldo and Real face a tricky fixture against Sevilla.
Will he score? Will he celebrate? Will we see a smile or will Ronaldo continued to show his "sadness" if he finds that back of the net in what's been a happy hunting ground for Madrid's number 7 since his arrival in the Spanish capital.

It's the first game in the all-white of Madrid for Ronaldo since his much-discussed comments claiming his sadness at professional issues at the Bernabeu. He scored twice for Los Blancos in a 3-0 win over Granada, their last outing, but didn't raise a smile. He played twice for Portugal during the international break, scoring in their 2-1 against Luxembourg and celebrating with his teammates.

Whether or not his personal problems had been solved before then, or whether his celebrations with his nation simply highlighted they were a club-based problem more than anything else, is yet to be cut and dried, at least in public.

Ronaldo met with Madrid boss Jose Mourinho and club officials this week and he released a statement via his Facebook page claiming that he was ready to return to winning ways with Los Blancos, starting with this weekend's clash against Sevilla.

He said: "I would like to reaffirm, without being concerned about contracts, that my focus is solely on winning every game and every available trophy with the essential company of my teammates and all madridistas."

Nothing too in-depth, then, but with the mention of trophies, Madridistas would like to think they'll see a Cristiano Ronaldo who'll be firing on all cylinders when he's back in La Liga action.

Not good news for Sevilla, then.

Los Rojiblancos are already sick of the sight of the Portuguese star more than most since his arrival in Spain. Most clubs are, but Ronaldo has enjoyed an extraordinary record at the Sánchez Pizjuan. In the last two games he's netted seven, yes seven, goals. An emphatic record to have against any side, not least against a club of Sevilla's standing on their home turf.

Madrid have won 6-2 in their last two league visits to Seville. Ronaldo scored four in the 2010-11 season and a hat-trick in the last campaign.

With a Cristiano Ronaldo who's made the headlines even more than he usually does in recent weeks coming to town, and with all eyes firmly focused on him, you can bet your bottom dollar he'll be searching for another goal haul this time around.

As every game is thanks to the close battle at the top of La Liga between Madrid and Barcelona, Saturday's trip to Andalusia will be crucial for Los Blancos. They're already playing catch-up with Barcelona, who they trail by five points after three matches, and want that gap to narrow, rather than widen, as soon as possible.

The Catalan club play in Madrid two hours before Los Blancos kick-off, with what's now classed as a tricky test at Getafe, the side who beat Mourinho's men earlier this campaign and who edged out Barca on home soil last season. Should Tito Vilanova's side claim all three points in Madrid, that'll pile even more pressure on Los Merengues in Seville.

It's an important weekend, then, for Madrid, especially on the back of an international break. No fewer than nine Madrid senior squad players were away on international duty, some with longer trips than others, so it'll be interesting to see the starting eleven Mourinho fields in his quest for three points.

Nis number 7, slight muscle problems aside, should be one starter. Expect it to be an interesting one...

Follow me on Twitter @nicholasrigg