If not Carletto -- Benitez or Laudrup?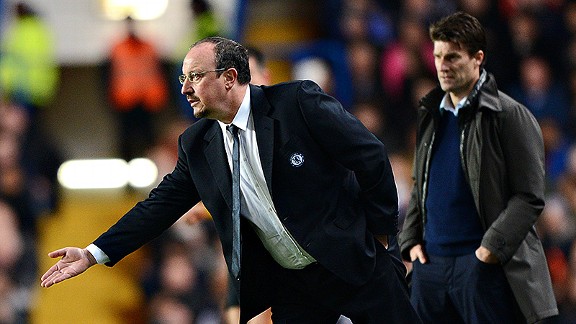 AP Photo/Darren WalshRafa Benitez, left, and Michael Laudrup could be attractive managerial options for Real Madrid if they can't pry Carlo Ancelotti from PSG.
So that's it, then. In a press conference on Monday, Real Madrid president Florentino Perez divulged the least surprising piece of news since Mariano Rajoy announced for the 74th time this week that Spain is doing just fine, thanks. Jose Mourinho will not be the manager of the team next season.

The information was delivered with suitable gravitas by the master of ceremonies, who paused theatrically after declaring "following a meeting of the board..." but the writing had been on the wall for months, none of it hugely complimentary about the outgoing Portuguese.

Mourinho's position had been untenable for most of a disappointing season, one he described himself as the worst of his career. It was not Real's worst season ever: far from it. A Cup final, a Champions League semifinal and second place in the league would do most clubs rather nicely. There is even a Supercopa trophy in the cabinet for now, albeit one dismissed by Mourinho as irrelevant and that Atletico and Barcelona will contest in August.

But Real Madrid is not most clubs. Success is not even a guarantee of avoiding the chop, as Vicente del Bosque discovered on being sacked the day after he delivered a league title, and having offered two European Cups to his paymasters in a four-year reign.

The term "mutual agreement" is a convenient one in football, especially when the issue of who owes whom 20 million euros is on the table, but in this case it is quite apt. Mourinho had had enough of player power, the Spanish media, the fans, Real's obsession with being a "club señor" and just about every aspect of managing the team that you care to mention. Real had had enough of Mourinho. Two major titles in three years is not enough for the trophy-hungry Bernabeu and even if the Portuguese did knock Barcelona off its perch, it was a temporary shift.

So Perez now needs a new coach. Although Real's pursuit of Carlo Ancelotti is public enough, so is the determination of PSG owner Sheikh Nasser Al-Khelaifi to hang on to the title-winning Italian schemer, who has a year left on his contract.

Having paid out big to land Manuel Pellegrini and then Mourinho, the Bernabeu hierarchy is ill-disposed to get its checkbook out again. And even if Real throws its considerable weight around, it will find in Al-Khelaifi a worthy adversary. Put simply, PSG has more cash than Real Madrid. So much more that an offer for Cristiano Ronaldo of 100 million euros to Real, and 18 million a season to the player, has been mooted.

Real has played its cards early, announcing to the football world its plan A. But much like a smooth operator at a cocktail party, Perez would be foolish to concentrate his efforts on the prettiest catch in the room. There are always easier, and cheaper, targets who may turn out to be the better bet over the long course.

Real is not a club traditionally associated with lengthy campaigns to get what it wants, and Perez has whittled through eight managers during the nine years of his two mandates. The question therefore presents itself: what will Real do if the route to Ancelotti is blocked by his current employer? A few other options are certainly available.

"As the matter of the [new] coach is not going to be resolved overnight we have plenty of time to think about it," Perez said on Monday. "Furthermore, we don't have just one coach in mind but several; one, two, three or more."

One potential candidate is certainly out of a job in the summer, has extensive experience of La Liga and recently won a European title. Step forward Rafa Benitez. The "Interim One" would certainly relish the chance to step into Mourinho's shoes -- or should that be jump into his grave? -- after a calamitous spell in the Special One's wake at Inter.

In fairness to Benitez, he was not backed in the transfer market by the treble winner and stated quite plainly the squad needed an overhaul. That is certainly the case at Real, where cash will be in plentiful supply with Perez up for re-election on June 16. Whether anybody will be able to afford to challenge the incumbent is questionable: in 2009 Perez ran unopposed because of the pesky requirement to stump up more than 50 million euros as a bank guarantee.

Big signings will be the tune on Perez's Pied Pipe in the coming weeks. There will be a fair few players going the other way as well. Benitez led Valencia to the 2003-04 Liga title -- the last time any team other than Real or Barcelona lifted the trophy -- and added a UEFA Cup win in addition to two Champions League finals. Taking Liverpool into consideration, Benitez has overseen four Champions League showpieces, two more than Mourinho, and is a former coach and player at Castilla, not a bad calling card at all for a club that likes one of its own. However, Real will have to act swiftly, with glamorous Napoli reportedly in talks to sweep Benitez up in its arms.

Another dashing former Real employee is also a Cup winner this season and has been widely lauded for his side's swashbuckling style, although some of that credit for that is inherited. Michael Laudrup moved to Real from Barcelona in an era before pig's heads were allowed into Camp Nou and was a large part of the reason the bacon was brought home to the Bernabeu after four years of dominance by Johan Cruyff's dream team. Whatever the compensation clause Swansea have inserted into Laudrup's current deal is likely to be peanuts to Perez.

Laudrup also pulled off the transfer coup of last summer when he snapped up Michu from Rayo Vallecano for a song. The Spaniard, who would not look entirely out of place at the Bernabeu himself, said of Laudrup that the players were astounded by the skill the Danish master displayed on the training field. "Playing for Michael Laudrup is an amazing experience. He was one of my idols when I was growing up. When he joins in the training session you can see he is a much better player than we are."

Compare with Sergio Ramos' withering appraisal of Mourinho after the Portuguese cited him for being out of position to allow Carles Puyol to score in a Clasico encounter. "I made a positional change because sometimes in games you have to. You were never a player so you wouldn't know" Ouch.

Really, Real's options are extremely limited. Dortmund's Jurgen Klopp is going nowhere. His opposite number in Saturday's Champions League final, former Real coach Jupp Heynckes, is 70 and unlikely to want the hassle that comes with managing the modern Real, even if he does decide to continue his career after Bayern Munich. Alex Ferguson has retired. Arsene Wenger is not a short-termist and committed to Arsenal. Roberto Mancini failed spectacularly to manage a world-class squad at Manchester City. Antonio Conte? Hmmmm.

But essentially what Real needs is a coach who will galvanize the squad, be media-friendly and win games while playing some decent stuff. Ancelotti can certainly do that. But if PSG's hardball tactics preclude the Italian's arrival, Benitez or Laudrup could be a suitable fit.

Or Perez could always give Guti a call....