Curse of set-piece offers Atletico route to final chance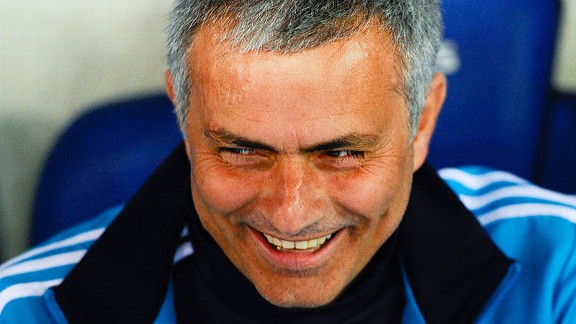 David Ramos/Getty ImagesWith Raphael Varane injured, Jose Mourinho has a defensive decision to make ahead of Friday's Cup final versus Atletico Madrid.
Real Madrid's 1-1 tie in Cornella-El Prat against Espanyol handed the title to Barcelona with three weeks of the season remaining, but it was in essence merely a case of Jose Mourinho's side popping a cyanide pill before facing the firing squad.

- Rigg: Madrid failure vs. Espanyol crowns Barca

Even had the result gone the other way -- and in reality it should swung even further in the home side's favor but referee Iglesias Villanueva inexplicably disallowed Hector Moreno's effort after a bit of standard pushing and shoving with Xabi Alonso in the area -- it would only have papered over the cracks. For months now, since the side went 16 points behind Barcelona in the league last December, Real has been like the little Dutch kid who saved his town by putting his finger in a dike.

The tide Real has been seeking to hold back is not that of the freezing North Sea, but goals conceded from set-pieces. This season, Real has conceded 17 goals of 55 in all competitions directly from set pieces. It was kind of fitting that the league title should be definitively lost via a set-piece. Stuani's strike for the home side came from a secondary action following a corner: if you add all of those to this season's tally, the figure is even more detrimental to Real's defensive coordinators. Simply put, Mourinho's team has not been able to deal with balls slung into its area this season.

This was half the reason that Mourinho dropped Iker Casillas. Quite apart from the falling out between the two -- largely because of information finding its way out of the locker room and the keeper's girlfriend confirming it all on live television -- Mourinho felt Diego Lopez is a better all-round keeper. And the statistics from dead ball situations bear that out. Most of the goals from free-kicks and corners were conceded in the first half of the season by the Spain stopper.

"I like a keeper who plays well with the ball at his feet, who comes out well for crosses, who dominates the air..." the Portuguese told a press conference before Real's match against Malaga last week. "Iker is a great keeper between the posts; he makes fantastic saves. But I prefer a keeper with a different profile."

Mourinho also prefers a defender with a different profile, and to add injury to insult on Saturday, Real lost its first-choice center back to injury: Raphael Varane has apparently sustained a knee injury that brings his season to an end. With Pepe banished to the stands for failing to toe the party line on Casillas, this presents Real with a problem ahead of the all-important cup final on Friday.

Set-pieces again are relevant as the capital city rivals square up for the only piece of silverware still up for grabs this season. Atletico has scored 30 from dead ball situations in all competitions, precisely the same number as Real Madrid. But the Mattress Makers have only conceded 39 overall, with Thibaut Courtois keeping 19 clean sheets in the league.

With Varane in the side, Real Madrid has only lost four times in 2012-13, and only one of those came against Spanish opposition in the unlikely shape of Granada. Even then, it took Cristiano Ronaldo's first professional own goal to separate the sides. The young Frenchman has played 28 times this campaign and had displaced Pepe from the side long before the Portugal international elected to challenge his boss.

A Marca poll -- amusingly sponsored by Spanish rental company Pepephone -- taken Sunday morning to decide who should partner Sergio Ramos on Friday was instructive: more than 50 percent said the ostracized defender. Just four percent said Ricardo Carvalho. The most likely option is Raul Albiol.

"I don't have to justify anything concerning Pepe. I'm the coach. I decide," said Mourinho after Saturday's match. "You'll see who will play on Friday. The responsibility will rest with me. Thankfully we have alternatives. It is a position in which we have people who are playing, we don't have to call on people who are not playing. There are people who are doing well."

Anyone who's half-decent in the air would seem sensible. Espanyol met every corner thrown into the box in Cornella, with Real's defense in its usual state of disarray.

Atletico's training center at Majadahonda will be a hive of set-piece activity this week, with Diego Costa and Radamel Falcao particularly endowed to be a handful in the box

However, Real's latest come-from-behind performance at Espanyol did bring up an encouraging number, and one that decided the league derby a fortnight ago; Mourinho's side has recouped a league-high 24 points from losing positions this season.