Modric a ray of light in gloomy season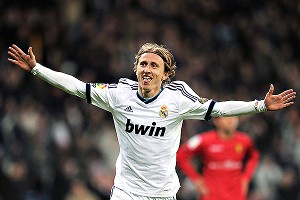 Denis Doyle/Getty ImagesLuka Modric has been a bright spot in an otherwise-forgettable Real Madrid season.
Believe it or not, there are some positives to take from this tumultuous season for Real Madrid.

Arguments here, shock results there, in-fighting all over the place. A big failure in Los Blancos' defence of their Liga title and a disappointing, although not wholly outrageous, Champions League exit at the semi-final stage.

-Karanka: Real 'ideal place' for Ronaldo

That's not even mentioning the mudslinging that's gone flying between the Bernabeu and the Spanish press pretty much since day one of the season. Pretty much before the season even kicked off.

On the whole, it's been a season that, generally, Madridistas would like to quickly forget and look towards a new dawn, with a new manager at the helm for the 2013-14 campaign.

Nothing against Jose Mourinho -- I'm very much in the pro-Mou camp -- but it's got to the point where many think enough is enough, bring on a fresh start. I tend to agree.

It's not all been doom and gloom for Los Blancos, however. There have been positives throughout. Not jam-packed into the season, granted, but there nevertheless.

The rise and rise of young defender Raphael Varane from promising prospect to first-team regular is one such nugget. Victories over Barcelona are always good, too. A Copa del Rey triumph, although far from Madrid's main aim last summer, would be a good way to end the campaign.

One positive that's grown throughout the campaign is the capture of Luka Modric. Brought in seemingly as expensive backup to Mesut Ozil when he arrived in the Spanish capital from Tottenham Hotspur, the Croatian is finishing the season as one of Madrid's form players.

The 27-year-old made a sluggish start to his Bernabeu career, but few players are able to adjust to life at Real Madrid like a duck to water. In a pressure atmosphere, ironically, patience is key. Sami Khedira and Mesut Ozil are just two examples of players who clicked into gear in their second season at the club. It looks as if Modric could follow suit.

The former Spurs man needed time to adjust to the slower pace and bigger build-up play of La Liga in comparison to the Premier League. He has the skills, he's always had the skills. Now he seems to have proven he has the temperament to succeed, too.

Madrid thumped Malaga 6-2 at the Bernabeu on Wednesday night in a typical, all-out attack end-of-season affair. Few players, if any, were too keen on defending. The first-half dismissal of Sergio Sanchez made Malaga's life tougher and opened the game up more.

Modric played a central role. As well as scoring a fine individual goal to fire Madrid 5-1 ahead, his midfield presence is something any replacement for Mourinho can rub his hands to for next season.

Starting as part of an attacking trio behind front man Karim Benzema, the Croat showed his valuable versatility, too. In attack, he played mainly through the middle but adequately drifted wide to add fresh options. In defence, he dropped back to form part of a holding three alongside Xabi Alonso and Michael Essien, packing the central areas to thwart the visitors.

He was easily interchangeable, too, and very much a team player. If Alonso or Essien powered forward to join the attack, Modric dropped back to cover. It's a role that suited him down to the ground given the questions over where exactly his best position is. Playing deep and spraying balls about, or enjoying a more attacking role.

His performance was even enough to see the Bernabeu give him a standing ovation when he was subbed off in the 65th minute. It could be enough to see Mourinho give him a starting role in the cup final clash against Atletico Madrid.

Being a Mourinho signing, and someone who is still 'on-side' with Madrid's current boss (when plenty aren't), should give Modric a chance of starting against Atleti in the Copa final May 17.

His progress this season has been encouraging and bodes extremely well for next season. Whether any incoming manager agrees is another thing.