Pellegrini reminds Mourinho of longevity 'success' at Madrid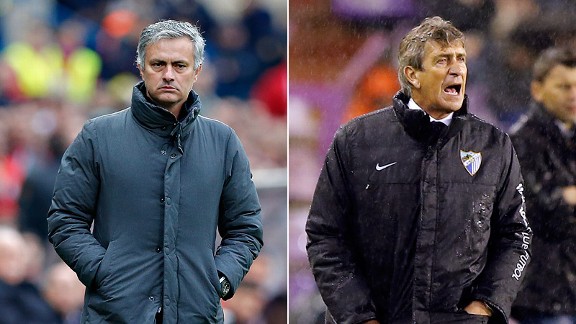 Cesar Manso/Getty ImagesTwo men well acquainted with the pressures of being the boss at Madrid, Jose Mourinho and Manuel Pellegrini, square off Wednesday night at the Bernabeu.
If there's one thing Jose Mourinho can take from what will be a relatively meaningless match in the grand scheme of things for Real Madrid against Malaga on Wednesday night, it's that he has lasted at the Bernabeu longer than most.

With rumours over Mourinho's future at fever pitch following Madrid's exit from the Champions League last week, the Portuguese can at least look to the opposition bench, at Malaga boss Manuel Pellegrini, and the long list of managers who have been in and out of the Bernabeu quicker than a Cristiano Ronaldo-led counterattack.

- Mourinho talks up Real stay
- Terry remains in touch with Mourinho

With Mourinho long having been expected to leave for pastures new this summer, journalists, myself included, will weigh up whether or not his stay as Madrid boss has been a success or not come the end of the campaign. Regardless, it certainly can be deemed a success in longevity -- a word rarely used in association with a manager of Los Blancos.

The "Special One" may not see out his contract if and when he leaves in the close season, but a three-year stint at a club famous for parting company with managers at the drop of a hat can be seen as a success, if only in convincing Florentino Perez that he has been the right man for the club.

A look over to Pellegrini in the visitors' bench on Wednesday night can only act to confirm that longevity "success."

Mourinho succeeded the Chilean at the Bernabeu in the summer of 2010, with Pellegrini spending just a year at the club. He chalked up a record 96-point haul in La Liga in his only year at the helm, but that was not enough to topple Barcelona, who won the league with 99 points. An early exit from the Champions League against Lyon and a shock Copa del Rey cup loss against lowly Segunda Division B side Alcorcon didn't help.

Indeed, it was Mourinho's availability following his time with Inter Milan that is said to have prompted Perez, who appointed Pellegrini as his first manager in his second spell as president, to opt for change. Had Mourinho decided to stay in Italy, or move elsewhere, who knows what would have happened?

Probably not much different in terms of Pellegrini's stay at the club, in all honesty, with Madrid cementing its reputation for chopping and changing managers pretty much for the past few decades.

Looking at a list of the club's past managers is like looking at a shopping list. Current Spain manager Vicente Del Bosque enjoyed a successful stint, in silverware and time at the club, between November 1999 and June 2003, while Leo Beenhakker spent a similar three-year spell to Mourinho in the 1980s, and Miguel Munoz leads the way with a near 14-year stint including nine league titles and two European Cups.

Since Del Bosque's stint in the Spanish capital, Mourinho has been the man to stick around the longest.

Carlos Queiroz, Jose Antonio Camacho, Mariano Garcia Ramon, Vanderlei Luxemburgo, Juan Ramon Lopez Caro, Fabio Capello, Bernd Schuster, Juande Ramos and, finally, Pellegrini. All came and went in double-quick time between June 2003 and May 2010. All failed to make it to triple figures in terms of matches in charge of Madrid.

Indeed, the stats show Mourinho as the third-longest serving manager at the club, behind Del Bosque and Munoz, in terms of matches managed, with 172. Incredible, given the mudslinging that's occurred almost since his arrival at the club right up until his probable departure.

Although Mourinho and Pellegrini shared a bit of mudslinging themselves in the first season of change at the Bernabeu, the Special One can also take heart that the Chilean has done so well at Malaga following his time at Madrid.

It's not that Mourinho will doubt his abilities after failing to achieve a target set out in bright lights in La Decima -- of course not, this is the self-proclaimed Special One. The demands of managing Madrid, arguably the toughest job in world football, over three years, could well take their toll in the short term, however.

Pellegrini got Malaga to within seconds of a Champions League semifinal against Madrid this season and, although having riches at the start of the Malaga project, has been forced to sell his best players and cope with financial pressures. His work at the club has attracted the interest of Europe's leading clubs including Manchester City.

Wednesday's match will not be wholly meaningless, of course, especially for a Malaga side still pushing for the top European spots. Since their last-gasp European exit against Borussia Dortmund, however, their form has stuttered.

The result is more important for Pellegrini's men than it is Mourinho's. Madrid still harbour hopes of finishing the season unbeaten at home and want to seal their second-place finish as soon as possible. European competition, possibly, is on the line for Malaga, however.

There's likely to be more pantomime jeers for the Madrid boss when his name is read out by the announcer before the match, and cheers for substitute Iker Casillas, while Mourinho has got a brand-new enemy in Pepe, who spoke out in favour of Casillas at the weekend and has duly been left out of the squad for the round 36 match.