Mourinho's timetable provides Perez with a problem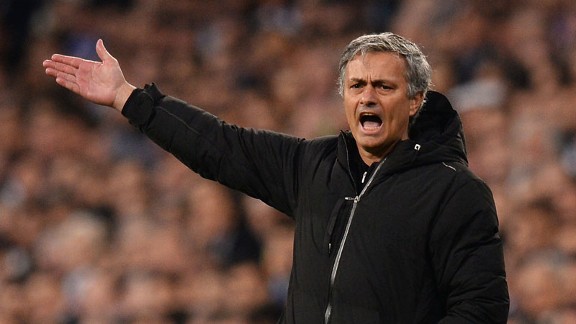 GettyImagesJose Mourinho looks set to leave Real Madrid sooner rather than later
In the end, Jose Mourinho and Real Madrid fell just short of an epic European comeback at the Bernabeu on Tuesday night. Despite overwhelming the opposition for the first 45 minutes, Borussia Dortmund steadied after the break and had a couple of chances to put the tie beyond the home side, before Real's late rally and siege of the visitor's box. But it was a bridge too far for a side thoroughly beaten in Dortmund last week – and another example of the value of an away goal. Whether Barcelona will get as close to Bayern on Wednesday after failing to hit the net in Munich is doubtful.



But the headlines this morning in Spain were all about the coach, who appeared to put a lighter to the fireworks under the last bridge between himself and a return to the Premier League. "I will go where I am loved," a typically modest Mourinho told the press after the game. Although he was careful to point out that he has a contract and the utmost respect for his president – a wise move when that man is Florentino Perez – the Portuguese essentially let the world know that he will be back in England this summer.

- Delaney: Frantic finale fitting for Dortmund
- Mourinho hints at Chelsea return
- Press Pass: Dortmund seal Wembley date
- Video: Dortmund delight as Madrid bow out

"At the end of the season, I want to sit down with the president and speak about it… I know in England I am loved. I know I am loved by some clubs, especially one. I am loved by the fans and the media, who treat me in a fair way. I know in Spain it is different because many people hate me."

Mourinho has done as much polarising as Ernest Shackleton since his arrival in Spain. His litany of misdemeanours is as long as the hoary tales of the great explorer, from his spat with the universally loved Manolo Preciado to jamming his thumb into Tito Vilanova's eye. When he leaves – and it is when, not if – this summer, he will be missed by as many as heave a sigh of relief, especially the voracious Spanish press.

But Mourinho will have no trouble moving on from Real Madrid; the marriage has been annulled for some time already, and the influence of certain players should not be dismissed, despite Perez's public protestations to the contrary. How Madrid will deal with the break up is another matter: Mourinho's record at a club starved of success in recent years is pretty decent. Whacking on the Whitney and hiding in a darkened room isn't going to bring that back. Perez needs a heavyweight coach, and he needs to find one and woo him now.

There is every chance of a game of musical chairs in the European managerial market this summer. Arsene Wenger may be the most tricky to steal away from his current club but there has always been a link between the veteran French schemer and Real Madrid. Whether Wenger's brand of aesthetics at all costs – which translates as limited recent success and balanced books – is Perez's cup of tea is doubtful. An empire cannot be built in a day, but Wenger is more of a legacy man anyway.

A few hopeful ears may have pricked up at the sound of Vicente del Bosque announcing his retirement from the national side next year, but the moustachioed maestro ruled out any kind of managerial gig when he steps down from La Roja.

In-house replacements are all the rage in Spain and Aitor Karanka certainly has more of a public profile than Vilanova did when he succeeded Pep Guardiola. And Karanka is a former player who would be popular with fans. But he's just not… Real Madrid's idea of a touchline titan. Apart from a couple of strange moves since Del Bosque's imperious reign – Wanderlei Luxemburgo and hiring Alex Ferguson's number two, Carlos Queiroz, spring to mind – Real has leaned toward the stern, scowling type in Fabio Capello or Bernd Schuster. Perez flirted with a Wenger-type philosophical tactician in Manuel Pellegrini but had his head turned by the availability of Mourinho: possibly one for the book of regret in view of Malaga's rise with a fairly limited budget compared to Real's.

In truth, there are few managers that could really replace Mourinho. Two of them will contest the Champions League final later this month unless Barcelona pull off a miracle this evening. Jupp Heynckes has been and done it before. Jurgen Klopp is the latest managerial darling but seems admirably faithful to the Dortmund project.

Carlo Ancelotti is arguably the best candidate, having coached just about every superstar ego on the planet and boasting an array of titles to go with experience. And of course Real has a few baubles that PSG probably wouldn't mind getting its hands on.

A new coach will have to start thinking about transfers before too long. Gareth Bale may well be on the market to the highest bidder but being first in the queue won't do any harm either. And then there is the much-needed overhaul of Real's squad to consider – something Perez will be doing as of this morning.

Mourinho wants to wait until the end of the season to tell the world what it already knows. Perez will be on the phone making a few discreet inquiries in the meantime. He cannot afford to linger to cater to Mourinho. He will also be very lucky to find someone to repeat the relative successes of the Portuguese's tenure, even if Dortmund did throw a spanner into the works of the latest assault on la Decima.