Who stays? Who goes? Madrid starts rebuilding process
The dust has barely settled on Madrid's Champions League exit, but the talk already has turned to how Los Blancos should restructure their squad for next season.

A piece of silverware is still up for grabs in the shape of the Copa del Rey later this month, but with dreams of La Decima at an end this season and La Liga long gone, it's time to start thinking about the ins and outs during the summer months at the Bernabeu.

That talk probably started many months ago behind the scenes, especially at a club such as Madrid -- Jose Mourinho all but confirmed his departure this week -- and it means Madridistas can expect plenty of changes at their club for the 2013-14 season.

- Video: Mourinho to Chelsea?
- Mourinho: I'll leave Real in great shape

Not only do Los Blancos have to bridge the gap with Barcelona (although Madrid has enjoyed the upper hand in recent head-to-heads), they also have to make strides to match the new German powerhouses of Bayern Munich and Borussia Dortmund, who will contest this season's Champions League final at Wembley.

Spanish sports newspaper Marca led with the headline "Operation Deadwood" this week. In other words, clearing out unwanted players to make way for new arrivals. Madrid had apparently set aside 100 million euros for new signings initially, but club president Florentino Perez is understood to have increased that budget and will rely on the sale of current players to help boost funds.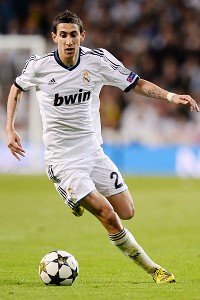 Mike Hewitt/Getty ImagesAngel Di Maria might be one of the players to move on this summer, but Real Madrid would be wise to keep him at the Bernabeu.
Ricardo Carvalho is set to move on, with his contract coming to an end, while Michael Essien will return to Chelsea following a relatively successful loan spell. He could end up joining forces with Mourinho at Stamford Bridge next season, if reports are to be believed.

Antonio Adan, Fabio Coentrao, Pepe, Angel Di Maria, Gonzalo Higuain and Kaka are the other players reported to be available for transfer. So, from those six players, who should stay and who should go?

Goalkeeper Adan is surplus now, following the arrival of Diego Lopez this season. Adan had a brief stint as the No. 1 keeper midway through the season, but Lopez's arrival put an end to that. With Mourinho gone, Iker Casillas could well regain his starting place, and Lopez will be a great backup. So, adios Adan.

Kaka, for all his admirers, is another clear choice to make way for new signings. Not only has the Brazilian struggled to match his AC Milan form, but his wages are sky-high. Which begs the question: Who can afford him? The player will have to take a big wage cut to move on, but he will be desperate to play consistently, and he won't get that at Madrid.

Still, it shouldn't be too difficult to come to some kind of arrangement. With Mesut Ozil performing as he has this season and Luka Modric growing into life at the Bernabeu, Madrid has the creativity and can add more for a slice of the money thrown at Kaka. Perhaps a long-term loan move, similar to that of Nuri Sahin to Dortmund, will be the way forward.

Madrid also is expected to look for more firepower in the summer, which could mean the end of Higuain's stay. A favorite of the fans, maybe, but the Argentine has struggled for consistent form this season. Karim Benzema has, too, but the Frenchman is a favorite of Perez and adviser Zinedine Zidane, who helped entice the player to Spain.

Higuain, too, will not be keen on playing second, or third, fiddle. He was linked with a move away from the Bernabeu last season because he wanted more game time, with Paris St Germain reported to be leading the chase, ahead of a number of Italian clubs. Expect more interest, and possibly a firm bid, this summer.

The one player Madrid should hang on to from that list of six is Di Maria. The jet-heeled winger was my man to watch at the start of the season and admittedly, he's not lived up to expectations. There were brief spurts of form here and there, but unfortunately, no consistency.

He has the quality to remain at Madrid, however, and a new manager at the helm could provide the fresh start the Argentine needs. He showed he can play through the middle, too, in the recent derby win over Atletico and has the skills, assists and goals to boost any team. Di Maria's ability to help out the defense is a bonus, too.

Paris St Germain, Manchester City and Manchester United are reportedly chasing his services for next season, but Madrid would be wise to hang on to the attacker.

Fabio Coentrao and Pepe are in a similar boat to Higuain -- if they stay, they may be relegated to the role of backups.

Raphael Varane has emerged as Sergio Ramos' perfect defensive partner this season, limiting Pepe to substitute appearances in defense and as a holding midfielder, and the Varane-Ramos partnership is likely to continue next season.

The full back has proved to be the most problematic spot since Mourinho's arrival at the club and, hopefully, new signings will bolster those positions. That would make Fabio Coentrao, and arguably Alvaro Arbeloa, surplus to requirements, unless they're happy to play backup.

If Mourinho leaves this summer, it should spark a big turnaround in playing personnel. The targets will have already been noted by Zidane and Perez, and they could even be in place before a new manager arrives. A couple of his own men aside, the new manager may have to work with what he's already been given.

These players all have their chance to show their worth not just for Madrid, but for potential suitors, too, in the final games of the season.

Los Blancos host Valladolid at the Bernabeu on Saturday night, and it'll be interesting to see if Mourinho goes with his strongest team, or rests players ahead of the cup final against Atleti.

If Mourinho had a carefree attitude toward league matches before Tuesday's Champions League exit, this weekend's match could go a whole host of directions.