Battling Betis leaves Real bruised ahead of Dortmund clash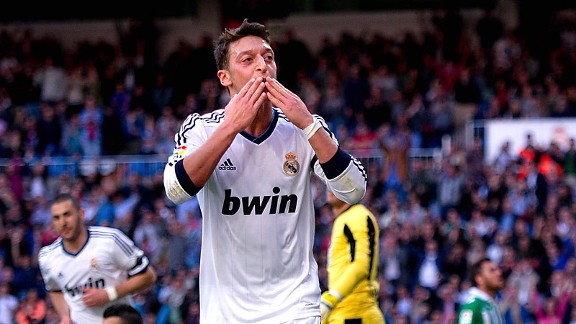 Gonzalo Arroyo Moreno/Getty ImagesA brace from Mesut Ozil helped an injury-plagued Madrid fend off pesky Betis.
Jose Mourinho set out his stall in his lineup for Saturday's domestic date against Betis. This was a match to be won, if possible -- always good for morale, and achieved by three goals to one -- but the main aim of Real Madrid as a playing unit was to keep as many of its components off the treatment table ahead of Wednesday's away clash at Borussia Dortmund.

Sergio Ramos and Sami Khedira were given the day off, Xabi Alonso was suspended and Fabio Coentrao, Michael Essien and Alvaro Arbeloa -- all battling to be fit for the Champions League semifinal in Germany -- were not in action. Two canteranos were drafted in to make up the numbers, but no doubt if the regulations were otherwise, Mourinho would have fielded Castilla if he could.

As it was, the Portuguese coach was forced to shuffle his pack as early as the 15th minute when Saturday's captain, Marcelo, pulled up after stretching for a long ball hoisted into the Real half. Only seconds beforehand, the genial Brazilian had grinned after bombing down the left to steer a cross into the Betis area, but that infectious smile turned to a grimace as he was carted from the field. Early reports ruled out anything more sinister than a muscle injury, but he will play no part against Dortmund.

Casemiro, a winter loan recruit from Sao Paulo's first team to Castilla, got his first start for the seniors and acquitted himself well. In the ninth minute he provided an awkward shot that Adrian just managed to steer wide, and throughout the game showed an eye for a pass and a willingness to run that immediately endeared him to the Bernabeu. The under-20 World Cup winner is the 17th canterano to make a competitive debut in the Mourinho era.

Nacho, the second Castilla stopgap, also had a good game, switching from the right to left to cover for Marcelo -- resourcefulness that will serve him well in his career. However, a moment of madness in the second half allowed Betis to regain a foothold in the match, and no doubt Mourinho will be hoping he does not have to play the youngster Wednesday.

At least there are no problems for Real behind the back four. Diego Lopez excelled yet again, making a cracking save early on from Nosa's volley. Ruben Castro turned home the rebound but was a good three yards offside.

At the other end, Ronaldo continued his love affair with his immaculate hairdo and almost added another powerful header to his Real scrapbook. Jose Callejon, deputized for Angel di Maria, wriggled through a couple of minutes later, but pulled his shot wide of the far post.

The opening goal came from a moment of intuition between Karim Benzema and Mesut Ozil, a one-two punch carving some space for the German midfielder to stroke home a couple of moments after Ronaldo had rattled the upright on the end of an individual action. Dorlan Pabon had given Lopez's crossbar similar treatment with a powerful drive just before Ozil intervened.

Real was up two goals 10 minutes after the restart via a typical counterattack: Ozil drove through the middle from his own half, fed Ronaldo on the left and the Portuguese teed up Benzema to thrash past Adrian. It had been a scrappy game until then, but was now more or less over as a contest.

That is until Nacho, after solid work keeping Joel Campbell quiet on Betis' right, displayed the exuberance of youth and scythed through Castro to concede a penalty. Jorge Molina converted despite Lopez almost adding to his growing legend by getting half a hand on it.

In between those two actions both Luka Modric and Benzema limped from the field, adding to the burgeoning sick bay at Valdebebas. Modric is likely to join Marcelo on the sideline Wednesday, but Benzema should be fine, having suffered nothing more than a thump on the ankle.

Ruben Castro almost nicked an equalizer when he latched on to Ricardo Carvalho's weak back-header, the woodwork again coming to Real's rescue, and Pabon should have buried the rebound but Raul Albiol was on hand to usher it clear. Not a very aesthetic bit of defending from the backup center-half players, but enough to ensure three points and another week in second place.

Seconds later, Ozil pounced on an unfortunate deflection off substitute Ruben Perez from Callejon's shot to steer home for 3-1; a slightly flattering result against a Betis side that was at least the equal of the hosts, and slightly more interested than Real in the second half. Gonzalo Higuain almost added a fourth that would have been a poke in the eye for the visitor, but Mourinho probably would have swapped this result for a clean bill of health, considering the club's priorities.