Money talks as Madrid top Forbes list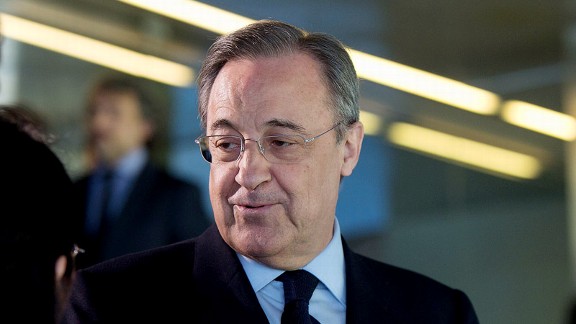 Pablo Blazquez Dominguez/Getty ImagesFlorentino Perez presides over a club now valued at $3.3 billion
David Beckham, ICBC, Angela Merkel, Dustin Moskovitz, Carlos Slim and now Real Madrid. An eclectic mix but names that all share common ground.

Madrid were absent from that group until Wednesday, when Forbes Magazine confirmed Los Blancos as the most valuable football club in the world. The other names top their own respective Forbes lists, from biggest company in the world to richest person. Let's just say Madrid are in good company in the cash stakes, as if you didn't already know.

- Real tops Forbes' most valuable club list

It's the first time since Forbes started publishing their list of most valuable football clubs that Madrid has topped the pile. Before Wednesday's announcement Manchester United dominated and Los Blancos had always played second fiddle. Now the club's current value is estimated at $3.3 billion.

United, controlled by the American Glazer family, have not slowed down. Indeed, their stock rose by 42 per cent in the current list to a cool $3.2 billion.

Their global brand is generally seen as being more powerful than any other club, United's recent seven-year sponsorship deal with Chevrolet is huge at $559 million and the current Premier League leaders sold the naming rights to its Carrington training ground to Aon for an estimated $230 million over eight years.

So it makes it even more impressive that Madrid, in an economic climate such as Spain's at the moment, has managed to sneak ahead. Posting revenue of $650 million from last season, Los Blancos have become more profitable and are growing faster than their Premier League rivals.

It may just be estimation, and it may only be a list. There are no trophies and the fans, although undoubtedly keen to see their club do well on and off the pitch, will care little if that success financially does not transfer into success on the pitch. It's big news for a day or two but really, does it matter that much to the supporter?

As football has grown, so has the business side of it. Supporters may only care for success, trophies and good football, but for those who run the club, the sport can be big business. Quite often, it isn't, but in some cases it still is. For those high up in the Forbes list, it certainly is.

It can be important for the fan -- of course it can. While the Forbes list is not a list of the richest clubs in the world, in general terms it means the teams at the top can spend big bucks on the world's best players.

It's also more crucial than ever with the Financial Fair Play system coming into play. Clubs are going to have to rely on their income through things such as sponsorship, match day profits and merchandise sales more than ever before (unless loopholes are exploited, as is expected) and for Madrid, it's great news to see income going through the roof.

The club's profits have increased over the last three years and it should be seen as no coincidence that it ties in with Cristiano Ronaldo's arrival at the Santiago Bernabeu. Think David Beckham -- big players sell. Shirt sales -- heck, anything with the Ronaldo brand on it, will have played a part in Madrid's financial success. Jose Mourinho may well have too.

Ronaldo's contract in the Spanish capital is up in 2015 and although a renewal will not be cheap for Madrid, it could well prove a bargain if one of the world's best players continues to boost revenue. Florentino Perez will have taken note.

It won't do any harm for Perez on a personal note, either, even though it's unlikely he will be properly contested when the President elections take place this summer. A good job by Perez and his men off it, and a Champions League triumph this season would make it a pretty good stint on the pitch, too.

A potential new television deal to aid the lower clubs in La Liga will not help Madrid's cause to remain top of the list next season, but a new $39 million per year shirt sponsorship deal with Emirates certainly will. So will plans to improve the Santiago Bernabeu, in what's been a big week for Madrid in the club's offices.

The headline in Marca, Spain's daily football newspaper, read: "The new Bernabéu will be a licence to print money." The club has four projects on the table to redevelop the famous stadium and one of the main aims is to improve it commercially and make it a '24/7' stadium, a stadium that can make money all the time, and not just on a match day.

So money still talks and Madrid's position in the heart of the financial district of the Spanish capital has been cemented, but Madridistas would gladly swap their table-topping financial position for a tenth European crown next month -- something money alone cannot buy.

For the record, Barcelona came in third in the Forbes list with a value of $2.6 billion, while Arsenal were fourth $1.3 billion and Bayern Munich in fifth.