If Alonso leaves, Real should shop local for replacement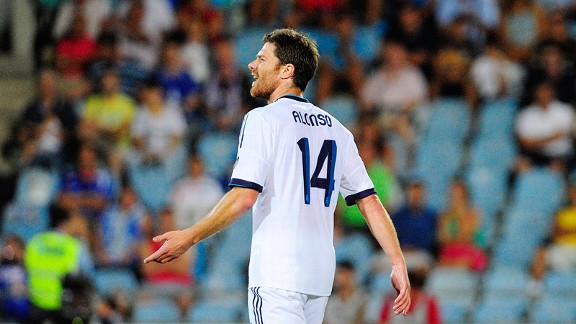 Xabi Alonso: Invaluable but not irreplaceable
The coming summer promises to be one of upheaval at the Bernabeu, whatever the situation regarding Jose Mourinho's position. All indicators point to the Portuguese handing over the master key to the institution he skilfully removed from Jorge Valdano's hands and a shake-up of the playing staff is a foregone conclusion.

So too is the re-election of Florentino Perez as president of Real Madrid; the last time the club's socios went to the ballot box to choose a leader, no other candidates were on the list. The bank bond of almost €60 million to even be able to run for the post was met by only one aspirant. Unless former Spanish PM Jose Maria Aznar, who is married to the mayor of Madrid and regularly attends games to cheers of "senor presidente!" decides to have a pop, it's extremely unlikely Perez will face a serious challenge to his VIP seat and privileged parking space.

Reports in Spain suggest that Perez is already plotting a move for Welsh wing wizard Gareth Bale, and that he will dispense with Kaka, Fabio Coentrao and Gonzalo Higuain to fund his audacious bid. Of the three, Kaka is certain to leave, Coentrao a maybe and Higuain slightly more dubious considering his current form in comparison to Karim Benzema - and the fact that Alvaro Morata is the only other pure striking option available.

Which makes comments made to Marca radio - normally anything Marca prints should be treated with the same suspicion as a tepid beer glass at the end of a one-bathroom house party, but the radio doth not lie - by Xabi Alonso's old man that his son is waiting to "see what happens" before thinking about a new contract all the more intriguing. Alonso's contract impasse is a long-running saga that one way or the other will have to be resolved before he enters the final year of his current deal, which expires next June.

The importance of the bearded Basque to the team has been demonstrated in recent weeks. With the league gone Mourinho has opted to leave Alonso out of trifling domestic affairs (at least until his Champions League suspension meant he needed a bit of a trot out to stay sharp). He will probably play no part this weekend against Betis, despite the threat posed by one of La Liga's form teams.

In short, Alonso is fundamental to Madrid's system and one of a backbone of so-called intocables - players whose starting berth is guaranteed. This is a list that is shrinking on a weekly basis. Even Iker Casillas might weight up his options in the summer, whether or not Mourinho stays. Any managerial replacement will have witnessed Diego Lopez's ascent to the number 1 shirt. If you had mentioned the slightest possibility of that in Madrid a year ago you would have found yourself inside the kind of straightjacket they dish out at lunatic asylums quickly enough.

So why does Real not pull out the stops to tie Alonso down to a new deal? Perez's modus operandi is to dispense with players he did not sign himself as a matter of course. Is he really prepared to let Alonso leave for nothing next year? Or will he invite Liverpool to make an offer for their former talisman that the Bernabeu bean counters could not possibly refuse? There is an A, B and C to this: Alonso renews; Liverpool stump up something in the region of £15 million (it could be more; Newcastle are still chuckling about getting £35 million for Andy Carroll); or...

Perez is a canny operator. He knows a bit about football and, unlike so many club presidents in La Liga, isn't so egotistical as to refuse a spot of advice when offered by someone who knows even more. Zidane/Varane is a case in point. So it will not have escaped his attention one way or the other that there is a Xabi Alonso 2.0 currently leading Real Sociedad's charge to a probable European campaign, and a quite possible Champions League one at that: Spain under-21 international Asier Illarramendi.

Illarramendi is a product of the Zubieta academy in San Sebastian, which also schooled Alonso and is the basis of the current Sociedad side, which has 15 canteranos in its ranks. Periko, a former Barcelona, Spain and La Real player, was once its coach. Able to play as a defensive or central midfielder, the 23-year-old shares many of Alonso's qualities and has an eye for a short pass reminiscent of Spain's other Xavi, Hernandez. And his current market value is just €4 million. Swap deals are not Real's usual form, but Illarramendi's is a potent bargaining chip.

"It's complicated," opined Periko Alonso when asked about his son returning to his alma mater. Maybe so, but if Real are proving reticent over contract negotiations, and Alonso is undecided as well, some kind of deal might be a real coup for both clubs. Alonso has won it all and would love to lead La Real in the Champions League next season. Illarramendi has it all to prove but is certainly raw goods like Varane was when he arrived from Lens - albeit with more first team experience. And Real could profit from snapping up a player who is showing all the signs of being Alonso's successor at La Real, and a potential long-term replacement at international level.

Periko even gave Illarramendi a glowing report himself: "He covers a lot of ground, is always involved and does everything well, offering the team a good outlet. He's a really important player and has come on in leaps and bounds this season."

Madrid will be building for the future this summer and there are few players with Alonso's range of qualities. At 31, he could be viewed as expendable considering his salary. Illarramendi would settle for much less, and Perez could profit for years to come.