Ronaldo signs his name on Holy ledger of San Mames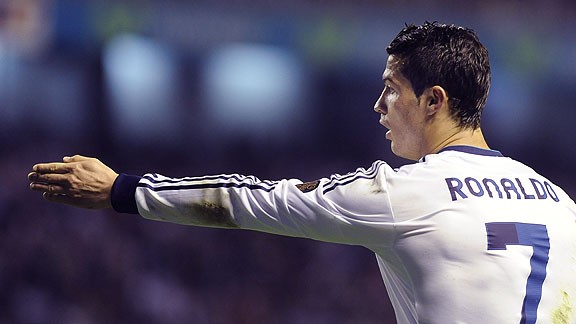 Rafa Rivas/AFP/Getty ImagesAfter his brace Sunday, Cristiano Ronaldo has 30 league goals for the season and 50 overall.
Athletic Bilbao vs. Real Madrid is one of the historic classics of Spanish football. It may not carry the international weight that Barcelona-Real clashes currently enjoy, but back in the day these sides were the powerhouses of the national league.

In the early to mid-1930s Athletic and Real regularly battled for the league title. After the Civil War, Telmo Zarra emerged as La Liga's most lethal striker -- until one Cristiano Ronaldo dos Santos Aveiro appeared on the Spanish scene -- helping the Basque club to a league title, a few runners-up positions and a fistful of King's Cup trophies.

-Ronaldo brace leads Real

Toward the end of his career, Zarra lined up against Alfredo di Stefano, one of the many players who were able to compete in the Spanish league under the (then) dubious dual-nationality rule, which allowed teams to field more than the three foreign players allowed by Liga regulations; a rule that, by its own definition of itself, backed up to the very day by a recruitment policy that gives Athletic a catchment area of the Basque Country, parts of La Rioja and Navarre and a sliver of southern France. The Lions of San Mames were destined to tame themselves.

However, despite that demographic impediment, only three teams have never been relegated from the top tier of La Liga: Barcelona, Real and Athletic. The capital club's 3-0 win in San Mames Sunday was unremarkable apart from an underlying narrative that the home crowd was all-too-aware of: this would be the last meeting between the sides at the Cathedral, the Lion's Den, the home of Athletic Bilbao.

It is fitting then that Zarra's successor in the goal-a-game stakes -- although Lionel Messi has since broken the Liga record for a season -- should apply the finishing touches to a history that has reached its own end game.

Sam Mames is to be pulled down this year and replaced with a shiny new version a stone's throw from the current stadium -- although, to be a fair, a well-aimed stone would probably save the bulldozers a job, such is the state of the current pile.

El Catedral is holy ground for Athletic supporters and Real sealing the title on its hallowed turf last season was not well received. Before that match, the home fans decided to wait until the end to jeer the champion in victory. As it transpired, few could even stomach that.

Ronaldo's second-minute free kick had a similar deflating effect on the home support Sunday; he who had sinned so often in Basque eyes cast the first stone regardless. Lining up from his preferred channel out to the left of goal, Ronaldo unleashed a shot that even a keeper of Gorka Iraizoz's experience could only watch and curse at.

Athletic enjoyed a good spell of possession and pressure in the first half but not could turn decent approach play into anything to seriously trouble Diego Lopez in the Real goal. Angel di Maria might have committed a foul in the area on Markel Susaeta but the referee was unmoved by the home crowd's appeals. Xabi Alonso's professional foul on Iker Muniain was a clearer indicator of which way the game was flowing and duly elicited a yellow card.

During the whole passage of Athletic's ascendancy, Jose Mourinho cut an agitated figure on the touchline, prowling alongside Marcelo Bielsa, both coaches caged within their technical area.

The not-quite-Clasico largely lived up to its billing, but Athletic seemed destined to be the unfortunate co-star in something reminiscent of the one-sided affairs in Rome's ancient coliseum. In Spain's oldest working stadium, it was the Lions versus Cristiano Ronaldo.

Lopez made a wonderful save from Ander Herrera at the end of the first half -- cue all available Spanish television cameras panning to a pensive Iker Casillas -- before di Maria rattled the bar at the other end. But other than that the Real keeper had little to do all evening.

At the other end, Fernando Llorente hammered home after a fair challenge on Pepe, the Portuguese defender swaying the ref's decision by going down like a buttercup in a tornado: Funny how the wind blows both ways for Real's antagonizer-in-chief.

Mourinho had made the wise decision to wrap his players in cotton wool, but Alonso was lucky not to earn himself another couple of free days after clattering into Mikel San Jose, taking Sami Khedira with him.

Ronaldo too gave international teammate Pepe a headache in a penalty-area clash before adding his 30th league goal and 50th in all competitions this season to effectively end the contest. Rising above all challengers, he guided a powerful header back across goal, a facet of his game that is proving as lethal as his feet since he arrived in Madrid.

Karim Benzema, relegated it seems to second-string after Gonzalo Higuain's recent revival, made way for the Argentine after a sharp effort from a rebound and will have been as chirpy as Casillas when Ronaldo pulled out a party piece on 75 minutes.

Having barely had a touch until that point, Higuain gratefully steered home after Ronaldo's audacious drag-back-and-feed left him with little to do but gratefully wipe his chops.

In all, a decent night for Mourinho and a far from full-strength Real: a first clean sheet in six Liga games, no fresh injury worries, no unsought suspensions and a win to keep Atletico at arm's length in third.

For Athletic supporters, it was a night to forget in the old cloisters of El Catedral, where Ronaldo's performance may haunt a supporter or two under the circumstances. But Athletic will stay up with displays like this, to fight another Primera day in its new San Mames Barria stadium.