Dortmund stand in way of Madrid and Wembley final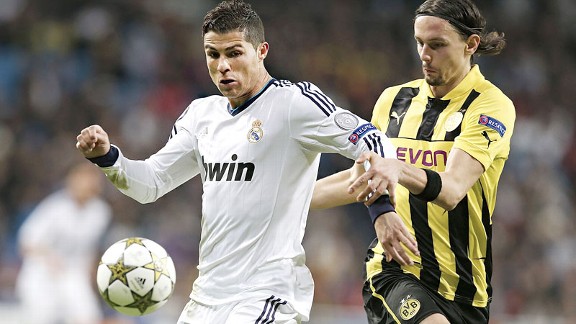 Angel Martinez/Getty ImagesCristiano Ronaldo and Real Madrid are already well acquainted with Neven Subotic and the Borussia Dortmund defense.
So it's Borussia Dortmund who stand in the way of Real Madrid and a place in this year's Champions League final at Wembley.

The draw took place in Nyon, Switzerland, on Friday and pitted Los Blancos with opponents they already know well this season -- it'll be the third time Jose Mourinho and his men will have faced the Bundesliga club in this season's competition.

- Delaney's draw analysis

Dortmund have the bragging rights so far thanks to taking four points from Madrid in the group stages and topping Group D, a group that carried the champions of Germany, Spain, England (in Manchester City) and Holland (in Ajax).

Jurgen Klopp and his men certainly had a hold of Madrid in those two matches. Will that help Dortmund have the edge when the sides come to meet in the last four, or will it help Madrid in their preparation to gain revenge and book their trip to London?

Each potential semifinal clash for Madrid was going to have its problems. The saying goes that whoever you face at this stage of arguably the greatest club competition in world football are going to be tough opponents, and rightly so, but whoever Madrid faced in the semifinals was going to bring up an interesting back story.

For Dortmund, it is the fact the Germans won Group D -- that included Madrid -- earlier in the competition and took four points from a possible six from the Spaniards. For Bayern Munich, it was the fact that Madrid got knocked out on penalties against the Bavarians in their own backyard at the same stage last season. For Barcelona, well, no more need be said.

Madrid has reached the semifinals in both of Mourinho's seasons in charge at the Bernabeu so far. The first time they met Barcelona, and lost. The second time they met Bayern Munich, and lost. This time brings a new challenge for Madrid, in terms of semifinal opponents.

For my money, Real would have opted for Dortmund, but just -- only just.

Klopp's men caused Los Blancos all kinds of problems in the group stages, granted. Madrid are a much improved team to the one earlier in the season, however. Problems, both as a team and individuals, flooded the Madrid camp back when the sides met before Christmas but now the focus is firmly on La Decima.

Mourinho and his staff will also have learned plenty about Dortmund from those two matches: How to improve their performance against them, how to nullify their threats, and how to beat them. Malaga were agonisingly close to being the team Madrid would face at this stage, but only a wrong decision by the officials for Dortmund's winner saw the Germans through.

That's not to say Dortmund will come without their threats; of course not. In Mario Gotze, Marco Reus and Robert Lewandowski, Dortmund have players who can damage the best sides in Europe, as they've shown throughout this campaign -- as they've shown against Madrid.

Klopp, too, has become an in-demand manager in Europe, a boss all the top teams would probably shortlist thanks to his success with his side -- tactical nous that will give Mourinho another real test on the touchline when the sides meet later this month.

Madrid play the first leg away, and in this season's competition it's hard to weigh-up whether playing away or at home first gives the advantage. Traditionally it's been away, but more and more teams seem to be progressing by playing at home first. The key is in the away goal and Los Blancos will be eager to get one to take back to the Bernabeu.

Dortmund's Westfalenstadion will certainly act as a '12th man' for the Bundesliga club. Klopp's men know all about the Bernabeu, too, having played there in the group stages, meaning a trip to the Spanish capital will hold no fear for the Germans.

Bayern, on paper and in form, are probably the side all others wanted to avoid. They are top of the Bundesliga by a huge distance and eager to make amends for last season's final woe at their own Allianz Arena against Chelsea. Barcelona, although Madrid has enjoyed the upper hand in recent matches, are Barcelona. A one-off Clasico that both clubs would probably rather avoid.

That leaves Dortmund for Madrid: Troublesome foes for Los Blancos already this season, and with a never-say-die spirit that put poor Malaga to the sword in the quarterfinals.

But opposition aside, Madrid will be confident in their own abilities to win La Decima this season. La Liga title hopes are long gone, but that has only helped Jose Mourinho pour the focus on Europe, and to a lesser extent the Copa del Rey. There may have been a few cracks showing at Galatasaray in midweek but Madrid will welcome back Xabi Alonso and Sergio Ramos from suspension to bolster the ship.

Cristiano Ronaldo is in top form and Mourinho is desperate to end what's been a pretty torrid season in a not-so-torrid lifting of the Champions League- - a massive tenth for the club and a third for Mourinho with as many clubs.

Madrid can now smell La Decima. Bring on Dortmund.