Is Alvaro Arbeloa really the best Real can do?
After the Great Left Back dilemma earlier in the season, Real Madrid seemed to be heading toward a new headache on the right-hand side after Tuesday's return match against Galatasaray.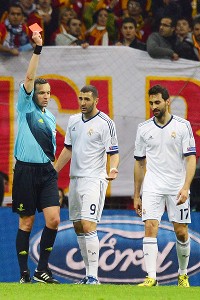 Javier Soriano/AFP/Getty ImagesThe pleas of Karim Benzema, middle, couldn't prevent Alvaro Arbeloa, right, from getting another Champions League red card Tuesday in Istanbul.
Michael Essien had again been preferred to Alvaro Arbeloa and the latter, coming on in place of the big Ghanaian on the half-hour mark, did little to convince Jose Mourinho that he should regain his slot. In 120 minutes of the tie to that point, Essien, a loan signing from Chelsea, had kept Burak Yilmaz, Selcuk Inan and Umut Bulut in check.

In an hour, Spain full-back Arbeloa had been at least partly at fault for allowing Galatasaray to regain a foothold in the tie, and then got himself sent off in the dying minutes for good measure before Real Madrid escaped.

-- Video: Barca's Alves expects to play Madrid

Arbeloa -- who leads the Champions League in red and yellow cards this season -- was out of position for Galatasaray's first goal, although Raphael Varane and Sami Khedira should have done better with superior numbers after tracking back to cover. Arbeloa failed to pick up Wesley Sneijder for the second and seemed to get in the way of Varane, who was on the Dutch playmaker. Then, Arbeloa was caught between the former Inter man and Didier Drogba in penalty area no-man's land for the third.

Something that has never quite been fully explained in my mind was not illuminated under the floodlights of the Turk Telecom Arena: is Alvaro Arbeloa Coca really the best Real Madrid can do at right back?

The promotion of Essien to the position speaks volumes: a midfielder-cum-defender who has been remolded as a full-back utility man has displaced a player with almost 50 caps for Spain.

It isn't just that Arbeloa is a niggly, provocative player; it isn't that he bears a more than passing resemblance to loveable rogue T-Bag on "Prison Break"; it isn't that he couldn't pick out a pass in the Himalayas: it just seems somehow criminal that Arbeloa has spent so long as an undisputed starter for two of the most significant teams in the world game.

There is a solution to put this anomaly straight. Although Pepe looks about 40 and has been largely on the bench of late to accommodate Varane, the Portugal international remains a Mourinho favorite and a solid center back, especially in the air. Sergio Ramos is, by all evidence, a fantastic center back, but the vice-captain made his name marauding down the right for club and country.

Switch the Spain international back to the right and shunt Arbeloa to the bench. Or sign Essien permanently and rotate the center of defense, as is the current status quo. Or, as Real should have done last summer, buy a new right back.

It seems incredible that a team with the resources of Real Madrid has no one to offer serious competition in a key position. The Florentino Perez mantra is to have two world-class players in every position. Ramos -- now anointed in the center -- aside, Real doesn't even have one at right back.

It's not just at Real that Arbeloa is benefiting from that lack: Spain really doesn't have much other than the former Liverpool and Deportivo man in that department either. Cesar Azpilicueta may change that if his form at Chelsea continues. Atletico's Juanfran in not much more than an emergency reserve at international level and probably won't add many caps to his current five.

Few would argue that Arbeloa is the most limited footballer in the most successful national side of the modern era. He has Ramos to thank for much of the field time he gets for La Roja: his conversion to center back at Real has been translated to Spain, for which the majority of his caps came in his former position. When the former Seville defender played on the right for club and country, Arbeloa was little more than a footnote.

Even Liverpool weren't that keen on hanging on to him when Real Madrid came calling for its former canterano in 2009. Arbeloa? Sure, four million euros should do the trick. Bear in mind this is a club that managed to trouser the same amount for Andrea Dossena that summer.

Mourinho said recently that competition is good, alluding to Casillas and the benching of Saint Iker of Mostoles. "He's not training well; he's training very well," said the Real coach in a barb aimed at Arrigo Sacchi, who said on Spanish radio that Casillas was perhaps not that committed to the day-to-day stuff. Diego Lopez has earned his place in the team and Mourinho is right to make Casillas earn his back.

Lopez cost about the same as Arbeloa, so there is perhaps no need to break the bank to find a toe-boot-backside motivator for Arbeloa: Azpilicueta set Chelsea back less than nine million euros. For a club that thinks nothing of sitting anywhere between 100 million and 200 million on the bench each week, this is small change.

Maybe Essien's rising star will give Arbeloa the impetus to train harder, hone his concentration and improve his passing range. Maybe it will have the opposite effect. Either way, the failure to buy a right back to provide him with a couple of sleepless nights must be addressed in the summer.