Madrid survive Galatasaray scare to progress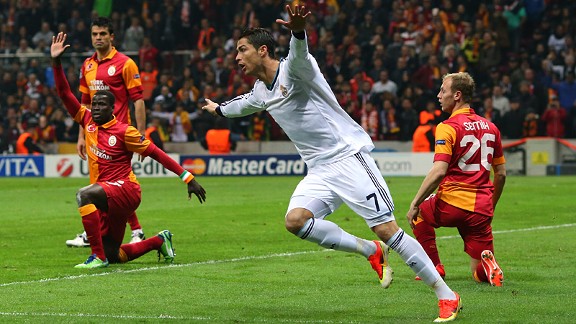 GettyImagesRonaldo celebrates the first of two goals against Galatasaray
They said it was going to be an impossible task for Galatasaray to overhaul a 3-0 deficit against nine-time European Cup winner Real Madrid, but the Super Lig side gave Jose Mourinho and his men a scare at the Turk Telekom Arena before eventually bowing out 5-3 on aggregate.

Nobody expected the side from Istanbul to progress, not after what happened at the Bernabeu last week. Madrid had never thrown away such a lead in European competition and, with their current squad, they were not expected to against Galatasaray -- with all due respect to Fatih Terim's men.

- Yilmaz: Galatasaray bow out with 'pride'
- Video: A needless scare for Real Madrid

It looked to be going according to plan when Cristiano Ronaldo opened the scoring as early as the eighth minute. Welcome to hell? More like welcome to Dreamland for the men from the Spanish capital. If the tie wasn't over already, the Portuguese certainly seemed to put the final nail in Gala's coffin, leaving the hosts needing to hit five without reply to go through.

After that, the game seemed destined for an uneventful climax. Anybody watching the match on television must have been tempted to switch over to the seemingly more enthralling game in Germany, where Borussia Dortmund and Malaga were locking horns. It was easy to see why.

It needed something special, something miraculous, to spark any life into the contest in Istanbul. It came from the unlikeliest of sources -- the boot of Emmanuel Eboue. The former Arsenal man had missed a couple of good chances in the first leg and was at fault for a couple of the Madrid goals, too.

This time, he was eager to make amends. He did that in emphatic style. The ball came out to the full back at the edge of the box and he unleashed an unstoppable effort that would have beaten both Diego Lopez and Iker Casillas had they been in goal at the same time.

It stirred the Galatasaray cauldron, and although it probably didn't give realistic hope of a famous comeback, it certainly lifted the mood and confidence in the Galatasaray camp. A sense of having nothing to lose and everything to gain manifested within Terim's team and in the noisy terraces, and the momentum swung.

Wesley Sneijder had a golden opportunity to fire the hosts ahead minutes later but wasted it, shooting wide when unmarked just 10 yards out. Didier Drogba also came close, as Galatasaray's attacks gathered pace and Madrid sat back.

Sneijder managed to get his goal against his former club, and then Drogba really set the cat amongst the pigeons with a deft flick to give Gala a 3-1 lead and a sniff of an upset. The former Chelsea star gave defender Raphael Varane a tough time over both legs. Drogba won some battles, Varane won others. It will be a good learning curve for the young Frenchman as he won't face many strikers as powerful as the Ivory Coast forward.

Mourinho inserted Karim Benzema for Gonzalo Higuain to add fresh legs in attack, and Raul Albiol came on for Mesut Ozil, adding more steel to the side. Albiol played midfield but backed up in defence when needed. A shrewd move, as Los Blancos eventually saw the game out, with Ronaldo adding another for good measure.

The Special One must have known not to expect a walk in the park in Istanbul, but the manner of Madrid's progression, especially after the delights of the first leg, will be cause for some concern going into the semifinals later this month.

That said, Sergio Ramos and Xabi Alonso will both return after serving suspensions. While Pepe was not directly at fault for any of the Gala goals, Ramos and Varane have built up a strong relationship at the back this season and are Madrid's best centre back pairing.

While Alonso will return, the biggest praise from the match, for me, has to be for Luka Modric. The former Tottenham Hotspur man has taken time to settle into the methods of Mourinho and Madrid, but in recent matches he seems to have really found his feet.
He produced some sublime passes, his movement was exceptional, and his work rate was top-drawer. He had a good understanding with Sami Khedira about when to go forward, when to settle in the middle, and when to drop back -- either to help the German or to plug a gap left by him when he ventured forward.

Alonso will still be first choice in that position when he returns, but Modric now offers a viable alternative. Alonso tends to sit deep and spray his passes all over the pitch. Modric is capable of that but also likes to play further forward, offering neat little dinks for the attackers to run on to.

He has the full trust of his teammates, too, in that they search for him constantly. It will be interesting to see the game's passing stats for the Croatian international.

The minus points: Michael Essien started at right back but came off early with an injury and was replaced by Alvaro Arbeloa, who got sent off late for collecting two yellow cards within a minute of each other.

Mourinho will be keeping everything crossed that Essien's setback is not a serious one, because as per a previous article, the Chelsea loanee man may well be Mou's preferred choice in that position from now until the end of the season.

I've picked a rather harsh stat for Arbeloa here, but it's an interesting one nonetheless: When he came on to replace Essien, Madrid was leading 1-0. When he left the field, having been sent off, they were 3-1 down. Then Ronaldo scored again. While Madrid's collapse may not have solely been at the feet of the Spanish international, Arbeloa isn't having a good time of it at the moment.

A fully fit Essien is seemingly a preferred choice for the big matches from here on in, and Mourinho hopes his "Mr. Versatile" will be fit and ready for the semifinals.

It is the third season in a row Mourinho has guided his men to the last four. Last year Bayern Munich, and penalties, stood in Madrid's way. The year before it was Barcelona. Either could be the semifinal opposition this time around, while Borussia Dortmund is the other option -- a side Madrid struggled against in the group stages.

A nervous 20 minutes or so aside in Turkey, Madrid are still on course for La Decima and are now just three matches away from lifting that trophy, the one they have an obsession with, at Wembley.