Madrid question marks focused on right back
By this stage of the season one might expect a manager to know the strongest available eleven he has at his disposal.

The big games are fast approaching, if not here already. The manager knows his strongest eleven to field for the crunch games, and so do the fans. The players probably know, too. Now's not the time to rotate for rest and recuperation -- not the big games, anyway. These are the ones that matter. The games that win trophies. We're not in October or November now.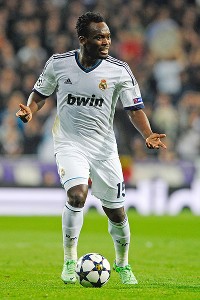 Manuel Queimadelos Alonso/Getty ImagesChelsea loanee Michael Essien could play a key role in Madrid's Champions League and Copa del Rey trophy bids.
This time last year, it was pretty straightforward in naming Real Madrid's strongest eleven. Iker Casillas in goal; a back four of Alvaro Arbeloa, Sergio Ramos, Pepe and Marcelo; a midfield two of Xabi Alonso and Sami Khedira; an attacking trio of Cristiano Ronaldo, Mesut Ozil and Angel di Maria; and, probably, Karim Benzema as the striker (although the latter could be argued in favour of Gonzalo Higuain).

We're not too far off this year. At least six of those starters from last season are pretty likely to be on Jose Mourinho's team sheet for the big matches that remain this season, or at least were for Wednesday night's 3-0 victory against Galatasaray.

Raphael Varane has cemented his starting role ahead of Pepe, and it seems that, for now, Diego Lopez will be the preferred choice to Casillas unless he drops a clanger in the coming matches. As with last season, the role of central striker remains up for debate and probably will be the remainder of the campaign, although Benzema, playing well in Europe this season, seems to be edging it.

Arbeloa, although he has his critics, seemed to be one of those destined for a starting role in the key matches.

That was up until the visit of the Turkish club in the quarterfinals of the Champions League in midweek, when Mourinho opted for Michael Essien at right-back, the only real shock in his starting line-up.

It seems there may still be question marks over Madrid's strongest eleven. If the Champions League final was played tomorrow, just who would Mourinho go for?

Essien was brought in on transfer deadline day. Perhaps not a panic signing, but one to plug the gap left by Lass Diarra. A workhorse. A versatile player. A good team man. It seemed like the Chelsea loanee may have arrived as back-up, and for the most part he's proved just that, adequate bac-up.

He's played in midfield, alongside Luka Modric in Madrid's backup midfield pairing when Alonso and Khedira have been rested or missed out through injury. He's played at left-back, and he's played at right-back, but mainly when injuries had been piling up.

Now, it seems Mourinho is giving the Ghana international a chance to cement a starting role in time for the big, trophy-winning matches that could come Madrid's way in these final weeks of the season. If he's willing to start him in the Champions League quarterfinal, en route to what Madridistas hope to be La Decima, then he's willing to start him in all the big matches, isn't he?

He certainly took his chance against Galatasaray. Defensively sound, and packing a punch in attack, too. He provided the assist for Madrid's second goal, crossing for Benzema to head home. Arbeloa must have been wonder just what has gone wrong on the sidelines.

The full-back positions, relatively, have been Madrid's problem positions over recent seasons, more so Arbeloa on the right, not helped by his lack of a clear-cut backup -- or potential replacement. Ramos has plugged the gap there but his preference is the centre, and so is Mourinho's -- he's formed an impressive partnership with young Varane.

In Essien, Mourinho has not only found good back-up options for Arbeloa, and indeed much-needed competition for places, but he's also found a possible replacement -- for the rest of this season, anyway.

'The Bison' may not be the energetic box-to-box midfielder that made him one of the greatest players in Europe before his knee injury, but he seems to have found a new role -- one that's working. The fact he's playing under Mourinho, a man he holds so much respect for, only helps matters.

It'll be hard to take anything from Saturday's home game against Levante in La Liga. Mourinho has been tinkering with his lineups in the league since throwing the towel in and focusing on the Copa del Rey and Champions League. He's tried new things -- take Pepe playing in midfield, although that has been experimented with before -- but the league matches have given few clues as to how Los Blancos will line-up when the bigger European matches come around.

Arbeloa could well return this weekend and the pressure will be on him to produce a performance that will do enough to see him back in the starting eleven in Istanbul and beyond. Essien's knee issue certainly hasn't helped him in his cause of potentially playing three games in less than a week.

The former Lyon man may be set for a return to Chelsea come the end of the campaign, especially if Mourinho returns there, too, but he may have more than just a bit-part role to play yet for Madrid. Wednesday's surprise selection also throws into doubt Arbeloa's future as Madrid's first-choice right-back should Los Blancos decide to strengthen in that department this summer.