Madrid aims to tame Lions of Galatasaray
Burak Yilmaz said ahead of the draw for the last eight of the Champions League that it did not matter who Galatasaray faced for a place in the semi-finals because "we will go out and fight like lions."

It was not an idle allusion to the king of the jungle. Galatasaray's nickname is The Lion. The beast with unquestionable dominion over Europe's premier club competition is Real Madrid, which is 180 minutes away from a third semifinal in as many years. And although Jose Mourinho has his detractors, the ringmaster has tamed worse several times; Real had failed to even get past the first knockout round in six seasons before the Portuguese coach arrived in the Spanish capital. The Turkish side has not reached the semifinals in 24 years.

- Yilmaz: Gala ready for Real battle at Bernabeu
- Hunter: Mourinho must maintain meritocracy
- Cox: Sneijder, Drogba cherish Jose connection
- Ronaldo: Gung-ho Gala could help Madrid

So a foregone conclusion? Not quite. While every available digit in Nyon during the draw was trying to form an M for Malaga, the second-softest name that could have come out of the hat was surely Galatasaray? Given the rest of the field, a fair enough assumption. But PSG proved on Tuesday night that a hastily assembled side of superstars can overcome, or at least match, a system drilled into a team of the potency of Barcelona over half a leg.

Galatasaray is not PSG, and has not spent the kind of money being splashed about in the oil-rich Parc des Princes. But it is a slick side nonetheless, recently reinforced by Champions League winners Wesley Sneijder and Didier Drogba, both more than familiar to Mourinho. Both players add a bit of bite to a side that has already exceeded expectations in the competition and, as voiced by coach Fatih Terim, has enjoyed its underdog status to this point: "Our only weapon against Real Madrid is that we are not afraid. That's the way we have always played. Our strongest aspect is that we are not afraid to lose. If I were the coach of any of the other seven teams I would also have asked to be drawn against Galatasaray. Yet we must look at what we have done in this competition up until now. I trust in my team and in my players. We came from a group including Manchester United and then knocked out Schalke so we've fought very hard and will continue to do that. We know what we are capable of."

What sets Galatasaray apart in this year's competition is that it has won its last three away games. At Old Trafford, United squeaked past Terim's side by a single goal, and was then beaten at the Turk Telecom Arena.

The last time these teams met in Europe, in the 2000-01 season, was the last time Galatasaray has graced the last eight. Despite a 3-2 win in Istanbul, Real turned the tie around at the Bernabeu with a commanding 3-0 win, two of those strikes coming from Raul Gonzalez.

How Real could do with a striker of that pedigree for this tie. Karim Benzema has been doing his best Vincent Cassel impression for weeks now and hasn't found the net in the Champions League since scoring against Ajax in a dead rubber in the group stage. His other two came against the same opposition two months earlier. Gonzalo Higuain has drawn a blank thus far.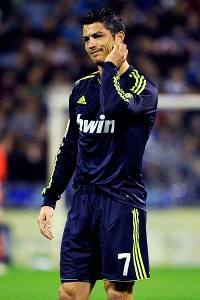 Pedro Armestre/AFP/Getty Images Cristiano Ronaldo and Madrid get to put the doldrums of La Liga to the side for the bright lights of the Champions League.
Yilmaz, meanwhile, is the competition's joint top scorer with eight and Drogba is no stranger to hitting the net at the highest level. Much will depend, as always it seems, on Cristiano Ronaldo and Real's ability to get the ball to him in useful positions. Mourinho will field his first choice European 11 on Wednesday -- probably meaning Benzema in the striker's role -- and that bodes well for the supply line to the Portuguese match-winner, but it also places a lot of onus on Xabi Alonso and Sami Khedira.

The midfield destroyer role has been largely written out of Mourinho's blueprint but Galatasaray is more than happy to let Felipe Melo play bad cop. It seems bizarre that Melo, a member of the Canarinha at the 2010 World Cup, made his name at lowly Almeria. Currently on loan from Juventus, he is the kind of player that can stamp his authority on a game one way or another. Khedira and Alonso will have their hands full and that will only serve to the benefit of Yilmaz and Drogba.

The Ivory Coast powerhouse will provide Raphael Varane with his sternest examination yet. The France international has not faced a center forward of Drogba's ilk and Sergio Ramos will be needed to lead his young partner in a carefully choreographed waltz against the combined threat of Galatasaray's leading men. Unfortunately, both Ramos and defensive bulwark Alonso are a booking away from missing the second leg, so neither can afford to put a foot wrong.

Mourinho has opted for Diego Lopez in goal, even though Iker Casillas has been given the all-clear for competitive action. This is sensible: Lopez has proved equal to the task assigned -- not an easy one, when the shadow of Saint Iker looms large -- but throwing the captain into a game of this magnitude after two months without having his gloves stung by a real goal attempt would verge on madness. Real has yet to keep a clean sheet in the competition, and Lopez will need little more inspiration than that on the night.

Real has conceded 11 so far, while Galatasaray has scored the same number. At the Bernabeu, Mourinho has lost just once in 16 Champions League games in regulation time, against Barcelona in the 2010-11 semifinals.

Umut Bulut, another of Galatasaray's scoring threats, reiterated in Turkish daily Milliyet before the match that his side will play with lion hearts, and they will be led by anything but a donkey. Drogba compared the influence of the former Milan, Fiorentina and Turkey coach to his Chelsea mentor: "Fatih Terim is a lot like Mourinho in that he is very close to the players and always talking with them. The psychological factor is very important in soccer and Terim is very meticulous in that respect."

"Galatasaray have a great coach with experience at this level and so he feels comfortable. He is not afraid of playing here. He has players who have played in the best teams in the world, players who are calm when it comes to the quarterfinals of this competition. Drogba, Sneijder and Burak could play for any team in the world," noted Mourinho in Tuesday's press conference.

Prediction: Forecasts for games like this are as advisable as grabbing a lion by its tail, but 2-1 to Real sounds about right.