Mourinho goes window shopping in London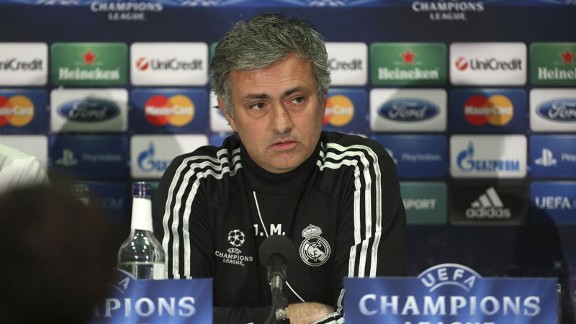 GettyImagesJose Mourinho's Real Madrid side have beaten Barcelona twice in under a week
International breaks are a troubling time for any top-flight manager, with the concern that a star player might return from an away day in a far-flung corner of the globe on crutches very real indeed.

- Mourinho keeping quiet on his future

At Real Madrid, UEFA and FIFA obligations mostly cause headaches at the institutional level, mostly because Jose Mourinho is left to his own devices for 10 days or so. More often than not, the Real coach will find some way to make Florentino Perez wish he had stumped up for a handful of stiffs just to keep Mourinho occupied at Valdebebas.

The first instance of down-time duelling came early in Mourinho's tenure when Portugal asked very nicely if they could borrow their most successful managerial son for a couple of qualifiers against Denmark and Iceland in October 2010: Carlos Queiroz, a less successful Real coach, had been sacked and Paulo Bento was yet to be installed. As Mourinho pointed out, he was basically on holiday with no first team players on hand and so why not? The club blocked the very temporary appointment, to which Mourinho replied "they have every right to do so".

Quite. On a contract worth a reported €14.8 million a year, Real has every right to tell Mourinho what he can and cannot do. Not giving interviews during international breaks should be written into his contract somewhere; a contract that was extended until 2016 last summer.

After reaching for a pot of the brown stuff, and then something to stir it with, at the start of this World Cup qualifying round with some fruity opinions on the integrity of FIFA's Ballon d'Or voting system - quotes that are currently being pored over by Sepp Blatter's ever-twitching legal minions - Mourinho this week gave an interview to Sky in London in which he essentially put himself in the shop window for a summer move from Real.

"I am very, very committed to the ambitions of the club until the end of the season," Mourinho said. "I keep out of the comments and speculations. People that know me know that I am a professional and at the moment I am only thinking about Madrid. We are in the quarter-finals of the Champions League and have a final against Atletico. Whenever I go to London people start to make connections about me coming back. I have always said I loved the city, despite the weather. To be fair, I contribute to those speculations."

Asked about the possibility of a return to Chelsea, the Real coach issued the type of statement that had it come from a player would constitute a good old-fashioned come-and-get-me plea: "I have great emotional connections with Chelsea and one day I think I will return to English football, either to Chelsea or another club. Of course, Chelsea for me signifies something different than other clubs. Chelsea is in my heart, like Inter, for example."

It is no secret that Mourinho has become disenchanted with life at the Bernabeu after a fractious two-and-a-half seasons that appear to have stuck 10 years onto the man. Few bookmakers are offering odds on the coach staying at Real past June, but it's going to cost someone dearly to buy him out of his contract - unless some amicable agreement is reached. Only two clubs in England can both afford to hire him and will likely be in the market in the summer. One is Chelsea, where Mourinho retains a hero status for delivering a first league title in half a century and placing the club among England's closed-door elite.

The other is Manchester City, where Roberto Mancini is struggling to motivate a slap-dash collection of world superstars who are out of the title race and have only the FA Cup to play for - and that will probably mean winning a semi-final against city neighbours and champions-in-waiting United. It sounds rather like Mourinho's job description in Madrid so interest would be natural. City's owners are of the "success at any cost, and immediately," breed and would surely enjoy the profile that Mourinho and his travelling circus would bring to the Etihad while studiously ignoring his outbursts.

But Roman Abramovich is a different matter. The Russian oligarch does not take kindly to challenges to his authority and fell out with the equally stubborn Mourinho at the end of his last gig at the Bridge. However, Rafa Benitez's love affair with the Blues' crowd and his job title of the "Interim One" clearly show that the Spaniard's pen-tapping stay will be brief. Having already whittled through the cream of the world's managerial talent like Gepetto on steroids, Abramovich may well make a move for the Real coach.

"We are in touch a lot," said Mourinho of his former boss in a CNN interview earlier this season. "We have a great relationship in fact."