Champions League questions to be answered at Zaragoza
La Liga makes a welcome return this weekend with Jornada 29 and you can't help but feel Real Madrid's trip to struggling Zaragoza will play second fiddle to next week's Champions League clash with Galatasaray. Scrap that -- it WILL play second fiddle.

Jose Mourinho has made no secret of his priority to win 'La Decima' for Los Blancos this season, prioritising Europe over a league campaign that has already seen Barca all but reclaim the title. There's still the task of finishing above neighbours Atletico -- and it's an important task, too, for local bragging rights -- but Mou will not risk his European hopes with unnecessary chances domestically.

It's something he's shown with the big changes to his squad before and after the important last 16 clash with Premier League leaders Manchester United -- even resting players for a Clasico contest with the Catalans. Just for good measure, he's said as much, too -- as early as January with scores of points still up for grabs. "It's impossible to win the league this year," the Portuguese told French radio station RMC. "We have to think about the Champions League and the Copa del Rey."

Needless to say, with a quarterfinal clash with the Turks coming just four days after their trip to struggling Zaragoza, Mourinho's tinkering is set to continue at La Romareda on Saturday night.

It won't be all foot off the gas and cruise control for Madrid in Aragon, however. There's still a battle for second place ongoing and Madrid's need not just to play for themselves, but to respect the battle at the bottom and give their all against a side desperate for points to stay in the top flight. Los Blancos, while throwing the towel in on their title aspirations, could still have a say on who goes down and who stays up.

Perhaps more importantly, from a Madrid point of view, Mourinho may still have one or two question marks over his squad selection for the doubleheader against Fatih Terim's men. The majority of his side will be down on the team sheet already, but the Madrid supremo may still be pondering his goalkeeping and left back positions as the season enters its 'business end'.

Mourinho was in London this week -- much to the delight of the British press who questioned him, again, over a return to the Premier League, and Chelsea -- to watch Brazil take on Russia in a friendly game at Chelsea's Stamford Bridge. A bit of a strange one all round, really, but something that is becoming more common with plenty of foreign stars plying their trade in the Premier League. It makes the travelling all the more easy. There was Madrid interest, with Marcelo and Kaka both featuring for the Brazilians, and Mourinho was keeping a watchful eye.

An enjoyable visit back to London, a place where he has a house and his daughter is coming to study, it may have been, but there was business for Mourinho too. Marcelo has failed to win his place back since recovering from a broken metatarsal but he's played games and he's returning -- if he hasn't already -- to full fitness. Another option for Galatasaray. Another option for the rest of the season.

The Brazilian is a fans' favourite, largely thanks to his adventurous runs forward more like a winger than a defender. With those forward runs, however, Marcelo leaves Madrid vulnerable at the back. He's left his defensive teammates exposed frequently but often chalks that off by making an assist from nothing at the other end. A neutral's dream. A manager's nightmare.

With Fabio Coentrao, Madrid may not have the ultimate fullback but they have more discipline and a more defence-minded man, who can still attack a bit, too; something which may not be so appealing to the attacking Blancos of La Liga, but something that will be vital if Madrid want to win the Champions League. The Portuguese international was undone in the competition last year, against Bayern in the semifinals, but for my money (and my money spreads to signing a new, better, left back next season) he's what the doctor ordered for the latter stages of the Champions League. It'll be interesting to see Mourinho's say on the matter.

As for Kaka? As much as we'd like to see him as a key part of Mourinho's team, I think the time has long since passed for that. A focus on Marcelo, rather than the former AC Milan man, was the order of the day for Mou at Stamford Bridge this week.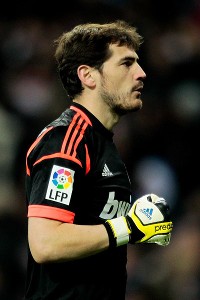 Gonzalo Arroyo Moreno/Getty ImagesFan favorite Iker Casillas has regained full fitness.
The other question mark hangs over Mourinho's choice of goalkeeper for the season run-in. Stick with the impressive Diego Lopez or revert to 'Saint Iker' Casillas. Casillas, a firm favourite at the Bernabeu, is back in training and back with his hand in the air for selection -- just in time for Galatasaray.

My gut is that Casillas will return, and to see the Spanish no. 1 back in goal would, I'm sure, add a sense of calmness to Madridistas and to a back four that know him so well. He's the captain, a World Cup, European Championships and Champions League winner. He has the experience. What he doesn't have is the form. Casillas has not been at his best this season and Mourinho dropped him around the winter break. Meanwhile Lopez is in fine form, with Mourinho naming him his man of the match when Madrid beat Manchester United 2-1 at Old Trafford to progress.

Decisions, decisions. One thing is for sure. Whoever Mourinho does opt for in Zaragoza, he must stick with for the remainder of the season, fitness permitting. Now is the time for a bit of consistency, in the back four and goalkeeper at least, with the key matches of the season fast approaching.

Madrid are just one point away from making La Liga history this weekend, too, with just one point needed to reach a total of 4,000 La Liga points. Los Blancos have played 2,600 league matches, winning an impressive 1,526 of them in their 82 seasons in the top flight. Los Blancos have slipped up five times away from home already this season. They won't want to again.