Sergio Ramos: more than any old Iron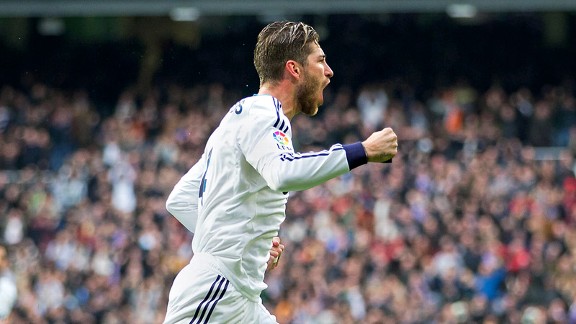 Jasper Juinen/Getty ImagesSergio Ramos celebrates his goal in the most recent Clasico against Barcelona.
The only story the crowd at El Molinon were interested in when Spain hosted Finland on Friday night was the return of Asturias' most famous footballing son, David Villa. But the script was already written for another player five years the junior of El Guaje, who has become the on-field general for club and country that many predicted he would when he arrived at Real Madrid in the summer of 2005. His side struggling to break down a compact visitor with little ambition beyond the counterattack, Sergio Ramos rose to meet a cross in the 49th minute and scored his ninth international goal. A few minutes later, the captain on the night almost doubled his side's advantage with a rasping shot that brushed the paint on the upright.

- Spain draws with Finland

Signed from Sevilla for 27 million euros -- the only Spaniard to tempt Florentino Perez to open his check book during the entirety of the first Galactico era at the Bernabeu -- Ramos won his 100th cap for Spain in Asturias at 26 years of age, becoming the youngest player in the country's history to do so. Villa, Spain's top scorer, debuted for La Roja in February 2005. Ramos, after a few eye-opening seasons at Sevilla, the last of which earned him the LFP breakthrough player of the season award for 2004-05, did so a few weeks later.

When he signed for Real Madrid shortly afterward, Ramos was handed the number four shirt -- Fernando Hierro's jersey. Perez has made a few mistakes in his two stints at the helm of the Bernabeu club, not least among them ushering Hierro out of the back door in 2003 when the captain led a players' protest against the decision to sack Vicente del Bosque by refusing to do a lap of honor after beating Athletic to secure the title, and the Claude Makalele debacle that ushered in several seasons of trophy cabinet-dusting.

There is little chance of Ramos facing a similar fate. The relationship between Madrid's vice-captain and president is so secure that the former Sevilla defender is able to speak more freely to, and about, Jose Mourinho than any of the Portuguese's charges past and present. In the latest furor over Mourinho's attack on FIFA over Ballon d'Or voting procedure, Ramos is the only Real player to have voiced an opinion opposing that of his master. Mourinho will do nothing; if he bites Ramos, it is merely Perez's hand he will have to lick. When the current Real coach -- who was handed supreme power at a club at where the cloak-and-dagger of a medieval court is more customary -- requested Perez to hire Hierro as a spokesman, someone to absorb the hot pokers of the media's favorite club inquisition, the answer was a firm no.

When Mourinho placed the blame for Carles Puyol's diving header in last season's King's Cup quarterfinal first leg defeat to Barcelona on Ramos' positioning, the defender is reported to have replied: "You would not know about switching marking responsibilities on the pitch because you were never a player. And as you have never been a player, you would not know that this is sometimes necessary." Few are the players that would have survived such an affront to the ego of the Special One.

However, the rise of Ramos has been far from meteoric. As a youth player at Sevilla nobody could quite work out what his best position was, largely because he can play more or less anywhere. Credit to Mourinho, then, for converting Ramos to a center back during his tenure at the Bernabeu. Speaking to reporters ahead of Spain's friendly against Venezuela last February, Ramos said: "If I have to play at center back, I'll do it without any problems. I have adapted and feel comfortable in the middle, but I am a world and European champion at right back."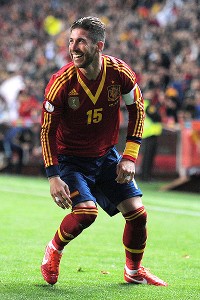 Denis Doyle/Getty ImagesIn his 100th match with La Roja, Ramos scored the lone Spanish goal in Friday's 1-1 draw versus Finland.
Without doubt, and with a market value of 40 million euros should another club fancy testing the water, Ramos is among the most coveted center backs in the world today. As well as solid defending, athleticism, and on-field leadership reminiscent of Hierro in his pomp, Ramos pops up with the occasional goal. He has a way to go until he matches Hierro's proclivity for finding the back of the net -- 29 goals for Spain and 126 for Madrid -- but he does pop up with the occasional game-saver, most recently against France and Finland in World Cup qualifying. His last-but-one goal for his country before these internationals, in October, was also scored against France, Spain's opponent on Tuesday in a do-or-die duel after Les Bleus comfortably saw off Georgia to take control of Group I in the wake of Spain's eventual 1-1 tie in Asturias.

Of course, Ramos is not whiter than Real Madrid's white shirt. While he can reasonably expect to chase down Hierro's appearance total for the club, he has already broken one record held by the Man of Iron -- 12 red cards in the club jersey. It took Hierro 14 seasons to reach 10. Ramos required just seven-and-a-half to reach 12, his latest also incurring a lengthy ban after he questioned various aspects of a referee's professionalism in unrestrained Andaluz.

But Ramos has proved in recent seasons to have inculcated a professionalism entirely of his own, not least by visiting a hairdresser before Euro 2012 when his switch to the center was confirmed at national level. He also took fellow Toni & Guy-botherer Gerard Pique aside and suggested they bury club tribalism ahead of the tournament for the greater good. In the preceding season, Ramos won the LFP best defender award and subsequently went on to make the Euro 2012 all-star team, which Pique also graced.

Perhaps the greatest praise Ramos could receive is that he is a player still improving. Alongside Raphael Varane in the heart of Real's defense, and Pique in Spain's, his career is far from at its zenith despite a cool 100 caps for his country.

"He has evolved a lot and in all aspects of the game, including physical, technical and emotional. He's more well-rounded and he has a great future ahead of him. It's almost scary to think about how far he can go," Del Bosque contributed to the player's biography.

And self-confidence is hardly lacking in Ramos to become one of the greatest players in Real and Spain's history, like the man who wore the number four shirt before him. After his shank into the stands in the Champions League semifinal penalty shootout against Bayern last season, Ramos told his family: "The next penalty, a Panenka. You'll see. They'll soon shut up."

Nerves of steel? More like 'hierro'.