Real Madrid eye move for neighbour's ex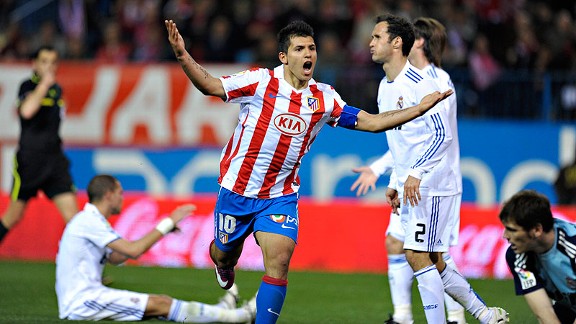 Dani Pozo/Getty ImagesSergio Aguero, shown celebrating after scoring for Atletico Madrid against Real Madrid in 2011, coud be returning to the Spanish capital - in a white shirt.
Just how long is long enough to wait if you're wanting to ask the neighbour's ex-wife on a date? You know the one - everyone notices her. She's gorgeous; your neighbour was one lucky guy. They split up and she moved on, far away from her ex.

- Maradona lobbied for Aguero-to-Real move

It had to happen; she was waiting for an 'upgrade'. It was all good while it lasted, but it was time to move on in the world, so she could achieve the things she wanted to achieve.

You're on the market but it was always going to be awkward to approach her straight after the split. Awkward on her and, more so, awkward on your neighbour, the guy who you'll be living next to for the foreseeable future, and awkward on you. You didn't want to look like the bad guy. Let things settle, let her, and him, move on. The dust will settle.

Then, bam! Make the move. You know deep down she wants you, and you want her. It'll be a match made in heaven - just you watch. She's had a flirt and a bit of fun with someone else, someone far away, but she wants to come back and you've got a great chance with her - you just need to ask, and she'll come running. Even her parents know that she likes you.

So I might not be set out for a career in romance novels, or as an 'Agony Aunt', but it fits the bill when talking about Real Madrid's reported pursuit of former Atletico Madrid hero Sergio "Kun" Aguero (the gorgeous reference was for article purposes only, promise!). The Argentinian could never leave his ex for a neighbour, a neighbour as illustrious and as much of a rival as Los Blancos, but the dust has pretty much settled. It wouldn't be so bad now.

Especially now said ex-neighbour is doing pretty well for himself. He's got a new girl, and if anything - it is the neighbour who has upgraded, while his ex kind of wishes he was back home. Atleti have built-up a bit of a reputation for bringing in top strikers and getting them noticed on the world stage, before selling them on and doing it all again. Think Fernando Torres, think Aguero. And Atleti's hot new stuff, Falcao?

Real Madrid have long been an admirer of Aguero. They wanted him when he was at the top of his game at the Calderon, but the 'non-aggressive approach' agreement in place between both clubs in some way, shape or form, prevented him from becoming a Blanco. Instead, he went to Manchester City. If he had his way, however, he would have been a Madrid player.

When a report in an English newspaper claimed Aguero said he would never play for Real Madrid, the Argentinian didn't just refute the claim, but went as far as to say he would have been at the Bernabeu in a second, if he could. "If Real Madrid had been interested in me, then I would be here [Madrid], I had no option but to join City," he said. "I want to take this opportunity to refute the information where I supposedly said that I would never play for Real Madrid because I played at Atletico. It was published in an English newspaper."

From the minute Aguero stepped foot off the plane in Manchester to start his career with City he was linked with Madrid. Atletico would never allow a direct sale to their old foes; their supporters would have been up in arms. Instead a sale to elsewhere, to City. Cash in the chips. A move to Madrid thereafter would be out of their hands - not their problem.

There were, and still are, reports that a penalty fee would have been triggered if Aguero left City for a return to the Spanish capital before the end of his first year at the Premier League club. No more, and with reported personal problems off the pitch, with Aguero's wife and son still living in Madrid, a move back now seems more likely than ever.

Aguero denies meeting with Madrid president Florentino Perez, but Perez has long been an admirer of Aguero and, with elections coming up, a big-name signing would do the Madrid supremo no harm at all. Especially signing one of Atleti's former idols and a star of La Liga and the world game. Aguero hasn't had the best of seasons with a City side who have all but given in their Premier League title to Manchester United, and bowed out of the Champions League at the group stages.

An injury hasn't exactly helped his cause this term with just 13 goals in 31 appearances. Last season, he scored 34 goals in 53 appearances, his last the most dramatic of goals - a late, late winner as Roberto Mancini's men came from behind to beat QPR and pip Manchester United to the title in a match that the Premier League, and indeed Aguero, will not forget. Shirt aloft, swinging in the air, team-mates piling on top in celebration.

Then again, neither Gonzalo Higuain nor Karim Benzema have been firing on all cylinders this season, much in the same way that Aguero has had an off-season so far in Manchester. Madrid's strike pairing worked brilliantly in rotation last year, bagging 57 goals between them as Madrid won La Liga in ruthless fashion. That, coming on top of Cristiano Ronaldo's dominance in the Madrid goalscoring charts.

This season, as with Madrid has a whole, the pair has been below par. Benzema has scored just eight league goals, seven in other competitions, while Higuain has 11 in total (all in the league). The Argentine came close to leaving the Bernabeu in the offseason due to wanting to play every week, and he hasn't got his wish this season. If Aguero comes in, the likelihood is one will have to go.

It would be a wise move by Madrid. Higuain and Benzema have been good servants to Los Blancos cause, but it was always going to be a struggle to keep players of such high calibre happy over a prolonged period when they're not playing week-in, week-out. In an age where players may be happy to pick up their wages and sit on the bench, players, the top players, still want to play. If they don't, there's a worry there all by itself.

The problem may still persist next season if Aguero comes in and one remains, but the likelihood is Jose Mourinho will be on his way out come the summer, whatever the outcome of the season. Will the new manager still go with the 4-2-3-1 formation? Or will he stick two up top? Or three? For the most part, Mourinho has refused to play with both Benzema and Higuain in the same team. All that could change come next season.

Many may well deem Falcao as the best out-and-out striker in the world right now, but it would be back to square one for Madrid if they did one day want to see him in a Madrid shirt - which, by all accounts, they do. A move elsewhere before a return to Madrid? Possibly via PSG, or Chelsea? It's possible, although Falcao's agent, Jorge Mendes, may well do his best to see him at the Bernabeu sooner rather than later, with his stock hitting the roof.

In the meantime, it seems as though Aguero is a top target, alongside Gareth Bale and Isco, for the summer, and everything seems to be falling into place for a return to his old neighbour. It could be a match made in heaven.

Vilanova return: On another note, it's good to see Tito Vilanova returning to Spain this from after undergoing cancer treatment in New York. Rivalry aside, some things definitely are more important than football (despite that famous old quote), and it will be fantastic to see Vilanova back in the Barcelona dugout.