Mt. Mourinho erupts again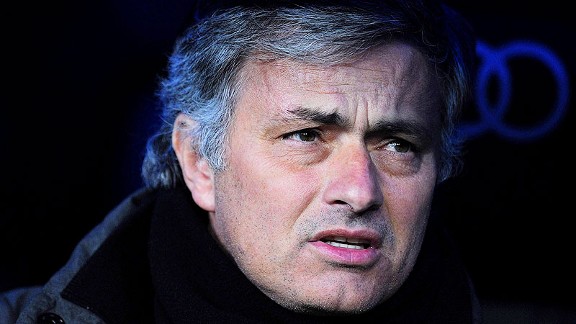 Denis Doyle/Getty ImagesJose Mourinho made headlines again this week accusing FIFA of rigging the 2012 Best Manager award.
Jose Mourinho is not a happy man.

In an interview with Portuguese state radio on Tuesday, the Real Madrid coach essentially accused FIFA of rigging the vote for the Best Manager award at the 2012 Ballon d'Or. This is nothing new; when Barcelona eliminated Real from the Champions League two seasons ago, the Portuguese tactician launched an astonishing tirade in his post-match press conference, the now-infamous "por que?" soliloquy that attacked everything from FC Barcelona to match officials, UEFA and Unicef for plotting against his side.

- Mourinho: Old Trafford remarks misunderstood

In a latest touch of X-Files-esque paranoia, Mourinho said that he had been told several votes that were marked with an X next to his name were later given to someone else. Vicente del Bosque, the Spain coach for whom new awards are invented on practically a weekly basis in a country that needs all the good news it can buy, won the prize in Switzerland after leading the only red numbers Spaniards like seeing to a third consecutive major tournament title. Mourinho said that he did not regret giving the ceremony a miss as he already knew the result. Whether Portugal's second-most Googled export is a genius tinged with madness, or a madman tinged with genius who can say, but on this occasion there is plenty of backing for his obsessive probing of the darker recesses of the sport's psyche.

Mourinho divides opinion at such polar opposites that he should probably have taken to the field in his "come and get me" appearance before December's derby in a penguin costume; you either love him or hate him. Del Bosque, the avuncular grandfather of Spanish football, is so well-liked that he would be voted in as prime minister tomorrow -- he is about the only publicly-funded figure not suspected of having his finger in the cookie jar. Unlike the political class, Mourinho has truly earned his status in Spain as a self-made man. He was hired by Real to achieve two concrete goals: knock Barcelona off its domestic perch, and deliver the long sought-after tenth European triumph to the Bernabeu. Task one was achieved, if only for a season; task two is tantalizingly poised after victory over Manchester United and a kind-ish draw against Galatasaray.

Unlike illustrious former footballers who have gone on to reach the pinnacle of management -- Alfredo Di Stefano, Jorge Valdano, Bernd Schuster, Fabio Capello and Del Bosque to name just a few at Real -- Mourinho was a Sunday league slogger when he was wearing boots, turning out for a handful of lower-league Portuguese sides that most people outside of the towns they are based in would not have heard of. What he has achieved with single-mindedness from a position as Bobby Robson's translator at Barça, via brief stays at Benfica, Uniao de Leiria and Porto, deserves recognition. He has never exactly been short of resources on arrival at a club since but then Del Bosque and Pep Guardiola could hardly complain about what they inherited either. The former had nothing to prove when he took over the reins at the European champion as the most successful Real coach of the modern era; the latter has it all to do when he picks up the keys to his office at Bayern Munich's Allianz Arena.

Mourinho is a singular coach, caught somewhere between the old school and the new of club management. It is unlikely, despite his volatile nature, that he'll ever punch a player as Brian Clough once did Roy Keane. Or that he'll refuse to sign a player because he turns up for the contract formalities wearing cowboy boots, as Old Big Head did in the case of Gary McAllister.

Neither would he openly admit to not bothering all that much about tactics like Harry Redknapp, who almost landed the England job on the basis of looking homicidal and shouting a lot while Daniel Levy's check book and a certain Welsh winger did much of the rest.

Even Guardiola, in an unguarded moment in the presence of a Catalan TV crew during his tenure at Camp Nou, candidly said: "Coach them? I just throw them a ball and watch."

When faced with the first major challenge of his coaching career, Guardiola failed utterly to manage the talents of his plan B to tiki-taka, Zlatan Ibrahimovic, who would later say that his relationship with Guardiola was non-existent and that the cerebral coach eventually stopped talking to him altogether. Admittedly, harnessing Ibrahimovic is like trying to set fire to the rain, and despite rumors of a Bayern move for the big Swede, Guardiola has more chance of playing Adele up front next season.

Mourinho has had to counter player power throughout his career. The mark of a great coach is not so much how many trophies they win, but the words spoken about them after leaving a club. Almost infallibly, former Mourinho charges -- and some present ones -- have nothing but good reports about the Special One. Particularly at Chelsea, where a Terry-Lampard duopoly has seen off plenty of pretenders to Mourinho's throne, he would be welcome back in the drop of a pint glass in a Heathrow departure lounge. Avram Grant and Rafa Benitez can hardly hope for the same response.

It is hard to envisage Mourinho tearing into his players in the manner of Alex Ferguson at Manchester United, whose famous hairdryer is surely owed some coin from a certain Mr Dyson. Neither is it easy to envisage the Portuguese coach screaming obscenities in the face of his players like Luis Aragones in his infamous "encouragement" of Jose Antonio Reyes. Equally, Mourinho is not a stand-offish chin-stroker like Guardiola or Benitez. Somewhere in between the world of buying players for a crate of champagne and dishing out abuse, and the modern mannerism of treating football like an art gallery -- silent appreciation and a little dose of pretentiousness -- lies the management style of Jose Mario dos Santos Mourinho Felix. Tactical nous, as displayed this season in pack-shuffling wins at Valladolid, United and most recently Mallorca show a proclivity to try something new -- the lineup of Luka Modric, Mesut Ozil, Kaka, Karim Benzema, Gonzalo Higuain and Cristiano Ronaldo was a first this season in the league, and reaped three goals in 17 minutes to overturn a 1-2 deficit -- is blended with a historical tie to the school of thought that victory begins purely in the mind.

Love him or hate him, there are few better exponents of the battle of wits in the modern game than Mourinho. If he does leave in the summer, he is not going to be easy to replace, in thought or deed. If he goes with the Champions League trophy under his arm for a third time with a third different club, his place in the pantheon of the greatest coaches in history will be sealed. If he fails to win recognition in the hypothetical aftermath, it really will be time to give Mulder and Scully a shout.