Varane continuing rapid ascent with France debut
Top club football managers tend to look at breaks in their fixture lists for international matches with trepidation. From a purely selfish point of view, there's little in the way of pride that one of their players has been selected for their nation, although in some cases a possible sense that they could earn some more money if when they decide to sell said player.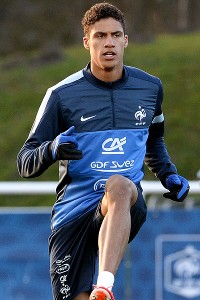 Franck Fife/Getty ImagesMadrid's Raphael Varane is stepping confidently into his international debut with France.
Deep down, you'd hope it isn't the case. Deep down, you'd hope managers such as Jose Mourinho are pleased their players have been called up for what is the greatest honour in the beautiful game -- playing well enough to represent your country. Whether or not that is the greatest honour anymore is talk for another day. . . .

I'm sure, when they're out of 'work mode', they do feel pride and pleasure towards their international stars. With their club hat on, however, the international matches are often seen as a menace -- an unwanted match when the top players at the top clubs already have their annual planner packed to the rafters. More energy being sapped, and a chance that their players may return injured. It could, in theory, throw a whole season into jeopardy.

With Real Madrid going for their Champions League 'Decima' and a Copa del Rey final against Atletico Madrid coming up, Mourinho will probably see the outcomes of the international matches over this next week from peeking out from behind the sofa. Fingers will be firmly crossed that none of his stars return to the Bernabeu and head straight for the treatment room.

In total, 17 Madrid players have been selected by their countries for international duty. For Spain; Sergio Ramos, Alvaro Arbeloa, Raul Albiol and Xabi Alonso. For Portugal, Cristiano Ronaldo, Fabio Coentrao and Pepe. Sami Khedira and Mesut Ozil are set to play for Germany, Karim Benzema and Raphael Varane for France, Gonzalo Higuain and Angel di Maria for Argentina and Luka Modric for Croatia. Kaka, Marcelo and Nacho are also ready to play in friendly matches. For the majority, international matches are part of their schedule. They're used to it, and Mourinho is used to it.

Others are still getting used to them. Namely Varane, who is set to be handed his France debut by Didier Deschamps in their coming matches against Georgia and, typically, Spain, both on home soil.

For the super-talented 19-year-old, his international debut could come at just the right time -- for the player and for Mourinho. Varane has been tipped for greatness for the last couple of years, but only this season has he caught the eye of the watching world thanks to his performances in Clasico contests against Barcelona and in the Champions League last-16 victory over Manchester United.

Varane has gone from boy to man this season. I waxed lyrical about the defender's performance in Madrid's 1-1 draw with Barca in the Copa del Rey semifinal first leg. He produced a performance beyond his years. Power, pace, an exceptional reading of the game and the cheek to keep the world's best, Lionel Messi, on a tight leash. A goal to top it off wasn't bad, either.

The world's press praised the Frenchman, and he followed it with more of the same in the second leg, again getting on the scoresheet as Los Blancos trounced Barca 3-1 on their own patch. His performances in those matches have enabled him to be the preferred centre-back partner for Sergio Ramos instead of Pepe, with Varane very much taking advantage of the Portuguese defender's injury. He took his place, and now he is likely to keep it.

So for Varane, the chance to make his international debut can only be a good thing for the player, and thus a good thing for Madrid. Of course there's still the chance of injury, but Varane has to make his France debut at some point, and what better time than now? A chance to continue progressing. More experience, more time on the pitch in a season when he's only featured regularly for just the last few months -- there should be no sign of fatigue.

"There's always a risk," said Deschamps, who has watched Varane a number of times this season. "But he has to make his debut some time or another. There is no way to avoid risk. With what he's done with Madrid in recent weeks, I don't have to worry about his performance. This is a different context though -- it's the national team. Is he able to take that on? Yes, I think he is."

Whether that risk is enough to stop Deschamps picking Varane for the clash with Spain, and a possible head-to-head against his Madrid teammates, we'll have to wait and see. It would certainly be a sign the former Monaco boss is ready to insert the youngster as a permanent fixture in his French starting eleven, with the 2014 World Cup in Brazil firmly in mind.

The defender has grown this season, and a run-out for his country over this week can only continue his growth into one of the world's best. Ronaldo, Ozil, Modric and Higuain may well grab the headlines for their respective nations in coming days, but Madrid's young centre-back could be the real winner from this international 'break'.

Varane has stamped his authority on the Madrid team -- now he'll undoubtedly want to do the same with France.

Follow Nicholas on Twitter @nicholasrigg