Varane on verge of becoming true Bleu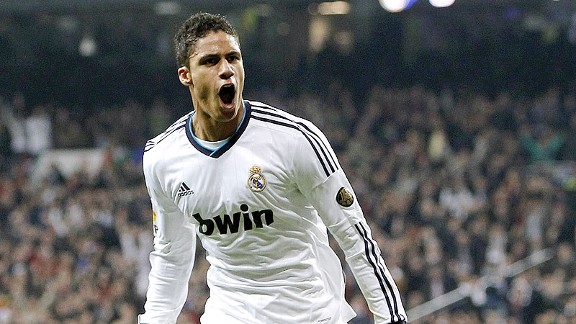 Angel Martinez/Real Madrid via Getty ImagesRaphael Varane had a breakthrough performance for the ages against Barcelona and followed it up against Manchester United.
He started off as a raw young promise at Lens and became the future of Real Madrid's defense. This season, however, Raphael Varane has moved swiftly from one for the future to one for the right now, usurping Pepe as first-choice center back and forming part of Jose Mourinho's habitual and most trusted back four with Alvaro Arbeloa, Sergio Ramos and Fabio Coentrao.

- Ledwith: Varane the man

Little wonder then that France coach Didier Deschamps, a man who knows a little about pouring cold water on attacking intent himself, has called up the young Real star to the Les Bleus squad for its upcoming World Cup qualifiers against Georgia and Spain. Although given the nod last August for a friendly match, Varane did not make the field and thus will earn his debut cap against Georgia if called upon.

And there is little reason why he shouldn't be. After a handful of starts last term, when Pepe and Ramos were colossal in the center of Real's defense, Varane's breakthrough season has had many admirers purring over his performances. It is hardly surprising -- a personal recommendation to the Bernabeu hierarchy from Zinedine Zidane is not something a lot of young players receive. But it was the majestic former France midfielder who alerted Real to the emergence of Varane at Lens, and he was duly snapped up after a handful of senior games for the then-Ligue 1 side for a fee of around €10 million; his market value now stands at double that amount.

His commanding displays this season culminated in show-stopping turns against Barcelona and Manchester United, two of the biggest tests for any young defender in the world club game. Many have wilted under such pressure, but Varane bloomed, earning man-of-the match in his first-ever Clasico and helping to keep the prodigious attacking talents at Sir Alex Ferguson's disposal at bay in a season-turning Champions League doubleheader.

"I selected him because I believe he can be a starter, but it must not be forgotten that he has not yet played a single game for the national team," Deschamps said in announcing his squad Thursday. "I work on sporting logic and I think it's completely normal that he's been called up. He shows great maturity for a 19-year-old and plays for a big club. But pulling on the shirt of France is a different thing. I hope he can play many international games for us and he has to debut one day, although I don't know if it will be now or at some point in the future."

On the evidence of Varane's meteoric rise to first-team status at Real, it would be no surprise if he earns that chance against Georgia next week. Spain and France are tied for seven points apiece in European qualifying Group I, and Georgia, with five points, is the closest challenger. France held Spain to a 1-1 tie at the Calderon last October, with Ramos on the scoresheet for the home side and Arsenal's Olivier Giroud guiding in a wonderful equalizer with seconds to go on the clock. The match in Paris is essentially 90 minutes with a ticket to Brazil awaiting the winner. Only the top-placed team in each group goes through automatically, with the eight-best runners-up facing the playoffs.

A year ago, throwing Varane into a match like that would have been unthinkable. Now, with PSG's Mamadou Sakho (12 caps) and Arsenal's Laurent Koscielny (eight caps), the two senior center backs in a squad containing four (including Newcastle's Mapou Yanga-Mbiwa, three caps), a start doesn't seem quite so incredible after all.

Mourinho often has been accused of not knowing how to -- or not wishing to -- handle young players, and his treatment of Antonio Adan to make a point to the Bernabeu crowd is case in point. However, there is little doubt that the Portuguese tactician's knack of getting the best out of his defenders has been instrumental in Varane's rise up the ranks in the past two seasons. Few players of his age -- see the Castilla squad for details -- get anywhere near a first-team start in anything other than the King's Cup.

Although Zidane is currently not active at the club -- his loose role as ambassador without portfolio and spells on the bench for European games is on hold while he obtains his coaching badges, ostensibly to come back to Madrid and coach the youngsters -- his legacy at the club is enshrined by his gift of Varane. As much as his volleyed left-foot rocket in Glasgow contributed to Real's ninth European success, the World Cup winner's input into the Decima, if it comes, should not be underestimated.

A kind draw Friday would be handy as well, though...