Battle for Madrid's No. 1 heating up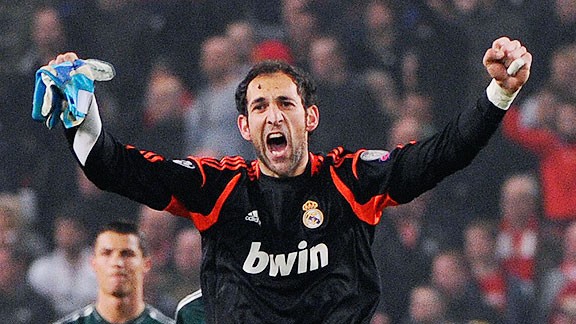 Pierre-Philippe/AFP/Getty ImagesDiego Lopez's Champions League performances will make things very interesting around the Bernabeu when Jose Mourinho names his goalie for the quarterfinals.
Spanish sports daily Marca called him "the intervention maestro" this week, but could Real Madrid goalkeeper Diego Lopez come between Iker Casillas and a return to Jose Mourinho's first-team plans this season?

It's a question few would have envisaged just a few months ago -- certainly before Christmas. Casillas, affectionately known as "Saint Iker" by Madridistas, had been one of the first names on the teamsheet at the Bernabeu for a decade. Madrid fans love him - he is one of their own. After Raul left, the Spanish international was the go-to man for player-fan relations. He's regarded as one of the best goalkeepers in the world. A World Cup winner, a European Championships winner, a Champions League winner, a La Liga winner, a Copa del Rey winner. Few players in world football have better CVs.

Since the turn of the year, however, Casillas's No. 1 jersey has been under threat.

The signs were there just before Christmas, when Mourinho caused shockwaves in the Spanish media by dropping Casillas for backup Antonio Adan. It didn't stop there, with Adan continuing in goal after the winter break. Had Mourinho fallen out with his top goalkeeper, as he had previous with his other top stars? Or was it just a ploy to kick Casillas into gear for the "business end" of the season?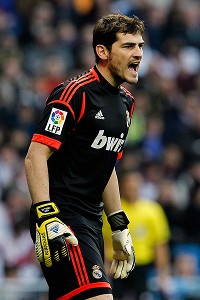 Antonio Villalba/Getty ImagesWhen Antonio Adan was sent off, Iker Casillas -- benched for the second straight game by Jose Mourinho -- came on against Real Sociedad.
The 31-year-old hadn't been having his best year. Real Madrid had not been having their best year. Far from it. Casillas was a casualty, dropping to a place he was far from familiar with -- the bench. For my money, the move was a psychological one by Mourinho. Give his out-of-form goalkeeper a kick up the butt before the big Champions League and Copa del Rey matches -- matches Madrid prioritised over a La Liga campaign on which they'd thrown in the towel.

If dropping Madrid's No. 1 was not part of a cunning plan, why did Mourinho go out and buy Diego Lopez when Adan had already filled in for Casillas before an injury that has currently put Spain's top stopper on the sidelines? Surely his faith with Adan would have stretched further than the handful of games he did play, before Casillas eventually got his place back, and eventually suffered a hand injury.

I digress. The talk has now turned to whether Lopez, a number two at Sevilla before making the move to the Spanish capital, can keep Casillas on the sidelines when he comes back from injury shortly. Madrid are through to the final of the Copa del Rey and the last eight of the Champions League - will Mourinho keep faith with a goalkeeper who has won the praise of plenty since his arrival, or go back to "Saint Iker"?

Mourinho himself called Lopez his man of the match as Madrid went through the last-16 clash with Manchester United last week, with his goalkeeper pulling off a string of fine saves to deny the Premier League leaders. Sir Alex Ferguson went even further, saying he would have preferred to see Casillas in goal for his own side's benefit.

"Diego López was the difference. I would have preferred Casillas," said Sir Alex. "Iker wouldn't have saved the shots that the boy Lopez did. Going out to Danny Welbeck in the first half, going down at Robin van Persie's feet, coming out and whacking Nemanja Vidic in the head... Casillas isn't that type of goalkeeper."

High praise, indeed. Praise that few would have probably expected when Mourinho brought the former Villarreal man in very much as a "stopgap".

Marca's "the invention maestro" headline came following Lopez's performance against Celta Vigo at the weekend -- a match that Madrid won 2-1 thanks to a brace from Cristiano Ronaldo. Lopez did the business at the other end, producing nine saves -- more than any other for a Madrid goalkeeper in matches this season. Lopez was joint second too, making six saves iagainst Sevilla, as did Casillas against the same opposition in the reverse fixture this season.

Of course, this can boil down to the strength of the outfield, too. The poorer the outfield performs, the more saves a goalkeeper is likely to make. Every goalkeeper who has pulled on the gloves for Madrid this season has had to work more than a Madrid keeper would usually expect to. It's been that kind of season.

You have to be there to save them, though. One thing a few mentioned from the United game was that Lopez was 'expected' to make the saves. What wasn't spotted was Lopez's top anticipation and positioning that made them look relatively comfortable in the first place. Ferguson spotted that, and he's been around long enough to spot a bit of quality when he sees it.

Mourinho has spotted it too, and it will give him a big selection headache when Casillas - the captain, of course - is back fit and ready to feature for Madrid in what could be a 'double' for Los Blancos this campaign for La Decima in the Champions League and the Copa del Rey. Spain's number one is back in light training and is expected to be ready for action in two to three weeks. It's going to be a big call for Jose.

Follow Nicholas on Twitter @nicholasrigg