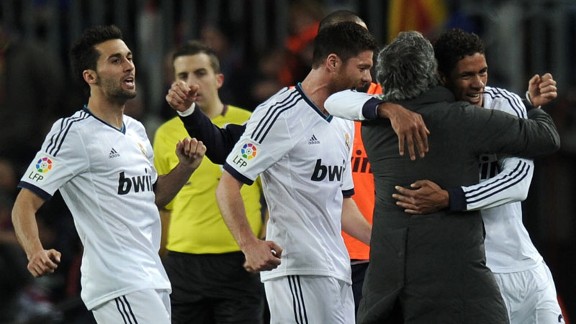 GettyImagesRaphael Varane is highly-rated by Real Madrid coach Jose Mourinho
Raphael Varane will turn twenty on the 25th of April and he may just wake up that day having helped his Real Madrid side make a big step to, dare I say it, a Champions League final the night before.

- Varane pinching himself over meteoric rise

Varane's special day comes the day after a semi-final first leg and maybe I'm getting ahead of myself, and Manchester United will have something to say about this next Tuesday, but he could well be involved in it.

The fact Varane's side go to Old Trafford on a high after beating bitter rivals Barcelona to reach the Spanish Cup final, is largely down to the young Frenchman.

Cast your mind back to the end of January and the first-leg of that 'Clasico' double header in the Santiago Bernabeu. Cesc Fabregas grabbed the first goal of a tight game and Barca threatened to do what they have done so many times recently in the Bernabeu and roll Madrid over.

The fact that Madrid escaped with a 1-1 draw to take back to the Camp Nou for Tuesday's game was due in the main to the sensational performance of Varane.

At the back with three breathtaking last gasp tackles and a clearance off the line, and then at the other end where he appeared in the area to head a Mesut Ozil cross home for the all important leveller nine minutes from time.

At six foot three inches tall, Varane has the rangy gait, speed, anticipation and legs to quickly ward off attacking opponents. He showed this best when catching Fabregas with one stupendous tackle to deny him an almost certain second midway through the second-half.

On Tuesday, when Madrid completed the tie with a 3-1 away win, it was his reading of the game again that helped stifle Lionel Messi's performance, and not many centre-halves can do that twice in one month.

When Barca did have a shout for a penalty, and Pedro Rodriguez had two close calls for tumbles in the area, it was not the elegant Frenchman who was involved. And his huge jump to head the third goal was reminiscent of the ones Cristiano Ronaldo pulls off on a regular basis.

Close followers of los Blancos will not be surprised by his recent performances, he had already shown enough form last season, his first at the club after a move from RC Lens.

Then he scored twice, his second against Rayo Vallecano with a spectacular readjustment of his body to meet a corner that he could not reach with his head. His reaction to twist and produce a mid-air back flick was the kind that have become the trademark of Zlatan Ibrahimovic.

He only made 23 appearances for his French club in 2010-11 but made such an impression in a short time that Madrid paid around €10 million for him, perhaps just ahead of Sir Alex Ferguson at United who was said to be sniffing around.

He started 13 games in his debut year and so far 19 this season, and until now has finished on a losing side on only three occasions.

The fact Jose Mourinho handed him his first game this term at home to Manchester City in the Champions League, to replace Sergio Ramos, and has played him in all but one game in that competition is the best indicator yet that he is fully trusted by the 'Special One'.

Zinedine Zidane, who was advising the club at the time of his signing and was said to be key in Varane choosing Madrid, has likened him to French defensive giant and former national team captain and manager Laurent Blanc.

Mourinho has said about him: "Real Madrid have a top centre-half for 10 years to come".

His coach has used him more in the Spanish Cup and Champions League this season than in La Liga, where Raul Albiol and Ricardo Carvalho have also rotated to cover the absences of Pepe and Ramos.

His form has now moved him well ahead of Raul Albiol and Ricardo Carvalho and he is now considered as an equal to the other duo whose seasons have been hit by injuries and suspensions, it will be three from two from now on for Madrid's best pairing.

He has been called twice into full French squads but was pulled out of both, the latest after tests revealed a small muscle tear after the league defeat at Granada.

It would be no surprise if his club played a part in delaying his international debut for its own personal agenda, as within a week he was lining up against Manchester United in the Champions League.

His international debut is however on the cards very soon and, barring injury or huge loss of confidence, he looks set to stay at the centre of the French defence for a long time.

For the time being, it would be no surprise if Varane is rested against Barca on Saturday with Old Trafford just around the corner. A start at United would be another sign that the player has come a long way in a very short time.