A low-stakes Clasico before high-stakes trip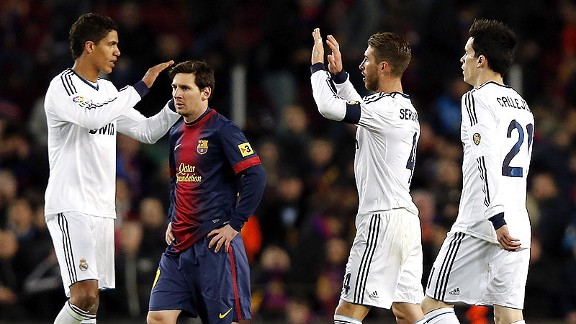 Angel Martinez/Real Madrid via Getty ImagesOn Saturday, Lionel Messi and Barcelona will see a Real Madrid lineup very different from the one that beat Barca decisively Tuesday in the Camp Nou.
Question: When is a Clasico not a Clasico?
Answer: When Madrid have thrown the towel in on La Liga and a crucial Champions League clash with Manchester United awaits just three days later.

Rarely can you describe a Clasico -- the match the world waits for -- as 'meaningless'. It would probably be a step too far to describe it as just that when Real Madrid host Barcelona in La Liga at the Santiago Bernabeu on Saturday, but it's just about as close as you'll get.

-- Kaka dismisses Barca problems

Madrid eyes will be firmly on Tuesday night and their biggest match of the season to date when they visit Old Trafford to take on Manchester United in the last 16 of the Champions League with the score tied at 1. Iker Casillas said earlier this season that he'd take being 25 points behind Barca in the title race if it meant winning La Decima - Madrid's 10th European crown. Madrid would certainly take a home defeat against Barca this weekend if it meant progression in Manchester next week.

The 4 p.m. kickoff Spanish time tells you all you need to know. Matches between the nation's giants are usually reserved for prime time viewing. The feature match of the weekend. Rarely do these teams see a match before 6 p.m. on a weekend. An earlier kickoff has been touted before, but only to maximise viewing in Asia. Saturday's Clasico won't even be shown live in the UK, where all Barcelona and Madrid matches are screened due to television rights and rules.

Madrid asked for the early kickoff to allow more time to prepare for United. If Los Blancos had it their way the match would have been on Friday, to allow an extra day of preparation. Saturday afternoon had to do.

If Madrid are prepared to alter the kickoff time of one of the world's biggest matches to suit them -- and not the television companies -- it means you can bet your bottom dollar Jose Mourinho will make big changes to his side to give his men all the rest and recuperation they need to get the job done in Manchester next week.

It's one of the few benefits of Madrid's awful league season, which finds them trailing their rivals by 16 points with plenty, points-wise, still to play for. In an ideal world this match would be meaningful. It would be huge, a potential title decider, and it would mean playing a full-strength side just days before taking on Sir Alex Ferguson's side. As it is, a much-changed side to the one that saw off Barcelona in the Camp Nou on Tuesday in the Copa del Rey is expected, and Saturday's result, largely, is not of great concern for Madrid.

While changes for Madrid are expected, those should still leave Mourinho's men with a chance to win. This is where a deep squad packed full of quality comes into play. Only Casillas is sidelined through injury this weekend (he returned to training this week), giving Mourinho plenty of options. Kaka has been the man in front of the media this weekend so expect the Brazilian to start -- and he's in top form. Also expect players such as Luka Modric and Jose Callejon to start; maybe even young Alvaro Morata could be given the nod.

While it may still be relatively meaningless for Mourinho, the match is one that can't be played at anything other than break-neck speed. If Morata does feature, Madridistas will be delighted to see 'one of their own' taking on the Catalans, while Kaka has the chance to prove he still 'has it' on the big stage. Mourinho will probably know his starting XI for Manchester already, but there's still the chance to give him a bit of a selection headache.

A win for Los Blancos would also continue the 'feel-good factor' from the comprehensive Copa del Rey victory, a factor that has been lacking at the Bernabeu this season and that would be timely ahead of the huge United clash. A chance to keep that winning feeling going. Two wins in a week against Barca wouldn't be bad for morale, would it?

Mourinho may have a selection headache with Cristiano Ronaldo -- who was likened to the Incredible Hulk in Spanish sports daily Marca this week after his superb display in Barcelona on Tuesday. The Portuguese will be licking his lips at the prospect of playing and notching more goals against Barca, but is the risk of injury too great to include him on Saturday afternoon? A rest against Granada was not too bad given his brace in Catalonia.

Barcelona will come into the game with an extra week to prepare for their Champions League match against Milan, meaning they're likely to field a stronger team than Los Blancos. Barca have is idle next week, so it could be the chance to avenge the cup loss and get back to winning ways after a tough couple of weeks. It means a tough afternoon is probably in store for Madrid.

Saturday afternoon's Clasico is not really being billed as a Clasico, but that could actually work in its favour. It won't be the full-strength sides in either team, meaning it's not a true reflection on either Madrid or Barca's capabilities. The pressure, relatively, will be off, however. The match is not a title decider and it should not have an impact on the outcome of La Liga. Hopefully we'll see a free-flowing, quality-packed and drama-free Clasico that will be pleasing on the eye.