Mourinho mind games return with cup Clasico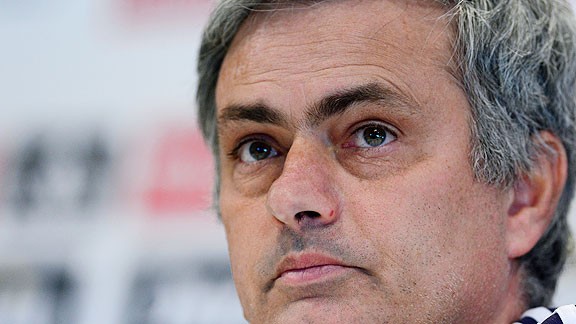 Javier Soriano/AFP/Getty ImagesJose Mourinho was in his element while talking referees during his pre-Clasico press conference.
"I'd rather stick to the sporting lessons that we have received from Barcelona in the past, to not talk about referees or pressure them, to not look for cards or simulate bookings for our opponents and obviously to play football, which they do very well." -- Jose Mourinho.

Ah, Jose, we've missed you. Whether you like the mind games or not, they are one thing you can relate to Madrid boss Jose Mourinho. For all the footballing glories of the Clasico, between Los Blancos and old foes Barcelona, in Mourinho's era, you know a Clasico is on the horizon when the 'Special One' enters the press room and gives the gathered media types columns and columns of copy for their respective media outlets.

- Hunter: Copa could be coup de grace for Mourinho
- Mourinho: 'I'm learning from Barcelona'

The referee in charge is usually high on the agenda; such is the importance of the man in the middle with matches being played at breakneck speed and hardly a moment to catch a breath. This time, however, Mourinho was not starting the prematch warfare, he was responding to comments made by Barca assistant coach Jordi Roura that referee Alberto Undiano was "permissive" of aggressive play.

Roura claimed his men rarely do well with Undiano, who will watch over proceedings when the sides meet at the Camp Nou for the Copa del Rey semifinal second leg. In fact, Barcelona's only league loss of the season so far has come under the watchful eye of Undiano. "With Undiano, our numbers are always worse," Roura said.

The comments were probably music to Mourinho's ears. The Portuguese is well known to start the match not at the sound of the whistle for the start of 90 minutes but when he walks into the room for the news conference before the match. He switches into another mode of working -- Mourinho's mode, and it's unlike any other.

There was more than a hint of irony, then, when he uttered the aforementioned sentence in response to Roura's comments. Plenty of water has passed under plenty of bridges between the two sides since Mourinho marched into Madrid, but the former Inter Milan, Chelsea and Porto boss does not forget. Barcelona don't forget, either.

For Madridistas, whether pro-Mou or anti-Mou, the sight of a Mourinho in fighting mode is an encouraging sign. Since the turn of the year, with Barcelona waltzing away with Madrid's La Liga title and pressure mounting on the Madrid boss, Mourinho has looked a shell of the man we've come to know and love -- or hate. Uninterested, glum, ready for the exit door, and seemingly lost.

Now he has a chance to fix what has gone before this season by guiding his men to the Copa del Rey, which would be his second success in the competition, and the Champions League, which would be a 10th for Los Blancos, and leave him with his reputation firmly intact. He looks to be relishing that chance.

Mourinho is not used to losing, and he has struggled to cope with it this season. La Liga might be gone, but the Portuguese has already chalked that off last season -- job done -- and would complete what president Florentino Perez asked of him on his arrival to the Spanish capital if he manages to claim another Champions League title come the end of the season. Mourinho's name would ring round the Bernabeu, whether he stays or goes, if Iker Casillas lifts the Champions League trophy at Plaza de Cibeles.

It's vital, then, for Madrid to start this crucial weeklong tripleheader, a tripleheader that could define Mourinho's stay in Madrid, with progression to the final of the Copa del Rey with victory over Barca on Tuesday night. Another Clasico follows Saturday, at the Bernabeu in La Liga, before Madrid make the trip to England to take on Manchester United in the second leg of the Champions League last 16, another match nicely poised at 1-1 after 90 minutes.

No resting of big names in Catalonia, despite Europe being the top target -- leave that until Saturday, with La Liga gone. Madrid need to field their strongest possible eleven at the Camp Nou and travel with the confidence of getting a result that would see them progress. Not only would it edge them closer to a vital trophy but it would set the tone for a big week for Los Blancos. A boost in confidence -- a shot in the arm.

Madrid need to score, but they no longer fear going to the Camp Nou, no matter how the respective campaigns of each team have panned out so far this season. They haven't feared the trip there for a while, no matter how intimidating the atmosphere can be. In Cristiano Ronaldo, Madrid have a player who is fresh, thanks to his spot on the bench at Deportivo on Saturday, and a player who has scored six goals in his past five matches at the Camp Nou, cutting to bits the accusation that he doesn't show in big matches. In Mesut Ozil, Madrid has a player who has provided assists in each of his past four visits to Barca. A dream combination if ever there was one.

Los Blancos also have produced better results away from home than they have at the Bernabeu in recent matches, with their counterattacking style flourishing at the Camp Nou. Barcelona's defence is hardly in good form, leaking goals left, right and centre. Madrid's attackers may well be licking their lips.

There's no getting away from the fact Barcelona should be favourites for the match, however, and the task is going to be an extremely tough one for Mou and his men. Barca might not be in top form just now, but they, like Madrid, are a bit of a wounded animal this week after their Champions League setback in Milan last week. Barca also has been much better on the whole so far this season -- just look at the league table.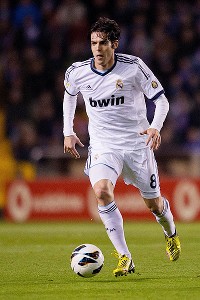 Gonzalo Arroyo Moreno/Getty ImagesThe rejuvenated Kaka might be a surprise starter on Tuesday at the Camp Nou.
Xabi Alonso could be key. Mourinho said the midfield maestro came through training looking ready to play, but with a trip to Old Trafford just seven days away, how much of a risk will he put on one of his key men? A Clasico is a Clasico, but Madrid will place United and the Champions League at the top of their priority list.

Will Kaka play a role? The Brazilian has been in good form, scoring one and helping set up another as Madrid came from 1-0 down to beat Depor 2-1 at the Riazor on Saturday night. Has he done enough to play his way into a shock inclusion Tuesday night, or was he just played in a needs must kind of way? It'd be tempting to start him in place of Angel di Maria, who's been disappointing for much of the season.

Also keep an eye on the three Madrid players carrying the threat of a suspension should Los Blancos get to the final and they pick up bookings. Alonso, Ronaldo and Ricardo Carvalho -- although the last is not expected to start -- are all one booking from a suspension. For Barca, Dani Alves, Cesc Fabregas and Javier Mascherano are carrying the same threat.

The first leg was a scintillating display of football from both sides, and we can only hope for the same for the Camp Nou. At stake for Madrid are not only pride and a place in the final but also the shaping of a crucial seven days.

Follow Nicholas on Twitter @nicholasrigg