Rise of McCarthyism can't ensure win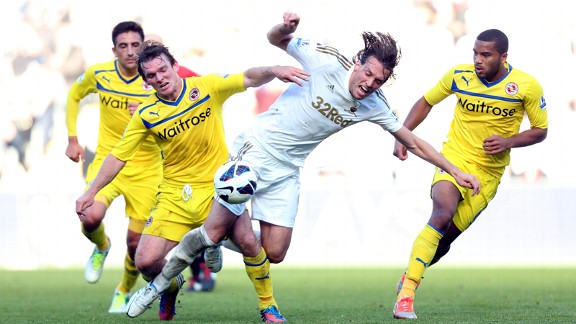 EmpicsReading's Jay Tabb tackles Swansea's Michu to the ground
Royals supporters almost all collectively raised their eyebrows when the Reading team was announced and the centre of midfield was occupied by Jem Karacan and, replacing Mikele Leigterwood, Jay Tabb. Both tenacious and whole-hearted, with bags of energy, but what they give in enthusiasm they lack in physical presence - surely this must be the shortest central-midfield pairing the Premier League has ever seen, unlikely to be beaten unless a rich Arab sugar-daddy adopts a team of garden gnomes and funds their promotion to the big time.

So before the game neither set of supporters were optimistic as Swans fans were convinced their run of dismal form was likely to continue, whilst the woes of the diminutive midfield occupied the thoughts of Loyal Royals. And for the first half an hour it looked like the Swans fans would be the ones proved wrong, as their team monopolised play and had all the meaningful chances. Alex McCarthy, looking more and more assured in goal with every game, needed to make two sharp saves in the first 15 minutes to keep Reading in the game, first tipping a header over the bar then blocking an effort at his near post.

Reading played a high line and hassled Swansea on the ball, trying to stop them building from the back, but Swansea are a better team than that and had the bulk of possession, plus all the chances worth talking about.

But after half an hour the home fans were well and truly silenced, as Reading took the lead from their only real attack. Pogrebnyak was played in by McAnuff, and the big Russian's shot, from just inside the area, was half-saved by Worm, but still had enough momentum to reach the net. That goal was the cue for the closest that Reading had to a purple-patch in this game, as they played with more confidence, whilst Swansea looked rattled and disjointed, in a near silent stadium. And Royals doubled their lead just before the break, as a blocked shot fell to Noel Hunt. Although clearly amazed not to be offside, he buried his volley in the Swansea goal.

After the break it was back to square one, as again Swansea came out all guns blazing, but this time creating better chances. Reading's saviour was Alex McCarthy, who started the half by thwarting Swansea one-on-one and was called on to make five more world-class saves in the second half.

As Reading tired, Swansea took control more and more, and inevitably they turned possession into chances and those chances into goals. With every attack they seemed to have an extra man or two, but McCarthy held out until the 71st minute, when a deflected cross from the right fell to Michu, the spare man at the far post, who buried a diving header. McCarthy had no chance with that one, and neither did he seven minutes later, when Moore - Swansea's spare man in this attack - was slipped in on the left and slid the ball past McCarthy.

Instead of the futile game plan of trying to soak up Swansea pressure, Reading now at least tried to take the game to the Swans, but taking off Noel Hunt meant they'd lost a lot of energy and enthusiasm up front. Although they huffed and puffed they rarely looked like grabbing another goal. Meanwhile the Swans continued to look the team most likely to take all three points.

But Reading held out, and while many Loyal Royals will take comfort at an away point, the depressing fact is that this is a match where Reading looked lucky to have their two goals, and but for the brilliance of Alex McCarthy might have ended up on the wrong end of an embarrassingly heavy defeat.

So instead of this being a point well-won away from home at a tough place to go, this was a scrambled point against the run of play at the sort of place Reading will need to start picking up wins if they want to have any realistic hopes of staying in the Premier League come May. And as well as throwing away a 2-0 lead, this means we've reached October without yet getting that first Premier League win.