Royals one striker short of a complete team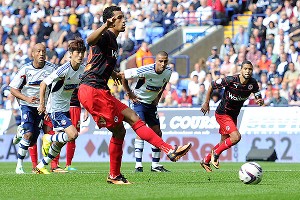 Chris Brunskill/Getty ImagesNick Blackman scored Reading's goal on this penalty kick, but otherwise had a tough day at striker for the Royals.
Twenty-four hours after Reading's 1-1 draw against Bolton at the Reebok Stadium, I've been reflecting on how much more this match has taught us about whether Nigel Adkins' team is developing into one ready to bounce back straight to the Premier League.

And my immediate reaction is that they're certainly getting there -- this was a highly entertaining match between teams very likely to be in the promotion mix at the end of the season. While some of Reading's play at times was simply sublime, some of it was anything but that.

Starting at the back, Alex McCarthy in goal looked as safe as ever, and the one time he was called on to make anything other than a routine save he was up to the task, superbly reaching a first-half shot with the very tips of his fingernails to divert it onto the post. But at times there was some frustration -- both from McCarthy and the Loyal Royals in the stand -- at how long he had to wait before he could release the ball.

He's obviously under the manager's instructions not to kick long unless there was no alternative -- and as this team is still adapting to playing in this new way, the players weren't always in the right positions for him to do this. Changing style takes time -- for both players and supporters.

In front of McCarthy, the young centre-back pairing of Sean Morrison and Alex Pearce continue to look commanding in the air, but, as last season, are vulnerable when the ball is moved quickly and run at them. Whether this is something they can improve upon, or whether this will remain a weakness forever, only time will tell. But they're settling down and improving with every game, and seem more and more comfortable with the ball at their feet with each game -- I suspect this may be the deciding factor that is getting them the nod ahead of Kaspars Gorkss and Adrian Mariappa.

But it's the midfield which is the real revelation to me. Even though Adkins replaced Hal Robson-Kanu with Jobi McAnuff, the pattern was the same as last week, with Jem Karacan and Danny Guthrie in holding roles and three attacking midfielders in front of them, supported by very advanced full-backs. Karacan is effective but undramatic in the defensive "water-carrier" role, while Guthrie continues to grow in stature, frequently making space for himself with a single touch and then picking an effective pass. I expect him to exert a major influence on this season, pulling the team's strings, although he did fade after 70 minutes Saturday.

But in front of him it's the combination of attacking midfielders and advanced full-backs that's showing the most potential, and the biggest change from how Reading have played in recent years. Some of the quick interplays to create space behind the Bolton defence were beautiful to behold and would have graced any team in the country -- as well as carving open any defence.

And while some of the moves they attempted didn't come off, they're always trying something and can only gain a greater understanding of each other as they play together more -- which gives great optimism for the future.

The central player of the three, Royston Drenthe, is rapidly turning into a fan favourite, always ready to run at the opposing defence and showing boundless confidence and audacity. However, his blatant second-half dive, for which he received a yellow card, and a developing tendency to go for a shot when poorly placed rather passing to much better-placed teammates is a bit worrying. If he continues to play the way he obviously can he'll be a great asset, but these other sides to his game cast a tiny, tiny element of concern in the back of my mind.

But I have no worries this midfield combination will create chances all season -- the big worry is who will put those chances away. It seems Adkins is giving each of his strikers a turn in being the lone striker up front. Saturday, it was Nick Blackman's turn. But he completely failed to convince, and was almost completely anonymous in the first half, as Reading didn't have a shot on target.

To his credit, he coolly scored the equalising penalty early in the second half. He looked slightly better then, winning a couple of headers and knocking the ball back for advancing the midfielders. But I'm afraid based on Saturday he just isn't the answer to Reading's lone striker problem.

But for all his other attributes when playing in a front pair, we already know that fellow striker Adam Le Fondre isn't the answer either, and with Pavel Pogrebnyak's future undecided and Jason Roberts still injured, there seem to be no other clear alternatives.

And this is the Reading's crucial weakness. They are going to create chances by the hatful this season, but need a focus of the attack, someone suited to playing up front alone and who can put chances away. The lack of an effective striker, capable of winning the ball and holding it until supported from midfield, even when up against big, aggressive centre-backs, may well turn out to be Achilles heel of this team.

Adkins now has just under three weeks to find such a player -- if he manages to do that, he may well also find he suddenly has a complete team capable of taking this division by storm.