Guthrie the key in Royals' work in progress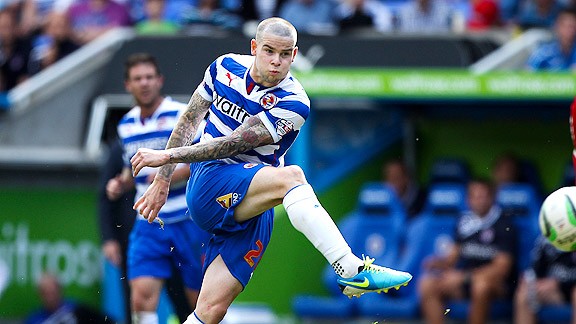 Ben Hoskins/Getty ImagesDanny Guthrie scores the winning goal for Reading in their Championship opener against Ipswich Saturday.
After considerable speculation, Loyal Royals got the chance to see how manager Nigel Adkins would deploy his new signings on Saturday, as well as how those signings would fare in a competitive match. And, they would have liked what they saw -- after a shaky start in their Championship opener, Reading beat Ipswich 2-1 looking more in command the longer the game went.

Deploying a highly flexible 4-2-3-1 formation, Adkins showed that no one's place is safe, relegating last season's captain, Jobi McAnuff -- who seemed undroppable under previous boss Brian McDermott -- to the bench. To the surprise of many, 22-year-old Sean Morrison was named captain, although it was noticeable that fellow centre-back Alex Pearce was for more vocal than his younger colleague, organising the defence at every opportunity.

There was, however, no sign of Adrian Mariappa, not even on a bench that contained six internationals. It will be interesting to see if he features in the coming weeks.

Pearce and Morrison looked comfortable at the back, mopping up Ipswich breaks with relative ease, especially in the air. But one of the signs that Adkins' team is still a work in progress was the obvious lack of ease in passing the ball at the back. It looks to be something alien to their footballing upbringing, and just as it's likely to take them a while to get used to it, the same can be said of the MadStad crowd.

For years Loyal Royals have been used to a diet of quick break, getting the ball out to the wingers as quickly as possible, so passing around and building from the back while probing for an opening is something of a culture shock. The only previous attempt to impose such a style in recent years came during Brendan Rodgers' brief and unsuccessful tenure in 2009.

At the front, Adam Le Fondre was played as a lone striker, and reinforced the impression this isn't a role he's particular suited to. His lack of stature (5-foot-9) means that when he's alone up front, any half-competent centre-back can have him in his pocket all day long. This is what happened, with balls forward to him being won with ease by the Ipswich defence. He did score just before half-time, in the proverbial "Alfie-time" of first-half time added on, but that was from a corner in a crowded penalty area, where he is typically always at his most dangerous.

This meant that Reading posed the biggest threat when Le Fondre was supported up front by the three attacking midfielders. Wingers Hal Robson-Kanu, Gareth McCleary, together with new signing Royston Drenthe, who started in the centre just behind Le Fondre, produced decent chances in support of Le Fondre, with Drenthe showing why he is likely to be a MadStad favourite. Lively and with bags of confidence, he was never afraid to take defenders on, although he faded in the second-half.

But despite some promising moments, Reading looked largely disjointed for the first half-hour, and Ipswich took an early lead when recently departed Royals favourite Jay Tabb pounced on a loose ball in the area to slam it past Alex McCarthy, who had got the nod from Adkins ahead of Adam Federici.

But the key Saturday was the growing influence of midfielder Danny Guthrie. Both he and Jem Karacan were largely anonymous for the first half-hour -- I'm not sure that either is at their best in a defensive midfield role -- but as the game went on Guthrie seemed to grow more and more into his role. As half-time drew closer, he was increasingly finding space, choosing incisive passes to set up attacks, and generally pulling the strings that made Reading play.

His influence continued to grow through the game, and the more he was involved the better Reading looked. After 60 minutes he went on a sparkling solo run through the middle of the defence -- a run so good that the Ipswich full-back couldn't even get close enough to foul him -- but this came to nothing. But 15 minutes later he sealed the Reading win with a superb dipping shot from 25 yards to the absolute delight of the home crowd.

Not since Gylfi Sigurdsson left three years ago have Royals had a player capable of pulling the strings and controlling the game from midfield. If Guthrie is able fulfil this role the future could be very bright for both him and for Reading.

But despite the promise he offers, and despite the three points, Reading don't look the finished product yet, and the lack of firepower up front is still a real concern. Because while they definitely looked a far better team than Ipswich, they didn't always look the more effective team -- and often to get out of a league as competitive as the Championship, it's effectiveness that counts.

Adkins's system obviously needs a bit more time to bed in, and that time -- plus a new striker -- would definitely make Reading a real force to be reckoned with.