International faces show MadStad ambition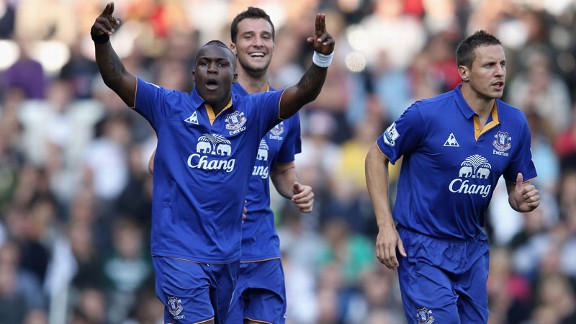 GettyImagesDutchman Royston Drenthe, who had an ill-fated loan stint with Everton, is back in England with Reading.
Even before the players returned from their summer break this week, Reading had made a statement of intent by signing four internationals who manager Nigel Adkins will be hoping will play a major part in the team's push to return to the Premier League at the first attempt.

The first of these, left-back Wayne Bridge, was signed as a free agent from under the noses of QPR, and also by out-bidding Brighton, the team for whom Bridge was outstanding on loan last season, and was voted onto the PFA's Championship Team of the Season. Bridge is a vastly experienced player who will nicely solve the Royals' dilemma of who to pick as first-choice left-back; last season neither Ian Harte nor Nicky Shorey were wholly dependable in this role, and in fact Adkins ended the season playing right-back Stephen Kelly out of position on the left.

This is a great move to fill such a problem position with such a dependable player, and, as much as anything, its delightful to see Reading snatch a player from under the noses of the "fake hoops" from Loftus Road, and to see 'Arry Redknapp's fury at this - over recent years QPR have thrown silly money around in order to fulfil 'Arry's player wish list, so to see a quality player choose Reading ahead of them shows that there's something about the Berkshire club that's more attractive to players than just the size of the wage packet offered.

The second player to be signed had been widely expected for several months, but is nonetheless an exciting signing. Twenty six-year-old Dutch international Roysten Drenthe, who spent five years at Real Madrid, has signed from Russian club Alania Vladikavkaz - a transfer no doubt assisted by Russian chairman Anton Zingarevich.

Drenthe is an exciting player, but in many ways his signing shows just how much Reading's culture has changed under their new regime. Drenthe's previous spell in England, on a season-long loan from Real to Everton in 2011/12, was hardly an unqualified success. Despite scoring four times in 27 appearances, his erratic behaviour and repeated failure to turn up to training on time finally outlasted the patience of the then-Everton manager David Moyes. In early April, Moyes finally reached the limit of his tolerance, sending Drenthe home and telling him never to return.

A few seasons ago, Reading would not have contemplated signing a player with such potential discipline problems, so whether Adkins can achieve a higher standard of commitment than Moyes was able to may well be an interesting sub-plot to the coming season.

The third player on the list of Royals signings is USA international Danny Williams. The 24-year-old midfielder signed from Hoffenheim, and was nominated by US Soccer as a finalist in their "Young Male Athletes of the Year" awards in 2012. Williams has played 12 times for the USA, received rave reviews, including from national team manager Jurgen Klinsmann. Having said that, though, reports from Hoffenheim hint that his final season at the Rhein-Neckar Arena was a bit of a stinker, so everyone at the MadStad will be hoping that the change of scenery will revitalise him.

The final signing is the strangest. Regular readers will know that a feature of the past season was the on-going contract dispute between the club and fans' favourite Alex Pearce. The Irish international centre-back was offered a contract in January, but rejected it as the terms were not to his liking, amidst much debate about whether this was linked to his absences from the team, and accompanied by much speculation linking him to various other clubs once his contract expired in June. I, for one, was convinced he'd be off to join previous Reading manager Brendan Rodgers at Liverpool.

Pearce's contract duly expired, and his name even appeared on the official "not-retained" list, but last week Pearce suddenly signed a new contract. Whilst this is great news for Royals' fans - assuming Pearce's performances match those of his last season in the Championship, where he was ever-present and won the Player of the Season award - it's a bit out of the blue.

I presume that either the football club has suddenly come back with an offer more to Pearce's liking, or - more likely - despite his agent touting him around Premier League clubs as an outstanding young prospect, none of them took the bait, and Pearce found himself in a situation where Reading's offer was the best he had on the table.

If it's the latter reason, hopefully it'll be a small but much-needed reminder of the need for realism amongst players and their agents, but whichever it is, it's great news for the club, and Loyal Royals will be delighted to see Pearce take his place in the middle of the defence.

I don't doubt that there'll be more signings over the next few months as Adkins transforms Reading into his own team rather than one he inherited from Brian McDermott, but even these four signings, so early in the summer, are a sign of great intent - and a signal that Adkins, Zingarevich and Reading FC are ready to "go for it" to get straight back to the Premier League.

Although there's no guarantee they'll achieve this aim, of course, one thing I am pretty certain about is that next season certainly won't be an uneventful one for Loyal Royals.