Mixed feelings over McCarthy call-up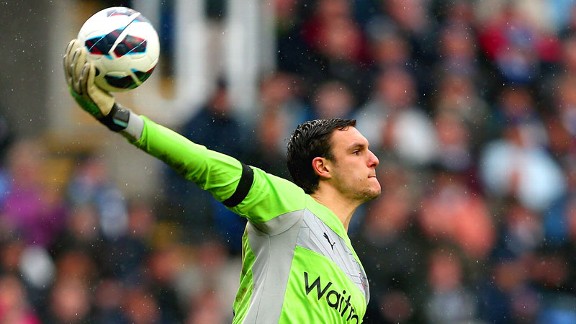 Warren Little/Getty ImagesAlex McCarthy's England call-up could be a doubled-edged sword for Reading supporters.
One of the few bright sparks of a pretty dismal season for Loyal Royals was given official confirmation today with the announcement that England manager Roy Hodgson has called young Reading goalkeeper Alex McCarthy into his squad for the end of season friendlies at home to the Republic of Ireland and away in Brazil.

Regular followers of my blogs will already know just how highly I rate the 23-year-old McCarthy, so I have never had any doubts that McCarthy would make the full England squad one day -- my only surprise is the timing, and that this has happened quite so soon.

But since coming back from a serious shoulder injury, McCarthy's performances between the posts have been virtually impeccable, and built on his outstanding performances earlier in the season. Although he had a slightly nervous start to his first Premier League match against Spurs in September, from that point on McCarthy has consistently been one of Reading's top performers, routinely producing world class saves. Against Liverpool last month, for instance, in a match attended by Hodgson, McCarthy's performance in keeping out Luis Suarez, Steven Gerrard and company was faultless -- so good, in fact, that it was even praised by the "Match of the Day" pundits, who usually can't be bothered to give Reading players the time of day.

So perhaps the experience of playing in the top flight of English football in front of the division's second-leakiest defence has been good for McCarthy. Although Manchester City did put the ball past him twice in last Tuesday's home defeat, McCarthy made 20 other saves in that match, at least two of them absolutely outstanding -- with this defence he has had plenty of chances to display just how good a 'keeper he is.

So perhaps the timing is right. After all, these friendlies are a perfect opportunity for Hodgson to take a first-hand look at the young players who are likely to make up the backbone of the England team over the next decade. And that description certainly applies to McCarthy -- he's the best goalkeeper I've ever seen, for Reading or any other club, and one I just can't speak too highly of. Put simply, he looks so natural in goal it's as if he was born to play there, exuding calmness and confidence.

And although he's unlikely to start for England, or even to make more than a cameo appearance, training with the full squad can only be beneficial to McCarthy, and the same applies to the trip to Brazil -- a venue he may well return to in summer next year for the World Cup.

If he does play, McCarthy will become the second Reading player in recent years to win a full England cap, following in the footsteps of Nicky Shorey, who made his full international debut against Germany at Wembley in August 2007. And for some Loyal Royals that brings back worrying memories.

Because it was in the months shortly after Shorey's England appearance that he became unsettled and clearly wanted to leave the club. And in the following January, when an offer for him was declined, his disappointment was palpable and was clearly reflected in his on-field performances. I'll politely describe them as "poor" -- although many supporters had much more choice words for them.

The worry is that one of the many things which unsettled Shorey was that he was "nobbled" in the England dressing room, with players from bigger clubs telling him how much better everything was at their clubs, and -- especially -- how much bigger their wage packets were.

With many Loyal Royals fearing that Reading will be unable to keep hold of McCarthy after relegation, the further fear is that this England recognition just makes his departure in the summer more likely. Of course, scouts and managers will already be well aware of just how good he is, but this call-up and the time spent in close proximity to players from bigger clubs may well open McCarthy's eyes to what is over the over side of the fence, and may help tempt him away if a suitable offer comes in.

Personally, I think it's already more or less inevitable that McCarthy will depart in the summer -- while I'd love to see his career blossom at Reading, it's clear even at the age of 23 and with only 12 Premier League games under his belt that McCarthy has the ability to go right to the top of the game. Sadly, Reading won't be able to offer him the opportunities and profile his ability deserves, and I think he'll have the confidence and desire to move on this summer if the right club makes an offer.

But there is some small consolation for Loyal Royals -- this England call up is likely to push his transfer fee even further, and may even help spark off a bidding war for his signature.