Damp squib as City too strong for Royals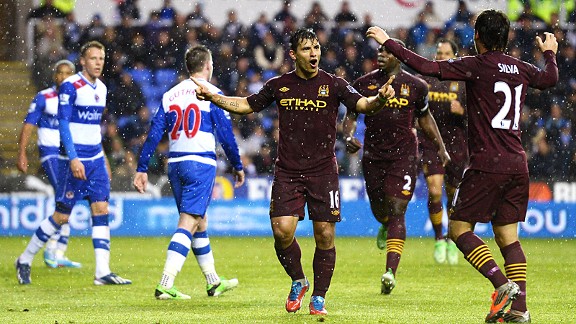 GettyImagesManchester City celebrate after Sergio Aguero put the managerless side in front at Reading
With Reading already relegated and Manchester City now managerless, licking their wounds from the FA Cup final defeat to Wigan, and no doubt waiting for season's end and a new hand on the tiller, there wasn't much enthusiasm for Tuesday's match. Even more so as this game was played on a horrible evening -- grey and cold with a swirling wind and torrential rain.

So it's a great credit to the supporters who did turn up, even though there were appreciable gaps in the stands. Those who were there saw Manchester City beat Reading 2-0 in a nondescript match -- but one which did show glimpses of the improvements manager Nigel Adkins has made.

Reading were unchanged from the team that played so well to beat Fulham two Saturdays ago, but there's a world of difference between the opposition then and Tuesday. From the start, Reading had to withstand a Manchester City onslaught. Defending too deeply and seeming to give the visitors far too much respect, the first quarter was virtually all City attacks, with Royals soaking up pressure and being restricted to the occasional break out wide through Hal Robson-Kanu and Jobi McAnuff.

But the overall lack of enthusiasm seemed to be affecting everyone, and City were surprisingly sloppy -- although some of their moves were sublime, their final ball was frequently woeful. When they move the ball at pace to feet, they are a sheer joy to watch, but such moves typically ended with a misplaced pass or poor delivery -- and when they didn't, City became the latest team to find themselves kept out by a string of fine saves from young keeper Alex McCarthy.

While Reading did grow in confidence as the half went on, seemingly less in awe of City, they were restricted to a few long-range shots -- the best from Garath McCleary after 28 minutes, although it scarcely troubled Joe Hart in the City goal. In comparison to their four shots, Reading were on the receiving end of 14, a fair measure of the balance of play.

City managed to convert an attack into a goal only once in the first half, though -- after 39 minutes, with a superb fast interplay from a corner, Sergio Aguero buried the ball in the Reading net. That move, probably straight from the training ground, would have beaten any defence in the country, so it's a compliment to Reading and McCarthy that something of such quality was needed to finally break their resolve.

Reading had clearly had a positive half-time team talk from Adkins, who again in the first half was screaming at his players to commit forward. His team came out in a much more adventurous and attacking vein, and the second half was much more open as a result. Although City still had the lion's share of possession and chances, Reading were at least creating chances now -- notably one early in the half which Pavel Pogrebnyak should have buried, but instead his diving header went straight at Hart.

After an hour, Adkins reverted to 4-4-2, bringing on first Adam Le Fondre, who had been presented with the Reading player of the season trophy before the match, and shortly afterward Nick Blackman. And Reading looked much more effective as a team, giving hardy Loyal Royals in the stands something to sing about as they took the game to City and strove for an equaliser.

There certainly was a new and improved style about Royals -- at times they moved the ball around with real pace and panache, especially in midfield, forcing a number of corners and being thwarted by a Carlos Tevez block on the line from an Adrian Mariappa header.

It's plain that Adkins' philosophy is starting to take hold, but this team is clearly a work in progress -- and of course it remains to be seen how many of these players will still be here next season in the Championship to continue the improvement. One who probably won't be is McCarthy, who made an unbelievable 20 saves, several of them world-class. He really is a superb talent -- the real bright spot of the season -- and I fear it's sadly inevitable that his talent will blossom elsewhere after the summer.

The second time he was beaten was just two minutes from the end, in a sequence of play that epitomises the contradictions of Reading this season. A superb saving tackle by Mariappa in the Reading area prevented a near-certain goal, but then clearance from Stephen Kelly was poor and underhit and went straight to a City shirt -- the ball came back in immediately to City substitute Edin Dzeko, who had only McCarthy to beat and did so with ease.

So, another defeat, but one not wholly unexpected against a team far more expensively assembled and one which won the Premier League title just 366 days ago. And there was enough in this display to give some optimism to Loyal Royals for next season, as the on-going improvement under Adkins continues to show itself.

Whether this relegated team deserve the post-match "lap of appreciation" in such a season of disappointment and underachieving is a debatable point -- but in the end, the weather ensured that Tuesday's "lap of appreciation," like the match and like this whole season, turned out to be something of a damp squib.