Fun to be a Royal again as Adkins claims first win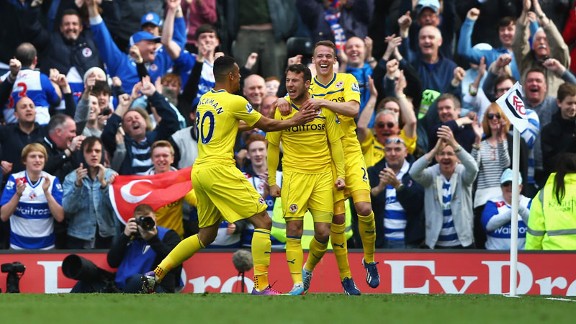 GettyImagesAdam Le Fondre celebrates putting Reading 3-1 up at Fulham
A fellow supporter likened Saturday's match to a round of golf - in the same way that it's a nice walk spoiled by all the golf, Saturday was likely to be a nice day out in the sun spoiled by a game of football. But in the end it was anything but that. A hugely entertaining match, which you couldn't take your eyes off for a second, saw Reading triumph over Fulham 4-2 on a day much enjoyed by all those Loyal Royals present.

Now that relegation is confirmed, the pressure seemed to be lifted from both players and supporters, and the latter were loud and proud on a great day out - suddenly, so close to the end of this long, dismal season, the fun is back and it's enjoyable being a Reading supporter again.

It appears that manager Nigel Adkins is close to knowing his preferred team, making only one change. That was to replace Nick Blackman - who's not really impressed at this level - with Welsh International Hal Robson-Kanu, now fully-fit. And it's also clear that Adkins is starting to impose his ideas onto this team, as they look more relaxed and more free-flowing - and more like a team - than they have all season.

It's not all down to the pressure having eased after last week's relegation, though - they are genuinely playing in a different style, true to Adkins's love of fast, free-flowing, passing football. In addition, specific partnerships seem to be gelling, with Jam Karacan and Danny Guthrie seem to be working well together and the midfield seems to be doing a lot more to provide cover for the defence, and in an organised way, too, rather than the panic we've seen for most of this season.

Having said that, it's difficult to judge just how effective they were against a Fulham team who seemed to know that the season is over - they seemed to be going through the motions in a training game rather than playing at full intensity. And Reading did that rarest of things; they took the lead, with Hal Robson-Kanu scoring from the penalty spot after 11 minutes, having been brought down on the edge of the Fulham area by John Arne Riise.

Although there were few other clear-cut chances, Reading continued to look good, passing well, and playing in a more positive confident way than they have for months. Their first-half pass completion rate of 86% is a statistic quite alien to Loyal Royals, and a testament to the changes Adkins is making.

That's not to say that Fulham didn't have their chances. Occasionally the hosts rose from their apparent apathy to create chances, but Alex McCarthy was always equal to the task, making fine saves early on from Bryan Ruiz and an outstanding close-range save from Hugo Rodallega after 31 minutes.

The second half was more of the same: Reading passing the ball about, playing an expansive, high-tempo game. However, this time Reading were creating real chances, and with Fulham doing the same this was an entertaining, end-to-end game despite the its overall lack of importance. The Royals doubled their lead after 61 minutes from a superb McCleary break down the left which saw them four against three. His initial shot was blocked but the ball fell to Hal Robson-Kanu on the opposite side, who controlled it and delightfully curled it past Mark Schwarzer and in at the far post. A very cool head and a very classy goal from the man of the match.

But Fulham might have been level just a minute earlier. Kelly fell whilst dispossessing Dimitar Berbatov and his momentum took the Bulgarian over. But the referee waved away the penalty appeals and Reading went up the other end to score. It seems that now Reading are relegated, penalty decisions are suddenly going their way. Where were these spot-kick decisions when they were desperately needed in the fight for survival?

The open game continued, and Fulham pulled one back after with 20 minutes left, when Bryan Ruiz got inside Stephen Kelly and was able to slide the ball home, and then five minutes later Adam Le Fondre, on for Pavel Pogrebnyak, restored Reading's two-goal lead. First to a ball on the edge of the area, he calmly nodded it around Schwarzer and slid the ball in from a narrow angle. A lovely finish, of the type he specialises in.

But just a minute later Fulham pulled one back in this frantic, frenetic, game. Reading's defensive frailties haven't gone away and were exposed as Ruiz was unmarked in the box and was able to head home past McCarthy and three minutes later a Rodallega drive came rebounded off the Reading crossbar.

But Royals weren't finished. They kept taking the game to Fulham and Jem Karacan made it four with a low drive from the edge of the box with seven minutes left. The match stayed open and full of space, with both creating chances sides playing a full part, and Reading survived a frantic goal-line scramble in the 90th minute as the time ran out.

This was the first win of Adkins's reign at Reading, but on this showing his changes are starting to have an effect and it clearly won't be the last. This new-look Reading team playing Adkins's way looks much better than the same team, with the same players, did for so much of the season. But, more importantly, it's fun to be a Royal again!