The impact of relegation - fatal or recoverable?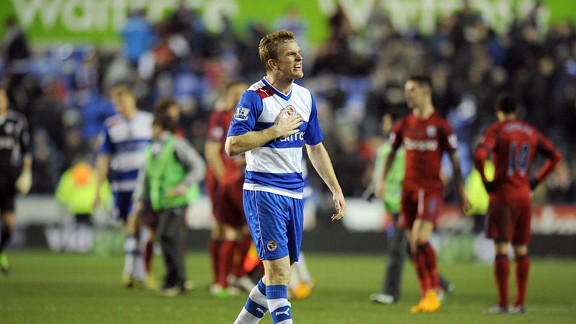 AssociatedAlex Pearce was Reading's Player of the Season in 2011-12
Previously, I looked at whether Reading's relegation was inevitable - now I'll discuss what it means to the club in the short-term. There are two key areas where this relegation impacts the club.

The first area is player retention. Almost invariably, when a team is relegated from the Premier League the remaining top flight teams, and sometimes those going up to the higher division, pick over the carcass to asset-strip the players who they think can do a job for them. Unless a relegated team is prepared to match Premier League wages, it's almost impossible for them to hang onto key performers. All players want to play at the highest level, and it's very rare that an individual will stay with a relegated club if they have offers from teams in a league above.

- Liverpool eye Reading defender Pearce

But it says something about how poor Reading have been this season, and how little they improved the squad from the one which won the previous season's Championship trophy, that there are relatively few players who are obvious candidates for being lured away by a Premier League team. However, it's inevitable and unfortunate that at least two key players will leave before August.

The first of these is centre-back Alex Pearce, but that should be no great surprise to anyone. It's an open secret that he's not signed the new contract offered to him, and so will be a free-agent at the end of the season. The smart money is on him going to Liverpool, despite official denials from both clubs.

Liverpool manager Brendan Rodgers is a great admirer of Pearce, who he initially recruited as a 12-year-old during his time as Reading's youth team manager. When Rodgers returned as Reading's manager in July 2009 I spoke to him about Pearce, and he couldn't praise him enough, making him captain at the age of 20, and also calling him "the new John Terry".

In this context, it's unthinkable to me that Pearce won't go to Liverpool. This, to me, is a deal that was always going to happen, whether Reading had stayed up or not. His departure will sadden Loyal Royals, as Pearce is definitely a fans' favourite, having come through the academy and being ever-present during the Championship winning season.

The other departure will also probably distress many, not least me, as young 'keeper Alex McCarthy will be lured away. That's very sad, because McCarthy is the biggest talent, with the greatest potential to go to the very top of the game, that I've seen come out of Reading in over 35 years. His talent can't have gone unnoticed - especially after he made a string of miraculous saves in the recent 0-0 draw against Liverpool - and I expect a bidding war for him from a number of clubs. In fact, both he and Pearce moving to Anfield together isn't something I'd be too surprised to see.

Other potential departures are less easy to predict but it's easy to speculate about possible link-ups: Hal Robson-Kanu to Cardiff; Adrian Mariappa or Jobi McAnuff back to Watford; Jem Karacan to Galatasaray ... and it's quite possible that any number of Premier League teams might take a punt on Adam Le Fondre. But it could be argued that losing any player, or even a few of them, won't severely hamper the team, since manager Nigel Adkins will be looking to change personnel anyway as he tries to change Reading's style into a more expansive, passing-based one.

There are also questions regarding the future of other players who have appeared less than happy at times this season. Jimmy Kebe criticised Reading's spending policies back in December, in the same week that Danny Guthrie refused to travel to the away match at Sunderland, and it's quite possible that both of these players would be amenable to a new start elsewhere. The future of big Russian striker Pavel Pogrebnyak is also open to debate, as he is likely to receive offers from Premier League clubs.

Whether he will want to move on from his very generous salary at The Madejski, or whether other clubs will be prepared to meet his wages demands is open to debate. Fulham certainly weren't prepared to meet his demands a year ago, as they were outbid by owner Anton Zingarevich in his personal quest for a "marquee signing".

Many will be hoping that Reading's highest earner will depart, though. Pogrebnyak has left many fans unconvinced, and, of course, the other big impact from relegation is a financial one. For instead of receiving upwards of £50 million a season in TV revenue as a Premier League club, Reading will only receive parachute payments totalling £60 million over the following four-year period.

The parachute payments will soften the financial blow, of course, but it's still a substantial decrease, and will reduce the possibilities available to Adkins. There'll also be a corresponding reduction in ticket and commercial revenue - the marketing appeal of Reading versus Barnsley is much obviously less than Reading versus Manchester United or Liverpool.

But because Reading haven't over-committed themselves financially this season they're in much better shape to survive the financial impact than a club that has bet the farm on survival and failed - such as QPR, for instance.

So the financial impact should be not be too much of a burden. Funds will certainly be a limiting factor, but there's minimal danger of financial meltdown, and there's also the great unknown of how much money, if any, Zingarevich will be prepared to put in from outside.

So despite the pain for Loyal Royals, and despite the potential loss of players and the financial impact, Reading look in pretty good shape overall. This relegation will hurt, but it won't cause too much long-term damage.

And now the hope amongst many is that this will be the start of Reading becoming a "yo-yo" club and follow the path trodden by West Bromwich Albion, who have suffered three relegations and achieved three promotions to the Premier League in the past ten years, but returned stronger on each occasion.