Reading relegation inevitable - or just bad transfers?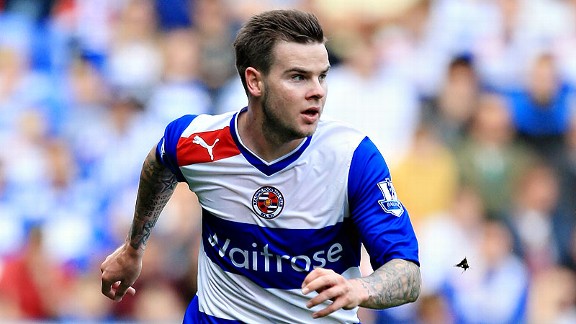 Mike Hewitt/Getty ImagesDanny Guthrie was just one Reading signing that didn't deliver
Two days after Reading's relegation back to the Championship was finally confirmed, there are three main subjects on the lips of Loyal Royals.

The first is one that's been under discussion for most of the season, as this slow-motion car-crash relegation has played itself out, is it has happened, and what - if anything - could have been done to avoid it.

- Impact of relegation - fatal or recoverable?
- Reading set sights on promotion

Many had been predicting this relegation from the point that Reading were promoted just over a year ago. That promotion was highly unexpected and, to many, quite miraculous. After a poor start, Royals were well-placed for a spot in the Championship play-offs, but from the end of January went on an incredible run of 15 wins out of 17 that not only secured promotion but also clinched the Championship trophy.

But in many ways that run was a freak, once-in-a-lifetime occurrence - in several matches the defence held on against the odds to keep a slender lead against a team out-playing them, and supporters came away from several of those matches asking each other "Just how on earth did we win that one?"

So I think it would fair to say that although Reading won the Championship title, they weren't the best team or the best squad in the division that year. The Royals just had an incredible run of results at exactly the right time to win the title. But that largely unexpected promotion left them largely ill-equipped for the Premier League.

In hindsight, it's clear that the majority of the players who took Reading up just haven't been good enough for the Premier League, and in particular there has been minimal creativity from midfield. Although this was meant to be provided by summer signing Danny Guthrie, he failed to cement a place in the team, with a low-point in December as he "declined" to travel to the away match at Sunderland as "his head wasn't in the right place".

The biggest deal in the summer was Pavel Pogrebnyak, signed after considerable effort by new owner Anton Zingarevich from under the noses of Fulham as a "statement of intent". The Cottagers declined to match the wages Pogrebnyak was offered by Zingarevich. Although the big Russian striker has had some limited success, he's not always convinced in terms of effort or mobility, and many Loyal Royals perhaps think that his value to the team hasn't matched the potential damage his wage bill has done to squad unity and the club's wage structure. When an owner or chairman is determined to make a "marquee" signing of their own it rarely works out, and I think we've seen that again here.

Of the other summer-signings, Adrian Mariappa has been the most successful. He is now a permanent fixture at centre-back, but neither full-back Chris Gunter nor winger Garath McCleary has set the world alight, nor been able to cement a permanent starting place.

So, manager Brian McDermott started the season with only a few new faces, none of whom have done enough to make a real difference to what was essentially a good, but not outstanding, Championship team. And, as well as largely sticking to the players he knew well, McDermott stuck to the tactics he knew best.

In the second home match of the season the team tried to play a more expansive game, based around Guthrie's passing, and got ripped apart by Spurs. At that point, perhaps for pragmatic reasons, McDermott reverted to 4-4-2, the tactics and personnel which had won promotion.

But it simply wasn't good enough for this level. Even more so with the players McDermott had at his disposal. It soon became clear that teamwork and effort alone would never be enough in the Premier League, but McDermott persevered with it until just before Christmas, when he at last switched to 4-5-1, with Pogrebnyak alone up front.

That change, coupled with the ploy of a late introduction of Adam Le Fondre in a switch to 4-4-2 against a tired defence, brought a degree of success for a while - and corresponding hope for Loyal Royals. But that was short-lived, and opposing managers soon anticipated this change and the element of surprise was lost. As a result, Reading once again plumbed the depths with a run of seven straight league defeats.

And McDermott was still limited in his personnel choices. He made only a few small-scale signings in January, having missed out on a couple of higher-profile targets. The charge of not spending in January was later cited by Zingarevich as the primary reason for McDermott's sacking. But it also meant that new manager Nigel Adkins had few options available, and so the rot continued towards this weekend's relegation.

So perhaps relegation might have been avoided if the right players had been bought in the summer, which itself might have enabled McDermott to change style and tactics to one more suited to Premier League survival, or perhaps if the players he bought with this in mind had worked out.

It could be argued that relegation might also have been avoided if cash had been splashed in January, but I personally doubt that. This relegation was a near-certainty from November and December when the team's spirit that had previously been one of their greatest assets seemed to have evaporated. By then, Reading's relegation problems were too deeply ingrained to be resolved by the replacement of just a couple of players at the halfway stage of the season.

In case you're wondering, the other topics under discussion are what this relegation will mean to Reading, and whether they'll be able to bounce back up at the first attempt. I'll cover those topics over the next couple of days.