Wooden spoon shared as Royals relegated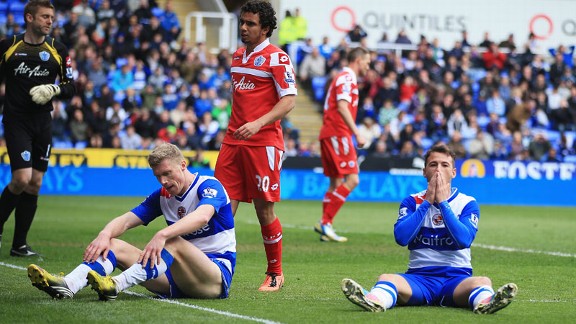 GettyImagesA goalless draw between Reading and QPR sent both sides back to the Championship
So the day that was long expected has come at last. The lack of quality on show from Reading and QPR put them both out of their misery and saw the duo relegated from the Premier League as they played out a tame, goal-less draw.

No one should really be surprised because the writing has been on the wall for most of the season, and perhaps the campaign is best summed up by the familiar phrase "Reading NIL." And so this result is perhaps a fitting one for a game that was the football equivalent of two bald men fighting over a comb.

- Smith: QPR stalemate confirms inevitable
- Barton slams relegated QPR
- Redknapp not expecting clear out

But this is a relegation about which few tears will be shed. Although Reading had a slight mathematical chance of survival before kickoff, not even the most optimistic of Loyal Royals could have reasonably believed that the team had it in them to escape the drop. So everyone has been reconciled to the fate of relegation for months. No team can go on two runs in which they lose seven consecutive Premier League games and hope to avoid relegation.

And so this match was exactly what you'd expect from two teams in this position -- lively enough, but desperately short of quality, and littered with silly mistakes. Both teams looked to attack at every opportunity, but those attacks were invariably ineffective and unconvincing. Reading, as so often this season, spent too much of the game pumping the ball forward in the hope that lone striker Pavel Pogrebnyak would create something, but his lack of mobility and apparent lack of desire meant he rarely got a look-in. I may be doing him a disservice, but there's something about his manner that suggests that, in his mind at least, the season is already over.

Royals looked their best when running the ball from the wings, with Garath McCleary and Jobi McAnuff looking sharp, and one of Reading's more promising attacks of the first half came through a McAnuff run which was halted just outside the angle of the penalty area. But Danny Guthrie's free kick failed to even clear the QPR wall, which is another common theme.

Reading's dead-ball delivery used to be one of their most effective weapons -- at times their only effective weapon -- but over recent months it's been noticeably poor. There was a period earlier in the season when Nicky Shorey was leading the table for Premier League assists, and fellow left back Ian Harte also offers the same magic dead-ball delivery.

But with Stephen Kelly playing out of position at left back, it leaves the team with reduced attacking options. Whether it's worth arguably reducing the defence's effectiveness in return for better dead-ball delivery is open to debate and these are the sort of decisions Nigel Adkins has to wrestle with every match. The bottom line is that Guthrie's dead-ball delivery is not producing the goods in the same way that Shorey's and Harte's have consistently delivered for Royals. When Harte came off the bench for Kelly for the last 14 minutes, the delivery from corners was noticeably improved.

But despite both teams fashioning a few reasonable chances, the strikers didn't have the quality to put them away, and neither goalkeeper was put under serious pressure. QPR did have their moments, with an Adel Taarabt free kick flicking the top of the bar after 10 minutes, Jay Bothroyd lobbing just wide of the goal 10 minutes later, and Taarabt embarrassingly missing two gilt-edged shooting chances in the second half.

But Reading had their own chances, too, as they grew in confidence as the match went on. After 37 minutes, they couldn't put the ball in from a mad scramble in the QPR goalmouth, and they should arguably have had a penalty when a sublime diagonal ball found Kelly free in the box and he went tumbling after being caught by Jose Bosingwa -- or that's certainly how it looked from where I was sitting. But you tend not to get those decisions when you're at the bottom of the table, even against other teams at the bottom.

But the longer the match went on, the more it had nil-nil written all over it. That's not to say that Reading didn't have their chances, though. On the hour mark, a great through ball found Pogrebnyak free, but he couldn't put enough curl on his shot to beat the far post. Six minutes later, one of the few rare good crosses saw the Russian head down and over instead of into the net.

Adam Le Fondre, on as substitute as Royals switched to a 4-4-2, also missed from a header at full-stretch, and once Harte came on, Morrison saw Rob Green make a good save from a header after Harte's corner. But that was the sum of it all. Guthrie and McAnuff were the pick of Reading's players, but a few good runs from them doesn't hide the team's shortcomings.

And so this match, which sees relegation confirmed, neatly sums up the season. All the elements which we saw in Saturday's match were the ones that have been on display all season and which have brought us to this point: too little possession, not enough decent balls into the box, minimal creativity, sloppy mistakes to give the ball away, and panicked, unconvincing defending.

There was just not enough quality to survive at this level of football.