Farce as Madejski muddies pre-match silence waters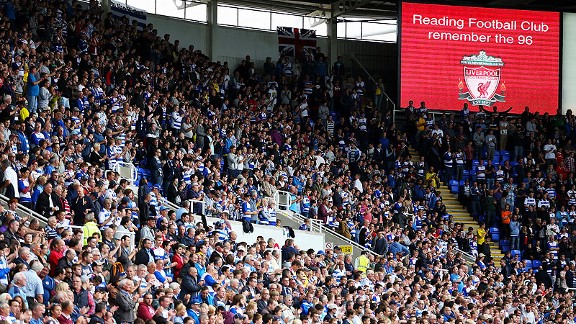 Richard Heathcote/Getty ImagesMadejski Stadium fans were united and respectful during September's tribute to the Hillsborough victims. A similar atmosphere when Liverpool visit is threatened by Sir John Madejski's stated desire to honor Margaret Thatcher as well.
Reading chairman and ex-owner Sir John Madejski has caused controversy by muddying the waters over the minute's silence to be held before the match against Liverpool on Saturday – and done nobody any favours in the process.

Because Reading host Liverpool two days before the 24th anniversary of the Hillsborough disaster, where 96 Liverpool supporters were killed and another 766 inured as a result of police mistakes and poor ground maintenance which led to fatal overcrowding at the Leppings Lane end of the ground.

- Reading to mark Hillsborough anniversary

As a tribute, Reading had announced they would be observing a minute's silence in respect for the 96 victims before the match. This has always been impeccably observed by supporters, who are aware that this might have happened to any club's supporters at any ground.

In fact, Reading held a comparable tribute at the home match to Spurs in September, when both sets of supporters stood and applauded loudly through a pre-match playing of "You'll Never Walk Alone."

That tribute was shortly after the Hillsborough Independent Panel released its findings, completely exonerating all Liverpool fans from any responsibility for the disaster, and confirming that police and other authorities attempted to cover up the real events, including the alteration of 164 witness statements by police officers.

The complication that has been introduced by Sir John results from the death of former Prime Minister Baroness Thatcher, who was PM at the time of the disaster, and whose policies and personality divide opinion across the UK.

It's well documented that she was no friend to the game of football, which she didn't understand and had no time for.

She is also still hated in many parts of the country, where her economic policies are -- rightly or wrongly -- reviled for the damage to employment and communities which resulted from them. Add in the attitude, response and comments of her government to the Hillsborough disaster -- where the kindest possible thing that can be said about her is that "she was misled by her advisors" – and she is even more despised on Merseyside than in other places.

So many football supporters breathed a sigh of relief when the Premier League announced that football clubs would not be asked to hold a minute's silence to honor Thatcher. The League, like most fans, understands that any tribute to a woman about whom so many hold such diverse and emotive views would at best be poorly observed and might potentially turn into something much worse.

This is because they appreciate, as supporters do, that a tribute cannot be imposed -- supporters who do not agree with it just will not observe it and will potentially ruin it -- and the visit of Liverpool so close to the anniversary of Hillsborough just brings more complications to an already-volatile situation.

So complications have been introduced by Madejski, a long-time contributor to the Conservative Party, wading in to espouse his own political views, and saying "We have got to appreciate that Margaret Thatcher was a world leader who did so much for this country. So much that she deserves a minute's silence.

"The funeral's going to take place at St Paul's attended by the Queen and Prince Philip, so I think it would be a fitting tribute from the world of football to Margaret Thatcher, one of our greatest leaders."

Sadly, apart from exposing Madejski's lack of understanding of football supporters, all this has done has created confusion. For the football club, who have been put in a very uncomfortable situation by their chairman's remarks, now have to issue awkward statements making it abundantly clear that the minute's silence on Saturday is for the Hillsborough victims and NOT for Baroness Thatcher -- which is a pretty thankless and ludicrous situation to find themselves in.

But unless they do this, the confusion over what exactly is being commemorated will continue, and on Liverpool forums there is already understandable rumour and conjecture.

Because it's a certainty that many -- and not just those in the away end -- will categorically not observe any pre-match tribute to Baroness Thatcher.

Which makes Madejski's remarks particularly naive and ill-judged -- it might be his own opinion, but by bringing football into the whole question of tributes to the former PM he has created a storm of confusion and a near-farcical situation.

This needs to be clarified as soon a possible -- for the good of everyone, including the Reading Football Club -- but especially for the 96 ordinary football supporters who died at Hillsborough April 15, 1989.