Painful watching as Royals outdone by Arsenal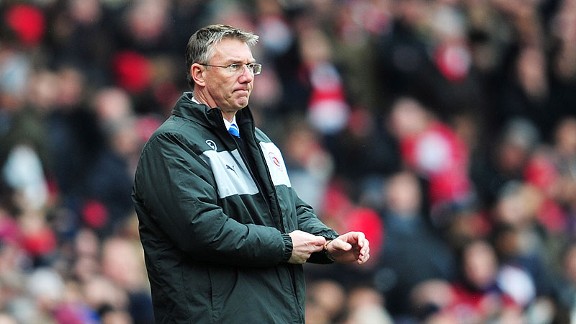 Jamie McDonald/Getty ImagesNew Reading manager Nigel Adkins has his work cut out for him to save Reading from relegation.
When new Reading manager Nigel Adkins told his players to pass the ball with confidence and without fear of losing it this week he probably had Arsenal's style of play in mind. But that was before he'd seen his team in action, because there's a chasm of ability between these two teams. Arsenal's superior passing and movement ripped the Royals apart and with Reading looking well out of their depth, the Gunners had what must have been their most comfortable match of the season, strolling to a 4-1 win.

- Mangan: Gervinho shines as Gunners stick four past Reading
- Brewin: Arsenal show Adkins size of task ahead

With big Russian striker Pavel Pograbnyak recalled by Adkins after suspension, the team was similar in personnel and formation to Brian McDermott's most recent teams, and there hangs the biggest of Adkins's problems. It's all very well telling a team to change their style and to pass the ball with confidence, but if those players just aren't good enough to play in that style, you get what we saw today: A team under constant pressure for 90 minutes and one which, but for Arsenal's profligacy up front, might have conceded a double-figure score.

This certainly wasn't easy watching for any Loyal Royal. The vast majority of the game was played on the edge of their own penalty area, with Arsenal passing the ball around and through them, with the Royals's defence ripped to shreds almost at will. It was only a number of last-ditch Reading blocks -- coupled with Gervinho's woeful finishing -- that kept the first half score down to a single Arsenal goal. Gervinho had at least half a dozen golden chances to score, many of them won simply by running straight at the Reading defence, but for all of these he scored a single goal and that from a tap-in from what looked a suspiciously offside position.

Reading, for their part, had a single meaningful first half attack, when Stephen Kelly broke down the right, but his cross was deflected straight into the arms of Arsenal 'keeper Lukasz Fabianski. And that was it for promising first half moments to encourage the Royals faithful, who were loud and proud all afternoon.

The second half was more of the same, except that this time Arsenal did finish another three of their numerous chances, while Reading doubled the number of worthwhile attacks they had. The first of these two ended when Alex Pearce hit a volley straight to Fabianski, but the second, after 67 minutes, did result in a goal -- an incisive run by Jobi McAnuff, a cross to the far post and a diving header into the net from Hal Robson-Kanu. But by then Reading were already three goals down and the game was already over as a contest -- not that it ever really looked like one!

Because the truth is that these Reading players just aren't cut out to play a slick passing game, and gave possession away far too frequently and far too easily to give them any real chance in this match. Against most teams it would leave them vulnerable and exposed; against a team like Arsenal, it was virtually signing their own death warrant.

So perhaps Adkins now realises the size of the task facing him in trying to keep this Royals team in the Premier League. Because for all the talk of formations, confidence and passing, he's limited in what he can do by the players he has here and their limitations. And although he probably knew all along that today was going to be a baptism of fire and one from which his team would probably come away pointless, he now only has seven matches left in which to secure Premier League survival. So at this stage of the season I would question the wisdom of asking players to play to a new style which may well be beyond the capabilities of many of them.