The latest news is that there's still no news on Reading's new manager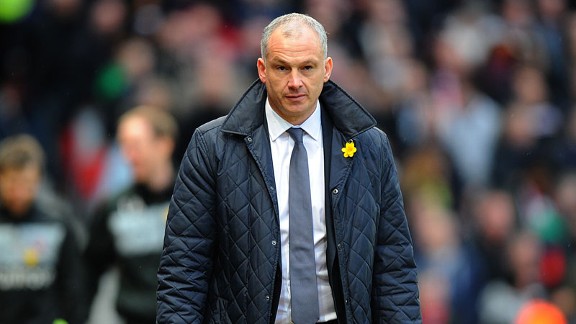 GettyImagesReading caretaker manager Eamonn Dolan could have a long period in charge
To mis-quote the Muppet show: "Today we have good news and bad news. The bad news is that there's no good news. The good news is that that's all the bad news there is."

And that's what it's like for Loyal Royals eleven days after the sacking of Brian McDermott - there are lots of "news" stories circulating about who the axed manager's replacement will be, but no actual, real, substantive NEWS.

- Brighton boss Poyet rejects Reading offer
- Dolan's chance to be part of Royals 'dynasty'

Every day since the sacking a new name seems to have come to the fore, and of course in situations like this the slightest rumour - or even the idlest bit of speculation - tends to be picked up by the 24-hour news outlets, reinforced and distributed worldwide via the internet and Twitter, and then acquires a life of its own as a bona fide "news" when in reality it's nothing of the sort.

So on that basis we've had a long list of potential managers come up, including the likes of Paulo Di Canio, Glenn Hoddle, Dick Advocaat, Mark Hughes, Alan Curbishley, Luis Enrique, Phil Parkinson, Roberto Di Matteo, Steve McClaren, Nigel Adkins and Gus Poyet mentioned as serious contenders - amongst various others! But over the past couple of days it appears that a couple of the names mentioned may not just be speculation to fill the idle airtime around an international break.

On Wednesday, bookmakers suspended betting on Gus Poyet, currently manager of Brighton, amidst reports that he had been given permission to talk to Reading about the vacancy - presumably after negotiations for a compensation package had been completed between the two clubs. At exactly the same time, though, another leading news outlet was reporting talks between Reading and Nigel Adkins.

But just 36 hours later the same sources are saying that both these possibilities are dead - with the clear suggestion that both Adkins and Poyet have turned Reading down.

We may never discover how much truth there is in all of this, but many observers are unsurprised. The smart money is on Adkins moving to Leeds United before long, whilst the Brighton team Poyet has built are in with a great shout of winning promotion to the Premier League in May, more than likely swapping levels with Reading at the same time.

My own feeling is that Poyet spoke to Reading for the same reason that McDermott (or at least his representatives) spoke to Wolverhampton Wanderers this time last year - as a little reminder to his current club of how valuable he is to them and how much demand there is for his services from other clubs. With a promotion to the Premier League and its abundance of riches likely, that sort of reminder never hurts a manager's contract situation.

There's a certain irony in all this, of course - with McDermott using the Wolves vacancy to improve his contract terms last year and Poyet doing the same to Brighton on the back of the vacancy created by the termination of McDermott's improved contract.

But there are other, more serious, parallels with the situation at Wolves last season that many Loyal Royals are talking about.

Like Reading, Wolves were involved in a Premier League relegation fight when they sacked their manager. And - as appears to be happening with Reading now - Wolves struggled to find a replacement at the time, speaking to a number of managers but not finding anyone prepared to move to an obviously sinking ship.

Wolves of course were relegated at the end of the season, even though they made the managerial change earlier in the campaign than Reading did. They sacked Mick McCarthy on February 13, whilst Reading sacked McDermott four weeks later, on March 11. So any successor will have even less time to affect a successful rescue mission.

The nightmare scenario of this parallel, of course, is that 12 months and two managers later Wolves are in disarray, just one place off the bottom of the Championship and looking down the barrel of a second successive relegation.

For me this just strengthens the likelihood of current manager Eamonn Dolan staying in the role.

But even if Dolan isn't destined for the role on a longer-term basis now, I'm worried that a panic to appoint a manager quickly will be counter-productive, and even more so in view of what the lack of stability and continuity has done at Wolves.

The timing of McDermott's dismissal was a mistake - but having knee-jerked to get rid of a manager, a second knee-jerk reaction to quickly appoint one might be fatal. So despite the continued lack of real news, I'm happy to wait for the right man, even if that means waiting until the summer - I'd much rather Reading FC do it right, than do it quickly.