The case of the missing midfielder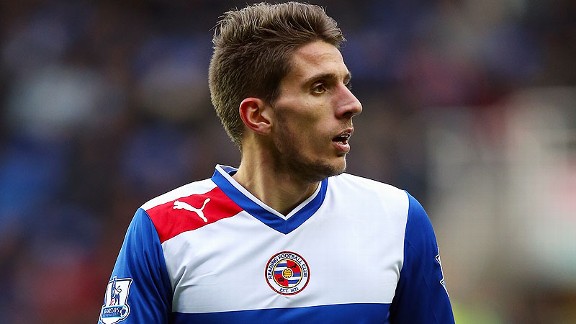 Bryn Lennon/Getty ImagesSince arriving in January, Daniel Carrico has played a whopping one half of football for Reading.
In a season of mysteries, new ones keep coming along all the time, like London buses. As well as last week's new Reading FC mysteries of why Brian McDermott was sacked and who will replace him, another ongoing puzzle has emerged at the Madejski Stadium.

- Dolan wants Reading stay

It's what has happened to Portuguese midfielder Daniel Carrico. Signed from Sporting Lisbon the very first day of January's transfer window for £600,000, he was widely touted as the answer to Reading's vacancy for a holding midfielder. And his pedigree looked superb -- with experience of high-pressure, high-profile European matches and as captain of Sporting, everyone assumed that as soon as he was fit he'd be a fixture in the team, playing in front of the back four in the centre of midfield in the 4-5-1 which McDermott had recently switched to.

Carrico had only played twice for Sporting this season, a situation which was put down to a "contract dispute". So everyone accepted that his fitness might not be completely up to scratch, but still many had high hopes that he would be one of the missing links that would turn Reading's season around. It was also reported that Carrico had been a highly-rated prospect from his days in youth development, and indeed had been looked at by most of Europe's big clubs.

Tellingly, most of Europe's big clubs decided not to make a move for Carrico. Perhaps they knew something that Reading didn't, but despite the hype and the high hopes, Carrico has been hardly seen by Loyal Royals. The only glimpse of him so far was a cameo performance at home to West Bromwich Albion on 12th January.

Although clearly not fully fit, Carrico showed some nice touches and then some not-so-nice touches. For instance: neatly playing a ball past an opponent but then not having the pace or fitness to get to the ball first. He was obviously confident in his abilities, but was substituted at halftime with Reading a goal down. If I had to summarise his performance in one word it would have to be ineffective.

And since then -- nothing! No sight, no sound, no mention of Carrico! He doesn't seem to figure in any team selections but he's not officially injured -- he's just not anywhere. Very strange.

Of course, conspiracy theories abound, but the reality is probably much less sinister. I can see just three possible situations to explain his absence: He's either injured or unfit, has fallen out with the management or is just not good enough.

I'd be surprised if he's not up to full fitness yet, as he's been at the club for more than 10 weeks now, and if he was injured, I'm sure we would have heard about it. After all, earlier in this bizarre season we were hearing about injuries to players that they publicly denied having. But then again, is it likely that Carrico has fallen out with the management, especially as the management has changed so quickly. There might have been a nugget of truth in this initially, since various reports have been circulating that Carrico was purchased on reputation alone, without being seen to play by McDermott.

That dovetails neatly into the third option -- he's just not good enough. This has to be a likely option, especially if he was bought "sight unseen" -- although to not be good enough to get into this very poor Reading team he would have to be very poor indeed! If this is the case, it seems that Reading have been well and truly sold a pup, and if there was a football equivalent of Trading Standards, then the Royals's management would no doubt be beating a path to its door straight away.

Because even though the transfer fee of £600,000 is not substantial in Premier League terms, it's an awful lot of money to pay for 45 minutes of ineffective football. When Reading bought Carrico I wrote that Reading were taking a gamble, but that if it came off it'd be a masterstroke. As more and more days pass without sight of Carrico it looks more like a losing gamble and nothing at all like a masterstroke.