Dolan's chance to be part of Royals 'dynasty'
Any attempt to predict the Reading team for Saturday's Premier League match at Manchester United is a fool's errand -- it's stand-in/temporary/interim/caretaker manager Eamonn Dolan's first match in charge.

So what team he will pick for this baptism of fire at the league leaders is anyone's guess, although I don't expect too many changes from the core group of players the sacked Brian McDermott deployed.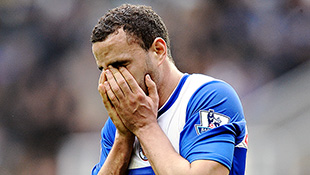 Tony Marshall/Getty ImagesNew Reading manager Eamonn Dolan's charge is to change the Royals mood, as seen in the face of Hal Robson-Kanu, above, during the loss to Aston Villa.
This match at Old Trafford, followed by a visit to Arsenal at The Emirates two weeks later, seem daunting for any manager. But, in a perverse way, they come with little pressure, as no one would reasonably expect Reading, just off the bottom of the Premier League table, to get anything other than a sound thrashing at both grounds.

If that happens, expectations are met -- but if Dolan's team avoid that and pick up a point or more, he's exceeded expectations and will see his stock rise.

Because despite all the speculation about who Reading's next manager will be, I've seen this all before and I think Dolan is being offered the chance to make the role his own. There are eerie similarities with the way McDermott was appointed Reading manager in December 2009, being confirmed in the role permanently the following month.

The club never stated the terms of the appointment of McDermott, the reserve team manager who stepped up to replace Brendan Rodgers -- McDermott simply "took charge". And exactly the same has happened now with Dolan. In both cases, it was assumed the role would be a short-term one, but that was always just an assumption.

All the words usually used in situations like this -- interim, caretaker, acting, temporary, etc. -- were absent in both cases. The statement this week from Reading just said, tersely, "Eamonn Dolan, head of our hugely successful Academy, will assume responsibility for first team matters."

And, from experience, Reading FC statements are always very carefully worded -- what they don't say says as much as what they do!

This, to me, suggests the job is certainly there for Dolan to make his own over the next month or so. This happened with McDermott -- he was awarded the job on a full-time basis after beating Liverpool at Anfield in the FA Cup.

It's a no-risk approach for Reading. If Dolan doesn't improve performances they always have the option make an outside appointment, but they'd much prefer Dolan to succeed, and so they've given him this chance to be do so and make the job his own.

And that's very much part of Reading's "ethos" -- a number of key decision-makers in the club want to see stability and continuity and have spoken of their desire for a "dynasty" of Reading managers. This "dynasty", similar to the Anfield "boot-room" dynasty of the 1980s, means that the club performs proper succession planning, with those lower down the hierarchy watching and learning from those above.

That means they are handily placed to take a step upwards when someone moves on, with the minimum of disruption and retaining the same ways of working.

One of the key themes behind this 'dynasty' idea is that managers who know the club will do better than outsiders coming in cold, as well as enabling them to get better performances from existing squads without needing wholesale changes.

In a club that sees the development of young players as a key part of their model this makes sense -- but, of course, cynics will also say that an internal appointment is cheap, may avoid replacing non-performing players and may perpetuate existing problems.

Of course, when it comes to knowing the young players, Dolan, head of the Academy which has produced a number of the current first-team squad, is perfectly placed -- and so he fits perfectly into the "dynasty" idea.

Rodgers was appointed as "one of our own" -- even though he'd been working at other clubs for a while -- and when he left suddenly, McDermott stepped up, with Dolan clearly the next in-line.

Critics might Dolan's chance of promotion has come much sooner than could have been expected and that he's not ready -- but exactly that same was said of McDermott's sudden promotion, and the club will be encouraged by how great a success he made of it.

With Dolan always having been earmarked for the manager's role one day, I'm not surprised to see him being given this chance, even if it is earlier sooner than expected. Whether he grabs it with both hands and makes a success of it is down to him -- and his players.

If he does I'm sure he'll be awarded the role permanently – the only unknown factor is how much new chairman Anton Zingarevich wants to employ a "big-name" manager.

But I think the financial cost -- and the clear desire for a "dynasty" -- may well win the day, and so it's now down to Eamonn Dolan to succeed or fail.